Contemporary Art in Indonesia
Indonesian Artists /Art News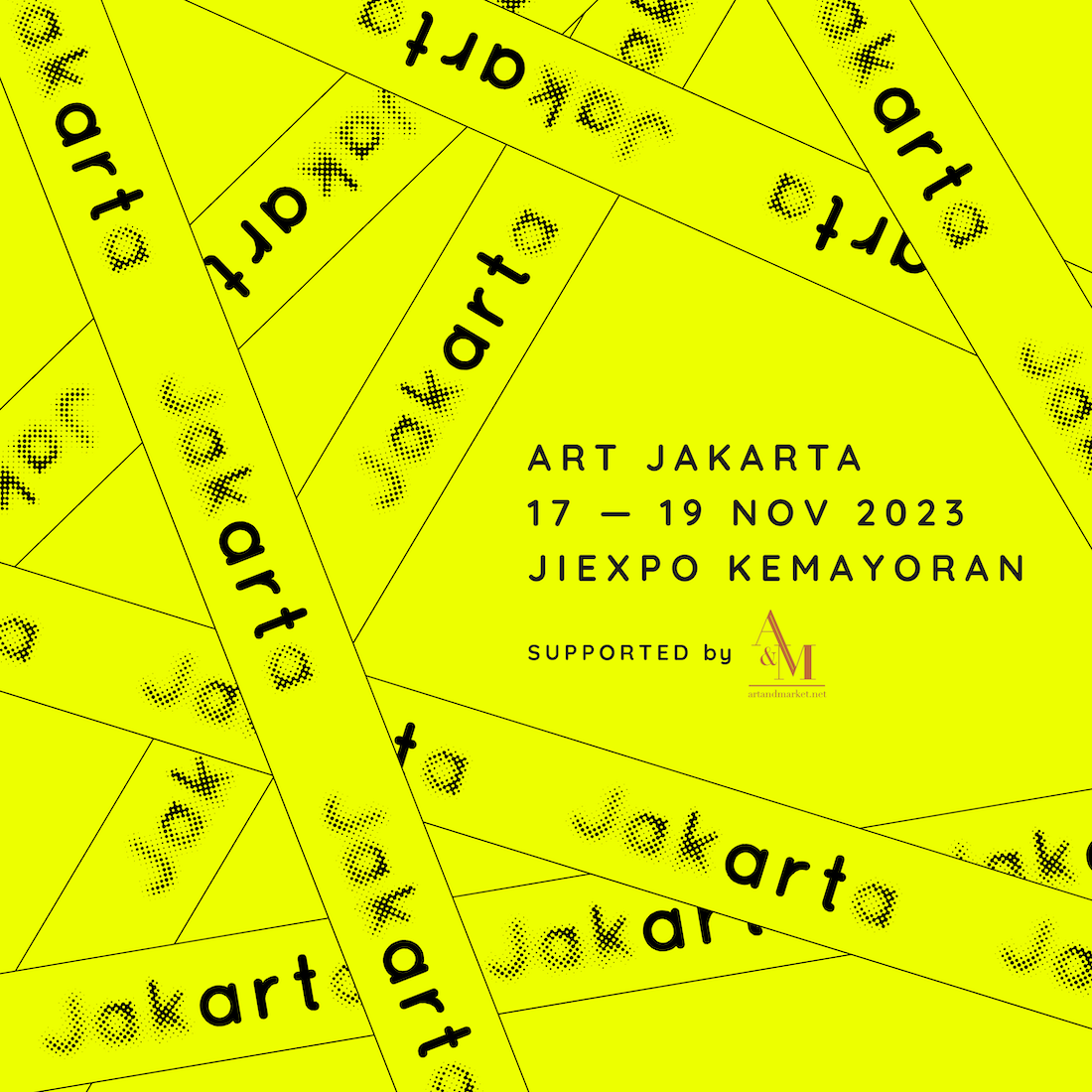 A total of 68 exhibitors are taking part in Art Jakakarta, compared with 62 last year (70 before the pandemic). Of the galleries present, 40 are Indonesian. Amongst the lineup exhibitors, 28 are overseas galleries traveling from the likes of Malaysia, Singapore, Thailand, the Philippines, Vietnam, Taiwan, South Korea, China, Japan, Russia, and Australia.
Among these international exhibitors, Beijing's ShanghART gallery will be showing oil paintings by Sun Xun, while Whitestone Gallery will be presenting works by Takashi Murakami, among others. Singapore's Gajah gallery will be exhibiting paintings by emerging Filipino artist Maria Jeona Zoleta.
Must-See Booths at Art Jakarta 2023 | Hypebeast
CHRISTINE AY TJOE
Lesser Numerator
White Cube Mason's Yard in London presents an exhibition of new paintings by Christine Ay Tjoe 'Lesser Numerator', from 17 November 2023 to 13 January 2024. In these paintings, Ay Tjoe represents both the physical - sometimes suggesting organs, blood, feathers, a bird's nest or hair - and the metaphysical, with the figurative aspects of the painting often symbolising darker facets of humanity. These symbols include creatures and animals used to "reveal the potential for inner evil in human beings", as the artist explained a few years ago. Colours are also significant in his work, with blue representing hope for example.
µhttps://www.whitecube.com/gallery-exhibitions/christine-ay-tjoe-masons-yard-2023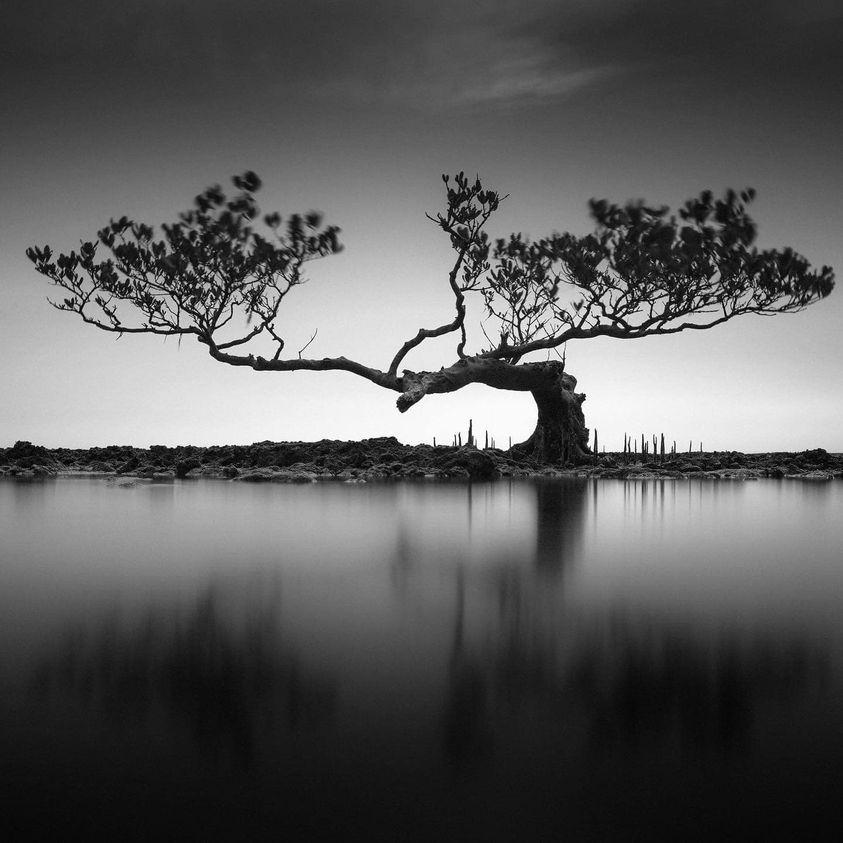 HENGKI KOENTJORO
Mass
Photo by the Indonesian artist, published in November 2023. Hengki Koentjoro develops his senses and sensitivity through art photography. His freedom of expression is mainly found in the development and exploration of black and white. He observes the mystical beauty of nature and landscapes in Southeast Asia, which he translates in an extraordinary way, to the point of unreality.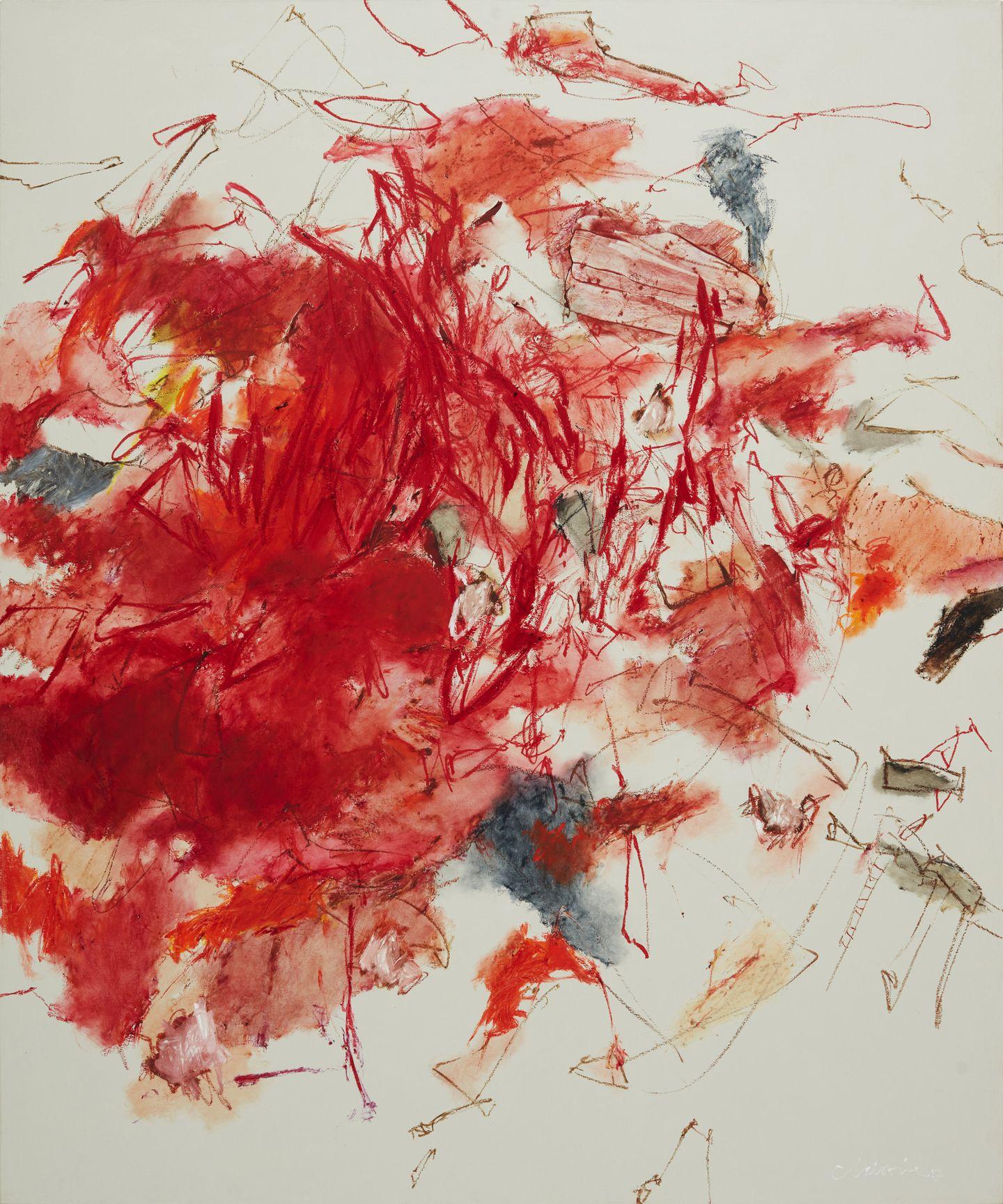 CHRISTINE AY TJOE
Sotheby's sale
Christine Ay Tjoe sold a work entitled « The Team of Red » (2013) at Sotheby's - Modern and Contemporary Art Auction - in Singapore on 2 July 2023 for US 963.69 (Rp 14,5 billion). It was estimated SG $650,000–1.3 million (US $481,000–962,000).
Indonesian Artists. Profiles, Works & Exhibitions
The Indonesian art scene continues to grow with the emergence of new artists who are taking the Indonesian art scene to a higher level. Indonesian artist I Nyoman Masriadi ranked 1713th in Top 5,000 Contemporary Artists Auctions (2022 turnover). Christine Ay Tjoe is ranked 72nd in Artprice's 2020/2021 Top 500 Contemporary Artists in the World with a turnover of $5,514,381. Until recently, Western interest in the Indonesian contemporary art scene was relatively limited.At the end of 2017, the Museum of Modern and Contemporary Art (MACAN) opened in Jakarta. Now, the art scene in Indonesia is developing quite well. Moreover, the digital promotes the exchange of information. Contemporary art in Indonesia shows great diversity and modernity, as well as a strong sense of local identity, referring to an established visual and cultural tradition".

CHRISTINE AY TJOE
CHRISTINE AY TJOE is the best-known female contemporary artist in Indonesia. She was 72nd in the Artprice 2020/2021 ranking of the top 500 contemporary artists in the world with a turnover of $5,514,381 (8 lots sold).
On May 28, 2017, her work "Small Flies and Other Wings" (2013) exceeded its estimated value by 10 times, and sold at Phillips Hong Kong for $1.5 million, giving her a real jump in sales. She sold at Phillips Auction in Hong Kong on December 3, 2020, a painting entitled "When Black and Red Could Hardly be a Circle" (2013), for $1.5 million.
https://www.instagram.com/explore/tags/christineaytjoe/?hl=en
NEWS
White Cube Mason's Yard in London presents an exhibition of new paintings by Christine Ay Tjoe 'Lesser Numerator', from 17 November 2023 to 13 January 2024.
PROFILE OF THE ARTIST
Christine Ay Tjoe was born in 1973 in Bandung (Indonesia) where she lives. She studied printmaking and graphic art at the Bandung Institute of Technology from which she graduated (1997). She also studied in Germany in 2004 and was a resident artist in Singapore in 2008.
Christine Ay Tjoe is best known for her colorful paintings with overlays and her use of drypoint technique. She also creates sculptures, kinetic art and large-scale installations. She creates protean oil bars, mixing figuration and abstraction. Unlike other artists who may have or tend to political satire in Indonesia, Christine Ay Tjoe speaks more about her personal life, modern society and human existence. She expresses through her art her deep feelings such as melancholy, sorrow, struggle or joy. One can also see in her work her rejection of glamour and commercial productions.
The artist was awarded the SCMP Art Futures Prize at the Hong Kong International Art Fair in 2009 and the Top 5 Philip Morris Indonesian Art Award in 2011. She also won the Prudential Eye Award for "Best Emerging Artist using Painting" from Ota Fine Arts in Singapore in January 2015.
In her paintings, Christine Ay Tjoe is interested in our age of consumerism: hyper-urbanity, population density, information overload and the inevitable quest for competitiveness. In her solo exhibition at Ota Fine Arts Shanghai in October 2018, "The Black Side", Christine Ay Tjoe explored the complexity of human relationships and depicted the brutal aspects of human emotions in today's society. The dominant black strokes and dark colors in her works allude to her dark view of contemporary society.
EXHIBITIONS
Christine Ay Tjoe had numerous exhibitions.
Let's mention her latest exhibitions: 2022 Christine Ay Tjoe, Kunstmuseum Schloss Derneburg, Germany ; 2021 "Spinning in the desert", White Cube HK ; 2018-2019 "Black, kcalB, Black, kcalB", White Cube Bermondsey Gallery, London, "The Black Side", Ota Fine Arts Shanghai, ''Ay Tjoe Christine: Spirituality and Allegory', Museum of Contemporary Art of the Twenty-First Century, Kanazawa, Japan.
BIO/EXHIBITIONS
BESTA BESTRIZAL
BESTA BESTRIZAL is a contemporary Indonesian painter. He is a newcomer to the Indonesian art scene. However he already sold a work entitled "Unity in Diversity - Brings Us To the Top of the Sky", HKD 300,000 at Christie's HK, on 26 November 2017.
https://bestrizalbesta.com/
https://www.instagram.com/bestrizalbesta/
https://www.facebook.com/bestrizal.besta/
PROFILE OF THE ARTIST
Besta Bestrizal was born in Padang, Sumatra, Indonesia in 1973. He lives in Yogyakarta
Besta Bestrizal is known for his large canvases made of hyper-realistic compositions, his almost monochromatic palette, his use of shadows - black and white - and the number of apparent details in his paintings. Besta Bestizal is considered a surrealist: his works are often realistic even if they look like dreams, centred on this world and bordering on another.
The theme of his paintings is often a character immersed in nature. Through numerous details of flora and fauna, the artist tries to show us the happiness of living in harmony with nature. It is Besta Bestrizal's dream that we can all co-exist with nature. In 2019, he has dedicated an exhibition to "Mother Nature", at the Art Porters Gallery in Singapore. "We are not born of Mother Nature", "we are Mother Nature" declares the artist.
Using charcoal, Besta Bestrizal depicts mysterious and dark atmospheres. Various characters and scenes that appear in his canvases, present the human being as he is, with lust and desire, greed and fear, obsessively pursuing power.
The artist exhibited "Seeing the Unseen" at Primae Noctis Art Gallery in Lugano, Switzerland, from February 27, 2020. Because of the pandemic, the gallery made the exhibition catalogue available online.
EXHIBITIONS
Besta Bestrizal's work was presented in several solo and group exhibitions in South East Asia.
Solo exhibitions include: 2020 "Seeing The Unseen", Primae Noctis Art Gallery, Lugano, Switzerland; 2019 "Bestrizal Besta: Mother Nature", Art Porters Gallery, Singapore
Bestrizal Besta participated in the group exhibition S.E.A. Calling at Primo Marella Gallery Milan from February 10 to March 10, 2022
BIO/EXHIBITIONS
DADANG CHRISTANTO
DADANG CHRISTANTO is an internationally renowned contemporary artist, born in Indonesia. His artistic talents range from painting, drawing, performances to installations.
PROFILE OF THE ARTIST
Dadang Christanto was born on the island of Java in 1957. He graduated from the Indonesian Art College, Yogyakarta (1978), and the Indonesian Fine Arts Institute (ISI), Yogyakarta (1986). In the 1980s he was part of the Indonesian New Art Movement of young artists, critical of the Indonesian political regime. Dadang Christanto moved to Australia in 1999. He now divides his time between New South Wales, Australia, and Central Java.
Dadang Christanto has always honoured victims of political violence and crimes against humanity. "When I talk about victims, it is not only those who suffered in 1965 (of the genocide in Indonesia) but anyone who has suffered the misfortune of systematic violence," explains the artist. The emotional strength of Dadang Christanto's work is partly a result of his own father's death when he was a young boy.
In her 2012 exhibition 'Hidden', the 30 Wuku heads represented the 30 days of the Javanese Pawukon calendar, reminding us that people are victims every day of the year. The 3-hour performance 'Survivor' at Gallery 4A, Sydney, in 2009, referred to a recent volcanic eruption, possibly due to underground gas exploration, which devastated 11 villages in East Java. In "They give evidence "1996-97, at A4 Art Gallery New South Wales in 2012-2013, the 16 male and female figures in the installation represented displaced victims, carrying each other's dead bodies of killed innocent men, women and children, a testament to man's inhumanity. In his Nineteen Sixty-Five exhibition at the QT, Art Museum, Brisbane in 2015-2016, Dadang Christanto presented a major installation Hujan Merah (Red Rain) 2003, a canopy depicting sorrowful faces, and a new six-metre painting about the Indonesian genocide, '1965'. He thus offered a moving memorial for the disappeared and an opportunity to think about and perhaps heal from an often difficult past. In his exhibition "Dadang Christanto: Capture, Torture, Kill, Throw", at Jan Manton Art, Sydney, in early 2019, the artist presented paintings of suffering faces and bodies.
EXHIBITIONS
Dadang Christanto had exhibitions in Tokyo, New York, Havana, Bangkok, Venice, Sao Paulo, Osaka, Jakarta, Kwangju (Korea) and in other towns in Australia and New Zealand.
Latest solo exhibitions: 2023 "Grandmother Tells To Granddaughter - Dadang Christanto, from 21 July 2023 at GallerySmith, Melbourne, Australia ; 2021 "Surrounded by Cactus", Gallerysmith, Melbourne ; 2019 "Dadang Christanto: Capture, Torture, Kill, Throw", Jan Manton Art, Sydney, Australia
He participated in S.E.A. Focus 2020 in Singapore, représented by Jan Manton Art Brisbane, Australia
BIO/EXHIBITIONS
HERI DONO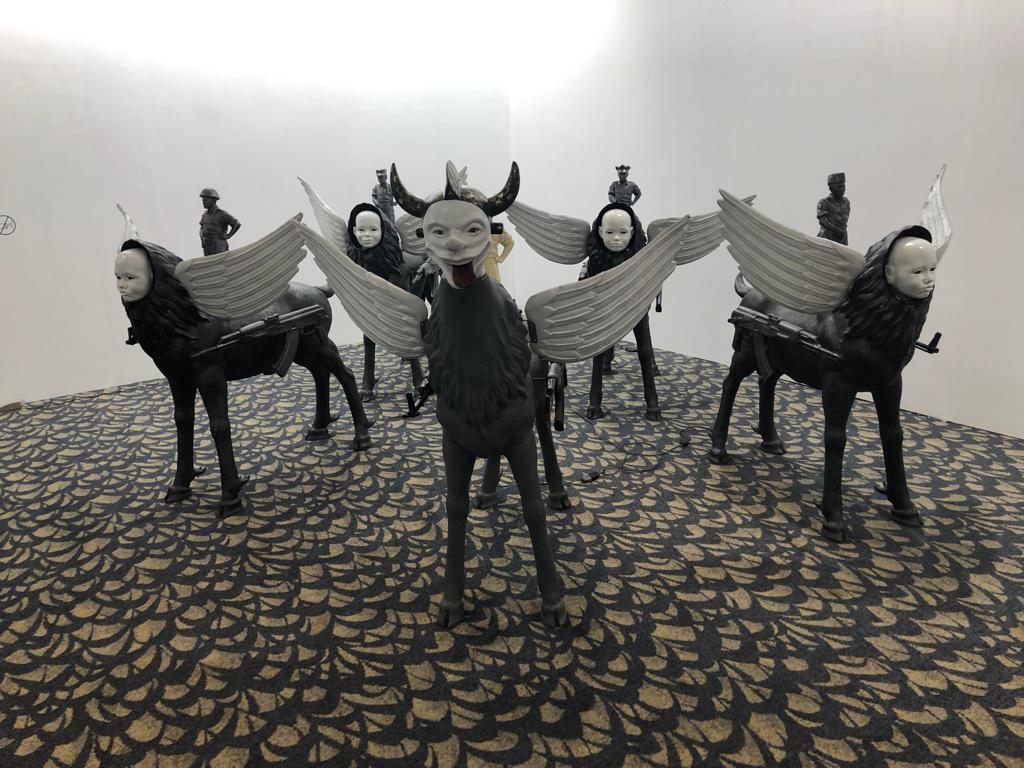 HERI DONO is a leading figure in Indonesian art and one of the best known artists in Southeast Asia. He is is known for his great mastery of the wayang folk puppets.
Contact : http://heridono.com/
https://www.instagram.com/heridono.official/?hl=fr
PROFILE OF THE ARTIST
Heri Dono was born in Jakarta in 1960. He studied art at the Indonesian Institute of the Arts of Yogyakarta (1980-87). He then trained in the art of Wayang Kulit, traditional Indonesian puppetry (1987-88). He studied for a year at the University of Technology, Brisbane, Australia (2002). He collaborated on a curatorial project at IFA Stuttgart, Germany in 2004. He lives and works in Yogyakarta.
Heri Dono is known for his installations that result from his great mastery of the wayang folk puppets of the Java theatre. He works in various media: installations, painting, theatre and sculpture, including sculpture on wheels, which he calls "vehicule art". Heri Dono uses a lot of wild distortions and free fantasies in his paintings from which characters from Wayang stories emerge. Adding his deep knowledge of children's cartoons, animated films and comic books, Heri Dono's paintings are always filled with extremely amazing characters from fantastic and absurd and inextricably linked stories. He sometimes adds his own critical remarks on socio-political issues in Indonesia and abroad. Heri Dono's installations are a fine example of an attempt to creatively revitalise deeply rooted artistic practices in Indonesia.
In 1996, in his first solo exhibition in Britain, "Blooming in Arma", at the Museum of Modern Art, Oxford, he presented a fantastical but disturbing array of apparently half-man, half-tree figures on false legs, parading around with guns, likening these prosthetic legs to anti-personnel mines. He reported that while the Indonesian government had launched a campaign to encourage people to plant trees in a quasi-Green initiative, it was at the same time systematically deforesting Sumatra, Kalimantan and Irian Jaya.
His recent paintings are sumptuous with rich images and colours. Heri Dono presented in 2017 at Tang Contemporary Art in Hong Kong, a new series of paintings dealing with current and political issues affecting society. Wild compositions of political cartoons, spaceships, animals, machines and mythological beasts illustrated the relationships of these new power structures at odds with each other, with all the victims that come with it. In 'Trump vs the Dragon' and 'Between Two Cards', the two paintings examined the ethics of choosing one thing over another, each asking the question: do their moral consequences carry the same weight?
EXHIBITIONS
Heri Dono exhibits all over the world, especially in Asia, Europe, USA.
His most recent solo exhibitions: 2022 SPECTRE (Heri Dono Timoteus A. Kusno), The Columns Gallery Seoul, Singapore ; 2019 Heri Dono, The Columns, Seoul, South Korea; 2017 "Land of freedom", Tang Contemporary Art, Hong Kong
Heri Dono participated in the Macao International Art Biennale 2023.
Heri Dono participated in Art Moments Jakarta in August 2023
Heri Dono participated in the new art fair Art SG, Singapore (12-15 January 2023)
Heri Dono was present at Art Jakarta 2022.
Exhibitions
SAPUTRA HANDWIRMAN
SAPUTRA HANDIWIRMAN is among the leading contemporary Indonesian artists. In 2018, he obtained $318,600 for one of his paintings. He thus entered the Artprice ranking (sales revenue) of the world art market in 2017/2018, at the 403rd place. With cumulative sales of $390,095 in 2020/2021, he was ranked 449th in the Artprice ranking of the 500 contemporary artists in the world. In 2020, he received $325,153 at Sotheby's for a 2012 work.
https://www.instagram.com/explore/tags/handiwirman/?hl=fr
PROFILE OF THE ARTIST
Saputra Handiwirman was born in Bukittinggi, Sumatra, Indonesia. He graduated from the Indonesian Institute of Arts (ISI) in Yogyakarta. He lives and works in Yogyakarta.
He is also the co-founder of the Jendela Group, considered the best contemporary art collective.
Saputra Handiwirman was initially known for his installations of objects and found objects - wire, wire, pieces of paper, pieces of plastic and hair - which were presented almost as they were. It was not until the mid-2000s that he presented several surprising works with very realistic techniques. The same applies to his installations, which are more rigorous in their choice of materials and techniques.
Saputra Handiwirman works in both painting and sculpture, evoking a semblance of recognition of something that has been seen before but is unidentifiable. In his painting, he focuses on perception and the way of seeing. It is a form of extension of the still life. The artist leaves the viewer a wide range of associations. Saputra Handiwirman seeks to offer beauty from 'things' around him.
Rifky Effendy, curator of the Singapore Biennale, said of Saputra Handiwirman: "In the map of contemporary art development in Indonesia, his works have contributed a different shade of colour, especially in the post-reformasi era, when most artwork is tightly connected to the social and political discourse. The artworks depict a symptom of tradition, caught between the collective value of a society - which has lost its belief in such value - and the individual belief in fighting for such values. By poeticizing the everyday, he reflects a constantly shifting world".
Over the past ten years, Saputra Handiwirman has created a series of enigmatic sculptures and paintings entitled "No Roots, No Shoots", made from objects found in everyday life. It is these sculptures and paintings that he presented at the 58th Venice Biennale in 2019.
EXHIBITIONS
Saputra Handiwirman has had several solo exhibitions, the most recent of which are being: 2017, Nadi Gallery, Art Stage Singapore; 2016 Nadi Gallery Art Basel, Hong Kong, Nadi Gallery, Art Stage Singapore; 2015 Material Matters, Tolot/heuristic Shinonome Gallery, Tokyo, Japan
The artist participates in numerous group exhibitions: 2022 Notations In Space, STPI Singapore Tyler Print Institute; 2020 Genset, Gajah Gallery, Singapore; 2019 Reason and Negotiation Never Come Just Once, Indonesian Pavilion, Arsenale, Venice, May You Live in Interesting Times, La Biennale di Venezia, Italy, Monumenta: In Lightness, Gajah Gallery, Singapore; 2018 The 9th Asia Pacific Triennial of Contemporary Art, Queensland Art Gallery and Gallery of Modern Art, Brisbane, Australia, Art Bali 2018, AB. BC Building, Bali, Zaman Now, Jogja Gallery, Yogyakarta, Art Jog 2018, Jogja National Museum, Yogyakarta, Indonesia
Saputra Handiwirman was chosen to represent Indonesia at the 58th Venice Biennale (11 May -23 November 2019)
BIO/EXHIBITIONS
HENGKI KOENTJORO
HENGKI KOENTJORO is an internationally renowned Indonesian photographer. He produces black and white photographs of breathtaking purity and aesthetics.
Contact : http://www.hengki-koentjoro.com/
(3) Hengki Koentjoro Photography | Facebook
https://www.instagram.com/hengki_koentjoro_images/?hl=en
PROFILE OF THE ARTIST
Hengki Koentjoro was born in Semarang, Java, Indonesia. He graduated from the Brooks Institute of Photography in Santa Barbara, California, where he studied video production and some fine art photography. He currently lives in Jakarta where he finds his inspiration, particularly on the island of Java.
Hengki Koentjoro develops his senses and sensitivity through art photography. His freedom of expression is mainly found in the development and exploration of black and white. He observes the mystical beauty of nature and landscapes in Southeast Asia, which he translates in an extraordinary way, to the point of unreality. As an underwater photographer, he captures stunning monochromatic images above the surface of the water. Clouds and mountain tops appear so high and yet so close, as if the sky has different rules in Indonesia. For the artist, the breaking of a wave tells stories that are part of the mysteries of the ocean.
Hengki Koentjoro uses Hahnemühle baryta paper, the finest art paper for black and white photographs.
EXHIBITIONS
Hengki Koentjoro has participated in numerous exhibitions, the most recent of which are: 2023 "Refined Eye", Leica Store Lisse, the Netherlands ; 2021, Hengki Koentjoro exhibition at Estella Gallery, New Orleans, Exhibition around water, organised by Lusikan Gallery in Bergen on Zoop, The Netherlands; 2019 PhotoLA, Usa; 2017 "Image Nation Paris", International Photo Expo, Espace des Arts Sans Frontières, 75019 Paris.
He is represented by Tobin Ohashi Gallery in Tokyo, Susan Spiritus Gallery in California, Lukisan Gallery in Amsterdam, Netherlands, Immagis Art Photography, Würzburg, Germany.
EXHIBITIONS
I NYOMAN MASRIADI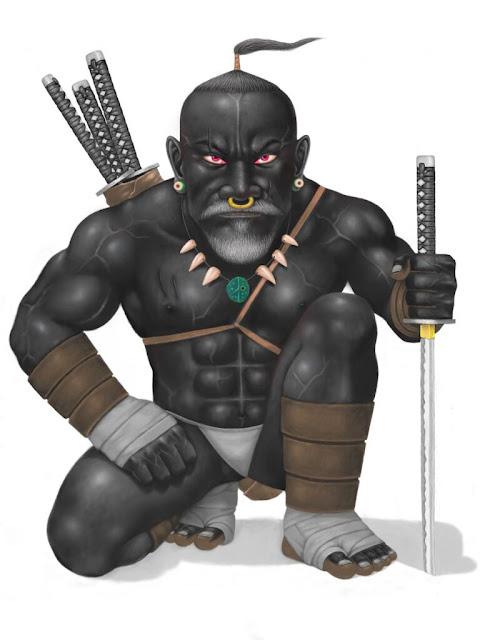 I NYOMAN MASRIADI is a major contemporary painter of the post-Suharto era. He is a leading light of the Indonesian art scene.
I Nyoman Masriadi ranked 301st in the Artprice 2020/2021 Top 500 Contemporary Artists in the World with cumulative sales of $684,760. He was 79th in the Artprice Report's Top 1,000 Contemporary Artists Sold at Auction - 2000 to 2019 - with a turnover of $39,799,622.
I Nyoman Masriadi sold his boxing-themed triptych "The Man From Bantul (The Final Round)," for $1 million in October 2008. Also in 2008, he sold a work at Sotheby's, "Sorry Hero, Saya Lupa" (Sorry Hero, I Forgot), depicting Batman and Superman sitting next to each other on toilet seats, for $619,000. On 16 June 2021, he sold a work entitled "Do, Do, Do" at Phillips HK for HKD 882,000 ($11,3243). On May 29, 2023, he sold a painting Ma Metekol for HKD 693,000.
Samuro's Judgment, a piece by I Nyoman Masriadi, was designated an NFT at the Art Jakarta 2022 event. At EquatorNFT, 50 editions of his works are auctioned exclusively for 0.0908 ETH, or 20–25 million–rupiah.
Contact : http://inyomanmasriadi.com/
(3) I Nyoman Masriadi | Facebook
https://www.instagram.com/nyomanmasriadi/?hl=en
NEWS
Two additional NFT volumes based on the writings of I Nyoman Masriadi will be released by Equator NFT in 2023.
PROFILE OF THE ARTIST
I Nyoman Masriadi was born in 1973 in Gianyar, Bali. He studied art at the Seni Indonesia Institute in Yogyakarta where he currently lives. In 1997 he was awarded the prize: "Best Painting at the Dies Natalis ISI Yogyakarta".
While incorporating the history of Indonesian culture into his paintings, the artist observes contemporary social and cultural life. Sometimes his characters can appear as archetypes of comic book heroes, cowboys, soldiers or athletes. His imagery and techniques have evolved over the past 15 years, moving from foklore to radically contemporary comic/pop. In his paintings ('Spares), exhibited in 2014 at Paul Kasmin Gallery, Hong Kong, I Nyoman Masriadi was still pursuing his depictions of strong Indonesian characters, with exaggerated features like this muscular black man, in shorts, without a shirt, without shoes, and holding sunglasses in his hand with a subtitle 'No more lost glasses'. For his second solo show at Paul Kasmin Gallery in New York in 2016, Masriadi presented paintings that, according to the gallery, "depicted superhuman characters whose narratives, rooted in Indonesian cultural history, offered witty and often biting social commentary on contemporary life and global pop culture."
EXHIBITIONS
In 2011, I Nyoman Masriadi had his first solo exhibition in the United States, in New York, at the Paul Kasmin gallery, after an exhibition at the Singapore Art Museum 'Black is My Last Weapon' in 2008.
By the end of 2018, the artist presented "Tender", an exhibition as part of the Westbund Art and Design 2018, at the Westbund Art Center, Shanghai. In 2016, I Nyoman Masriadi exhibited at the Paul Kasmin Gallery in New York where he presented paintings such as "Old master (Angry Samuro)" and "Bounty Hunter".
I Nyoman Masriadi participates in numerous group exhibitions: 2022 Art Jakarta ; 2021 Meanders in the Tropics: Narrative of Indonesian Modern and Contemporary Art, Tsinghua University Art Museum, Beijing; 2019 (December) Art Basel Miami Beach, Dunia Dalam Berita, Museum of Modern and Contemporary Art, Jakarta (May), Art Basel Hong Kong (March), in January 2019 the new Taipei International Art Fair, Tapei Dangdai; January 2018 Art Stage Singapore; 2016, Northern Land, Southern Seas, Tang Contemporary Art, BKK; 2014 'Past Traditions/New Voices in Asian Art' Hofstra University Museum, aux Etats-Unis (NJ); 2010 Art Paris + Guests," Paris, "New Directions », Shanghai Museum of Contemporary Art ; 2009 'In Rainbow'," Esa sampoerna Art House, Surabaya, Indonesia, 'Jogja Biennale X', Jogjakarta, 'The Simple Art of Parody', au MOCA, in Taipei.
BIO/EXHIBITIONS
EKO NUGROHO
EKO NUGROHO is an internationally recognised Indonesian contemporary artist, considered one of the pillars of the Indonesian art scene. His practice ranges from murals and other paintings, drawings, animations, video projections, comics, to embroidery and sculpture. He is part of the generation that came of age after the fall of the Suharto regime and the transition to democracy in Indonesia.
http://ekonugroho.or.id/
https://www.instagram.com/ekonugroho_studio/?hl=fr
PROFILE OF THE ARTIST
Eko Nugroho was born in 1977 in Yogyakarta, Indonesia. He studied at the High School for Fine Arts (SMSR) Yogyakarta (BFA, 1997). He graduated from the Painting Department, Indonesian Art Institute, Yogyakarta (MFA, 2006). He lives and works in Yogyakarta.
Eko Nugroho's work is rooted in both local traditions and the urban and human environment. He has an extensive background in street art and uses a new visual language where political messages are intimately linked to the aesthetics of street art, graffiti and comics. He is also influenced by traditional batik and different styles of embroidery. Through his characters, he presents humorous and disturbing social satires that appeal to young Indonesian audiences. He addresses universal issues such as globalisation, existence, corruption, value system: culture and race. Recently he has been working on contemporary interpretations of the traditional Indonesian wayang kulit puppets.
The artist presented a series of sculptures, embroideries and "zines" as part of the group exhibition 'Contemporary Worlds: Indonesia', at the National Gallery of Australia, Canberra, from 21 June to 27 October 2019.
Eko Nugroho, interpreted the meaning of freedom on the cover of the collector's edition of the September 2022 issue of Elle Indonesia magazine.
EXHIBITIONS
Eko Nuhogro has been exhibiting internationally for many years. Recent solo exhibitions include: 2022 "Heads Full of Empty Views", Danysz Paris-Marais, Kristin Hjellegjerde Gallery, Germany ; 2020 "Lost in Parody, Arario gallery, Seoul; 2019 'Nowhere is My Destination', Art Front Gallery, Tokyo; 2018 "Plastic Democracy", Arndt Art Agency, Berlin
He participated in 2020 in the exhibition 'The possibility of an island', Cromwell Place, London, Asia Now, Paris; in the group exhibition 'Violent attachment', Sullivan+ Strumpf, Singapore; 'Turning the axis of the world', STPI, Singapore; 'Àbadakone | Continuous Fire | Feu continuel', international contemporary indigenous art exhibition, at the National Gallery of Canada, from November 8, 2019 to April 5, 2020
Eko Nugroho participated in Art Moments Jakarta in August 2023
The artist participated in the 2022 edition of Asia Now (20-23 October 2022), presented by the Danysz Gallery.
https://danyszgallery.com/fr/exhibitions/173-eko-nugroho/overview
BIO/EXHIBITIONS
IWAN SUASTIKA
IWAN SUASTIKA is an emerging young artist, among the most promising in Indonesia. His talent has already been awarded in 2014 with the UOB Painting of the Year Award, Silver Medal (Indonesia) (Newcomer Category).
https://www.instagram.com/iwansuastika/
contact : iwansuastika@gmail.com
PROFILE OF THE ARTIST
Iwan Suastika was born in a village in Yojakarta known as the Batik Craftsmen's Village or Tamansari Village. He studied art at the Indonesian Art Institute in Yogyakarta where he chose visual communication design.
Iwan Suastika's art is vibrant, with bright colours, fantastical beasts and pop culture references in surreal landscapes. The artist explains: "For me, surrealism is a free artistic space where you can play without limits. I can create different forms depending on what I have in mind. Fantastic beasts, a man with a head of meat, moon or fire, and other strange creatures are symbols of reality that always appear in different forms in each of my works, depending on the ideas or questions I want to express. I think that everything in life is connected. Me and water, air, rain, fire, insects, leaves, newborns and everything in between [...] I am the universe, you are the universe, we are the universe. The colours represent the world and the universe. The artist defines his work in five words: surreal, reflection, love, identity, happysad.
In the summer of 2021, the Kiniko Art Room in Yojakarta presented "Reflection in Period" by Iwan Suastika. This exhibition showed how the artist's work appears to be a springboard to new experiences and a bridge to introspective reflection. "Reflecting in front of the canvas, describing spells and dreams, knowing more about who he is, what happened in the past, the current environment, as well as social and community conditions, all placed in a surreal world", is what the artist is looking for, said André Tanama, the curator of the exhibition.
Last solo exhibition of Iwan Suastika in August-September 2023 "The Man Who Carried A Mountain", at dgalleriejakarta.
Iwan Suastika participated in Art Jakarta 2022.
DOLOROSA SINAGA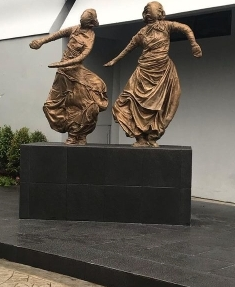 DOLOROSA SINAGA is a contemporary Indonesian artist and sculptor best known for her work on the subjects of feminism, women and women's advocacy. Several of her works have been offered at auction including "Symphony" at Christie's Hong Kong, in 2016.
PROFILE OF THE ARTIST
Dolorosa Sinaga was born on 31 October 1952 in Sibolga (Sumatra). She graduated from the Jakarta Institute of the Arts (1977) and St Martin's School of Art in London (1983). She continued her studies in the United States, at Berkeley's School of Arts, in 1984, where she specialised in bronze and then at Sonoma State University's Department of Fine Arts.
She has been a professor of sculpture, art history, anatomy and drawing at the Jakarta Institute of the Arts since 1983. She built the Somalaing Art Studio in East Jakarta in 1987, where classes are taught by several professional tutors and commissions are received for many sculpture projects. Currently she organises exhibitions to present the work of young sculptors. She lives and works in Jakarta.
Dolorosa Sinaga's sculptures are mainly aimed at representing the experience and status of women. Indonesia is still a patriarchal society where women's rights are not particularly taken into account and where the idea that a woman must submit to the whims of a man still exists.
The work of which Dolorosa Sinaga is particularly proud is 'Solidaritas', a bronze sculpture from 2000. It depicts a row of seven women shaking hands to protect each other. It is perhaps her most personal work inspired by the 1998 riots in Jakarta, which took a heavy toll on women's rights and citizens' rights. A copy of "Solidaritas" is currently on display at the International Monetary Fund headquarters in Washington DC.
At her exhibition at the Nadi Gallery in Jakarta in 2003, Dolorosa Sinaga's bronze sculptures were reminiscent of the work of German artist Kathe Kolhwitz, in their depiction of female suffering through times of political struggle, poverty and other hardships.
In 2006 she was again invited to the Chianti Sculpture Park to participate in the "Contemporary Indonesian Sculptors Exhibition", in Pievasciata, Siena, Italy.
Dolorosa Sinaga's sculptures show the power of form to convey ideas through body language and facial expression. The artist has also explored movement with her sculptures of dancers, which she has been making for many years. The figures in Dolorosa's work do not appear in a realistic form, they are somewhat abstract.
In January 2021, she installed one of her sculptures "Dance of Synergy" in front of the main building of the Jakarta Institute of Arts (IKJ), to commemorate its 50th anniversary.
The artist is very open to diversifying her craft. She has switched to fibreglass material, away from her usual materials of bronze and copper. She had already started to explore plastic as a new medium in her artistic process.
In March-April 2022, Dolorosa Sinaga participated in the group exhibition "Indonesian Women Artists #3", Infusion into Contemporary Art, at the National Gallery of Indonesia.
EXHIBITIONS
Dolorosa Sinaga's work has been exhibited around the world, many at the initiative of international artists in Italy, Malaysia, Vietnam and the United States.
Solo exhibitions include: 2009 'Power of Shape', Kendra Gallery, Seminyak, Bali, Indonesia; 2008 Dolorosa Sinaga Sculpture Exhibition, Langgeng Gallery, Magelang, Java Tenga, Indonesia; 2006 'Soliloquy', Edwin Gallery, Jakarta; 2003 Nadi Gallery, Jakarta.
BIO/EXHIBITIONS
On 3 February 2020, Dolorosa Sinaga celebrated her illustrious career of over four decades with the launch of her biography 'Dolorosa Sinaga: Tubuh, Bentuk, Substansi' (Dolorosa Sinaga: Body, Form, Matter) at the National Gallery of Jakarta.