Japanese Contemporary Artists
Japanese Artists/Art News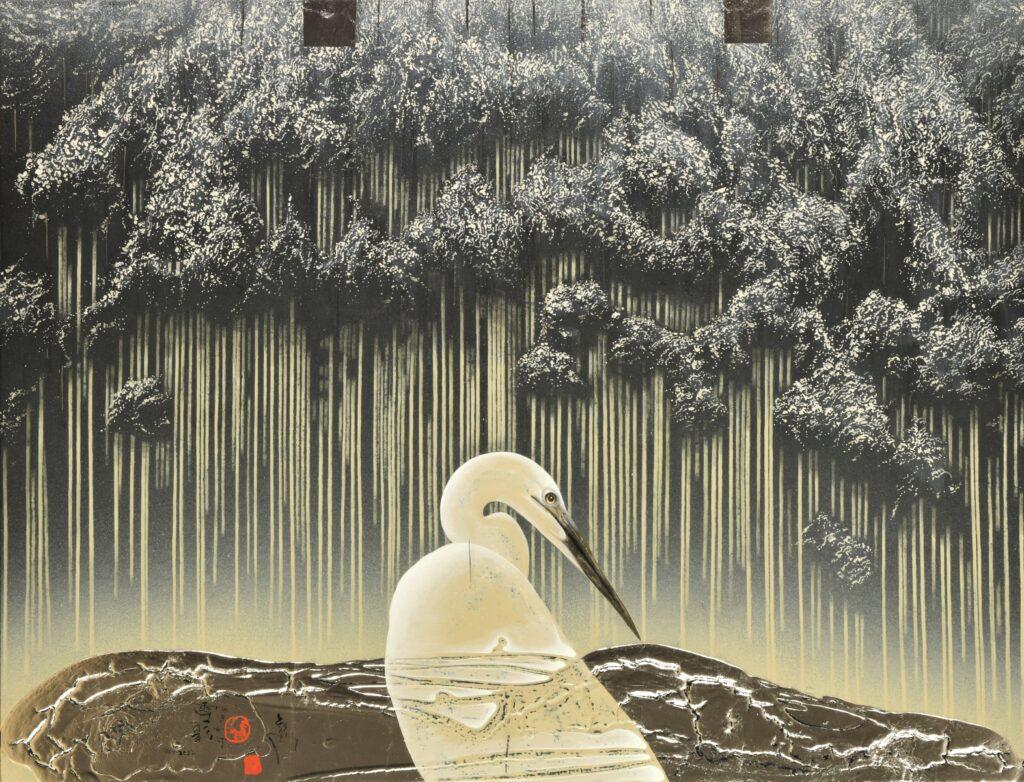 KYOSUKE TCHINAÏ
Solo exhibition
Galerie Tamenaga Paris Matignon presents a solo exhibition of the Japanese artist Kyosuke Tchinai, from March 16 to April 8, 2023. Kyosuke Tchinai's art is directly inspired by the tradition of ukiyo-e prints from the Edo period, from which he borrows his fine and delicate line with a fantastic atmosphere, as well as the tradition of byobus, these Japanese silk screens with vast landscapes and decorations woven in gold leaf. Kyosuke Tchinai's paintings plunge us into an ideal and serene nature bathed in a spirituality emanating from the Japanese animist tradition, according to which each element of nature has a soul.
Kyosuke TCHINAÏ | Galerie Taménaga (tamenaga.com)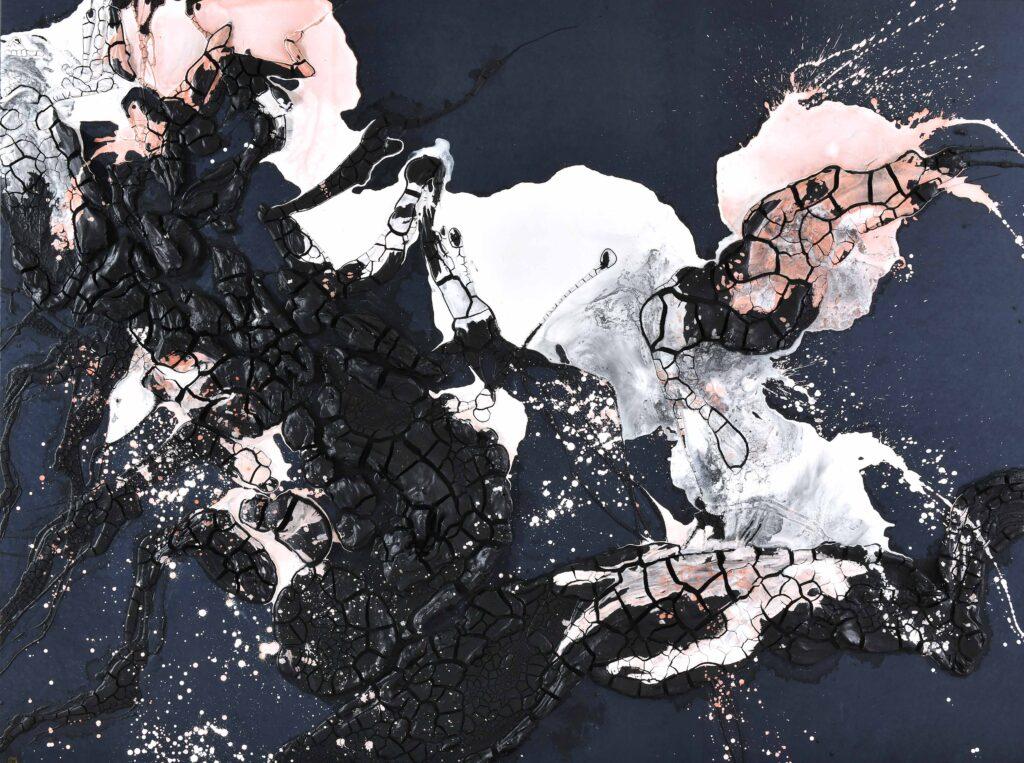 TAKEHIKO SUGAWARA
Tamenaga Gallery Tokyo
Tamenaga Gallery presents a solo exhibition by Japanese artist Takehiko Sugawara at its gallery in Tokyo, from February 25 to March 19, 2023. Sugawara's works celebrate the awe and beauty of nature. The artist continues to seek original expressions, fascinated by the magnificent vitality that resides in old trees. In this exhibition, which will be his 4th solo show in Tokyo, he will add new themes such as "Aoike", one of the 12 lakes in the Shirakami Mountains, Aomori Prefecture, and the nature of Yakushima, Kagoshima Prefecture.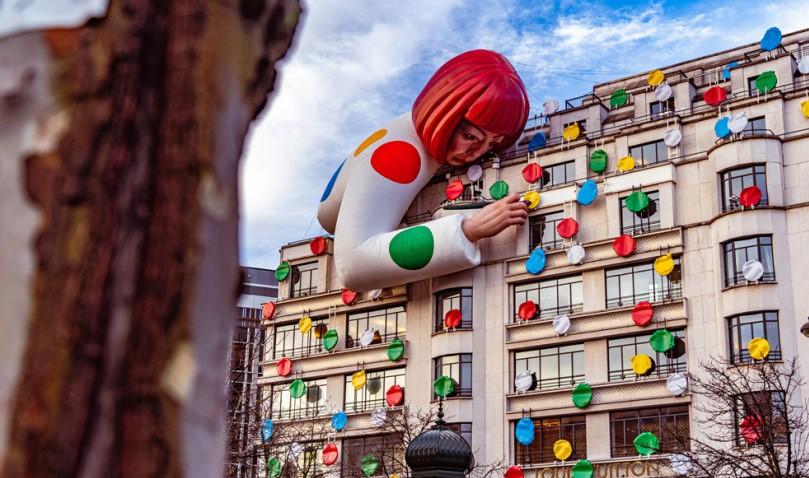 YAYOI KUSAMA AND LOUIS VUITTON
Ten years later, Louis Vuitton is working with the Japanese artist Yayoi Kusama for a second colourful collaboration. The collection has just been discovered in early January 2023. Yayoi Kusama applied her hypnotic motifs - her signature polka dots - repeated ad infinitum on the very icons of Luis Vuitton, creating magical objects that transcend space and time. The launch campaign for the collection includes a giant statue of the artist on the façade of the Champs-Élysées shop and a realistic robot in the image of the artist at Place Vendôme and a great statue of Yayoi Kusama in front of the Department store La Samaritaine.
Louis Vuitton x Yayoi Kusama | LOUIS VUITTON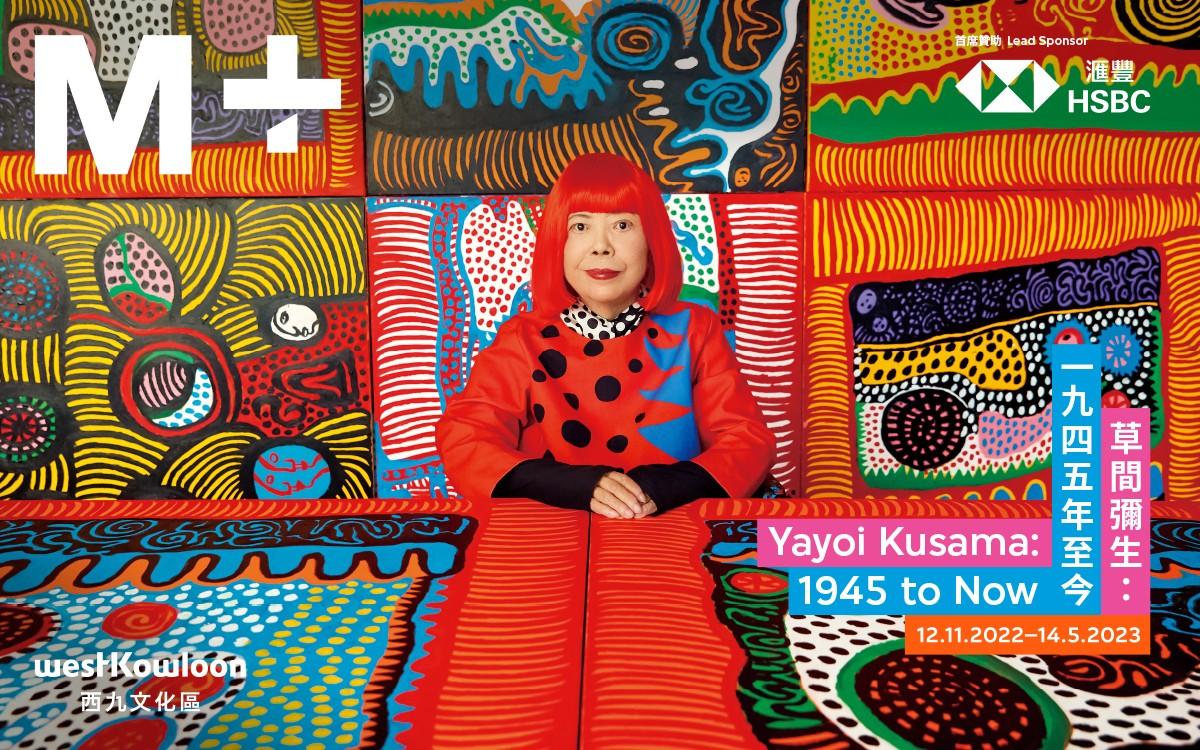 YAYOI KUSAMA
Retrospective 1945-2022
From 12 November 2022 to 14 May 2023, the M+ Museum à Hong Kong, presents 'Yayoi Kusama: 1945 to Now', the largest retrospective of the artist in Asia outside Japan. Featuring more than 200 works, including paintings, drawings, sculptures, installations, and archival material, this exhibition surveys Kusama's career from the earliest drawings she made as a teenager during World War II to her most recent immersive art pieces.
Yayoi Kusama: 1945 to Now | M+ (mplus.org.hk)
Factory International in Manchester should present a big show "You, Me and the Balloons," dedicated to Yayoi Kusama, from 29 June to 28 August 2023.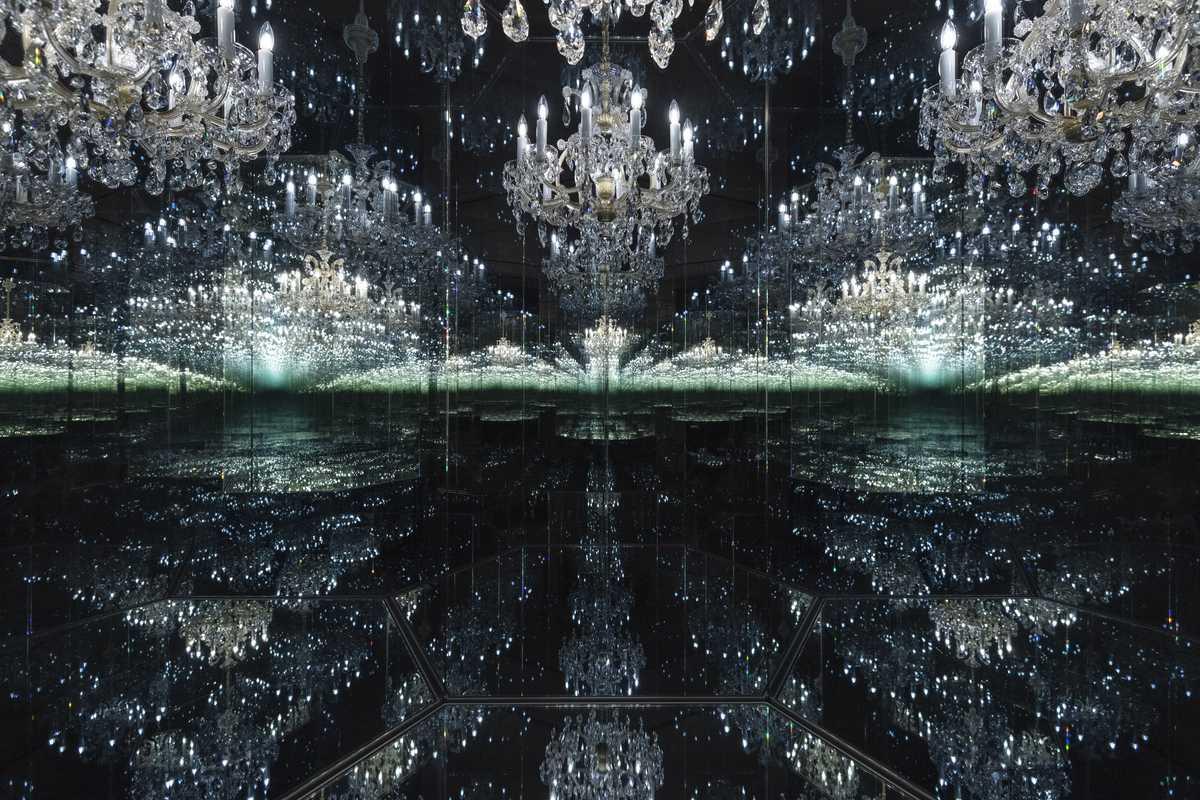 YAYOI KUSAMA
Yayoi Kusama's Infinity Mirror Rooms exhibition at Tate Modern, London has been extended until 11 June 2023.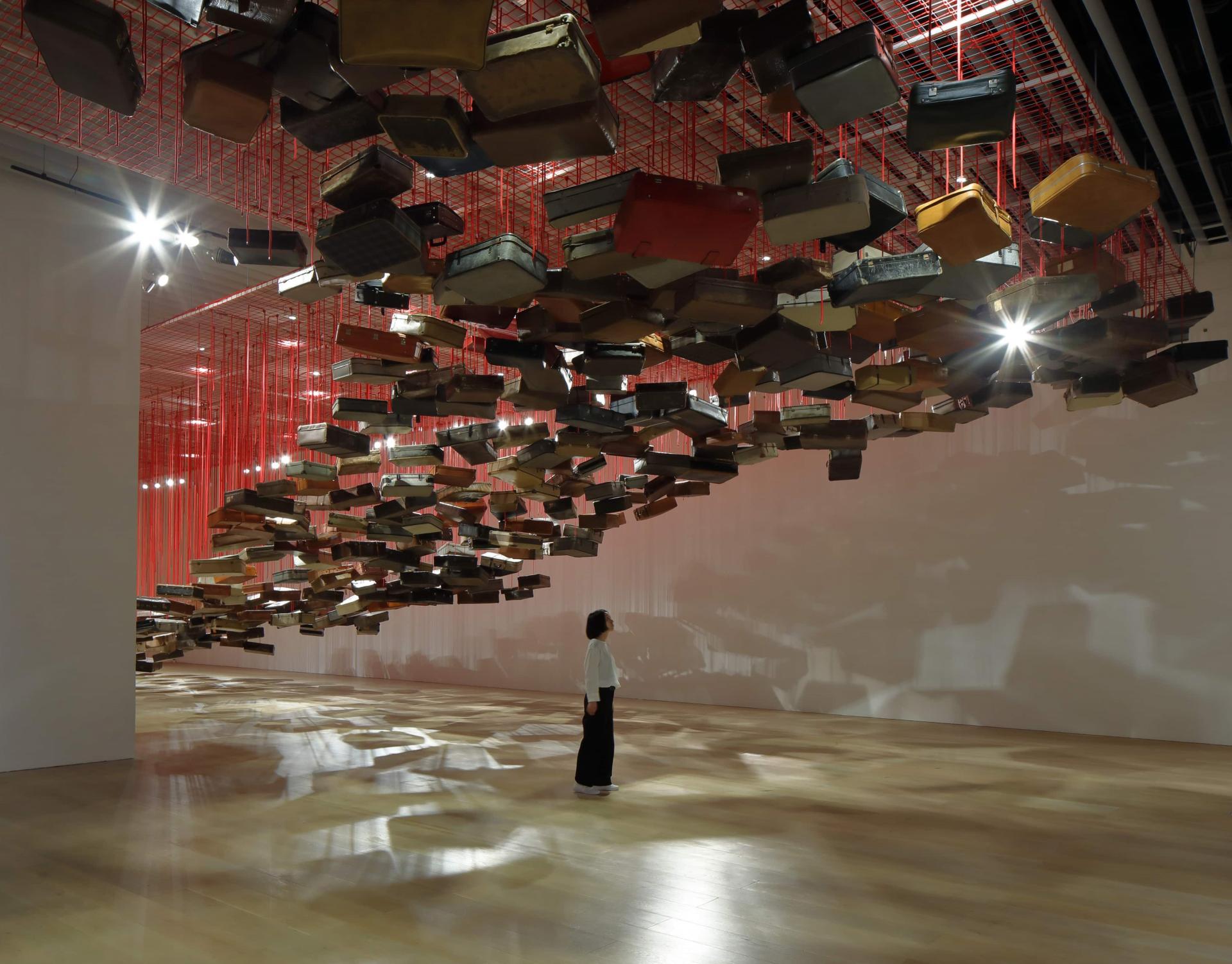 CHIHARU SHIOTA
The Soul Trembles
Chiharu Shiota presents "The Soul Trembles", at MACAN Museum, Museum of Modern and Contemporary Art, Jakarta, from 26 November 2022 to 30 April 2023. This exhibition is Chiharu Shiota's largest solo exhibition and her first one in Indonesia. It shows the artist's work over the past thirty years: in the form of large-scale installations, sculptures, performance video recordings, photographs, drawings and performance art materials. Her installations 'Uncertain Journey', 'In Silence', 'Accumulation' and 'Where are we going' are on show. The exhibition is organised by the Mori Art Museum, Tokyo and supported by Alcantra S.p.A.
Chiharu Shiota: The Soul Trembles (museummacan.org)
CHIHARU SHIOTA
The UCLA Hammer Museum in Los Angeles will open its new Lynda and Stewart Resnick Cultural Center on 26 March 2023 and feature a Chiharu Shiota installation, Rita McBride's high-intensity laser and mist installation Particulates (2021).
Japanese Artist Profiles - Biographies, Works, Exhibitions & Events
The Japanese market owes its development to artists who have built an international career during their lifetime like Yayoi Kusama or even Foujita, and like neo-pop artists such as Takashi Murakami or Yoshitomo Nara. Thanks to these signatures, Japan plays a real role on the international market today. Beyond neo-pop, curators, collectors and international galleries give great attention to Japanese avant-garde movements such as Gutaï and Mono-ha (a pioneering art movement that emerged in Tokyo in the mid-1960s) whose artists, instead of making traditional representational artworks, explored other materials and their properties such as stones. The market was really structured around the 2000s due to the activity of "first generation" galleries such as Taka Ishii, Mizuma Gallery or Tomio Koyama but also to Takashi Murakami who woke up the Tokyo art scene with his gallery KaiKai Kiki. In addition to these Japanese reference galleries, Tokyo attracts leading international players as Blum & Poe and Perrotin.
JAPANESE ARTIST
SHIORI EDA
SHIORI EDA is a contemporary Japanese painter whose work has been widely noticed by the Japanese media. She also achieved great success at Asia Now, Art fair in Paris, in 2018. Shiori Eda's painting balances between figuration and realism.
Contact: http://www.a2z-art.com/artists/artists/description/artistid/0000000048
https://www.instagram.com/shiorieda/?hl=en
PROFILE OF THE ARTIST
Shiori Eda was born in Tokyo in 1983. She graduated from Tokyo Art High School (2002). She entered the Tokyo National University of Fine Arts, specializing in "oil painting" in 2004. She obtained a Master 2 from the Tokyo University of Fine Arts, specializing in "oil painting" (2010 ). She lives and works in France.
Shiori Eda paints women facing enormous natural disasters. From reflections on the place of a human being confronted with the world, Shiori Eda draws scenes of miniature realities that she reconstructs. Her universe plunges us into the depths of the sky and the water. The artist paints an illusory world that is more authentic than real life.
In her solo exhibition at A2Z Art Gallery in Paris, "Visions Nocturnes", in 2018, Shiori Eda took us in an unprecedented vision of a painting imbued with Japanese culture in which the artist interprets the reading of her dreams based on everyday facts. Shiori Eda immerses us inside her compositions, magnified by the grandeur of the landscapes, sometimes calm, sometimes moving. Behind an apparent fragility, small naked women try to find their place. In her exhibition at A2Z Art Gallery Hong Kong, "A Water World," in early 2019, she presented vast imaginary landscapes that conceptualized mother nature, surrounded by ocean areas. Naked women inside the paintings continued the dialogue about femininity in Japanese culture.
In her third exhibition entitled "Uni-Vers", at A2Z Art Gallery, at the end of 2019, Shiori Eda continued to immerse us in landscape painting, while questioning the ancestral dialectic between the One and the All, between Man and the Earth, between Man and the Universe. "Man is a world in miniature. During her "Genesis" exhibition at the A2Z Art Gallery in September 2020, she unveiled a polyptych made up of 6 canvases measuring 100 cm wide by 150 cm high. The artist plunged the viewer into a relationship with Nature, sometimes physical (a woman linked to the five elements: water, wood, earth, fire and metal) sometimes spiritual (a naked woman next to an apple tree. giant reminiscent of the original Eve of the Book of Genesis).
From 8 to 30 October 2021, A2Z Art Gallery presented "Feu sur l'autre rive". Staying at home and turning a blind eye to the outside is called "the snail complex", explains the artist. Shiori Eda's works invite us to relearn how to live outdoors, to grasp the beauty and destructive force of Nature to better understand the issues at stake. The Earth is our planet lost in the immensity of an astronomical universe. Let's connect to Humanity and Nature to feel the physical and spiritual balance.
EXHIBITIONS
Shiori Eda, represented by A2Z Art Gallery, has already had several exhibitions within the gallery, in Paris and Hong Kong. Shiori Eda was presented at ASIA NOW 2022 by A2Z Art Gallery.
Latest solo exhibition:"Feu sur l'autre rive" at A2Z Art Gallery Paris, 2021
The artist also participated in the West Bund Art & Design Art Fair, in Shanghai, from 11 to 14 November 2021.
BIO/EXHIBITIONS
ETSU EGAMI
ETSU EGAMI is a young emerging Japanese artist. She was in the annual Forbes 30, Under 30 ranking in 2020. She was also a finalist for the Sovereign Art Foundation Asian Art Prize in 2019 in Hong Kong.
The prices of her paintings on the secondary market have skyrocketed since 2021, making her one of the fastest rising Asian art market stars. Her current record is HK$2.9 million ($366,921) for a 2021 diptych sold at Holly's International (HK) Auctions in May 2022. This was followed by the sale of the painting Rainbow-2022-t-10 at a Holly's Hong Kong auction in November 2022. The work fetched HK$1.3 million ($168,931).
https://www.instagram.com/egamietsu_artstudio/?hl=fr
NEWS
Etsu Egami participates in the Xin Jiang Art Biennale, Urumchi, China
ARTIST PROFILE
Etsu Egami was born in 1994 in Chiba, Japan. She graduated from Central Academy of Fine Arts (CAFA) with a B.F.A., specializing in oil painting, in 2016. Then she obtained an M.F.A. at CAFA Beijing under the mentorship of Chinese artist Liu Xiao Dong and studied at HFG (The Karlsruhe University of Arts and Design) in Germany. Etsu Egami currently lives and works between Tokyo, Beijing and New York.
Etsu Egami has been immersed in art since her early childhood with her father, a well-known artist in Japan. She grew up between the United States and Europe. She trained in Beijing, China, and then in Germany. "Etsu Egami's work focuses on the concept and meaning of "communication". Her works use various forms of media, such as voice, video and drawings, through which the artist seeks to question human instincts and the authenticity of communication. She is particularly interested in rethinking society through language. Using the rainbow as a pictorial language, she evokes what the "form of communication" can be, which she sees as the awareness of the distance we have with others. She says "When I think of a person, I always think of her voice. The image of that person comes to me with her voice. So does the sound contain the image or does the image contain the sound? When I look at a person, I see myself in their eyes. And they, in turn, see themselves through my eyes". "The origin of language is sound, according to the Japanese biologist Kazuo Okanoya. During my four years of investigation, I invited people from different regions and countries to participate in my "game of misunderstandings" by giving them a "voice".
EXHIBITIONS
Etsu Egami has already had many solo exhibitions. The first was in Tokyo in 2016 and in Beijing the same year. Her most recent exhibitions include: 2023 "Incessant is the change of water where the stream glides on calmly: the spray appears over a cataract, yet vanishes without a moment's delay", Whitestone Gallery, Singapore; 2022 "Obesssion and question, new horizon of moden paintings", Woodone Museum of Art, Hatsukaichi , Japan, "Venus's code", A2Z gallery, Paris, France; 2021-2022 "In a Moment of Misunderstanding, All the Masks Fall", Tang Contemporary Art, Beijing, China; 2021 "Face book", Chambers Fine Art, New York, USA, "Rainbow", Karuizawa new museum, Karuizawa, Japan, "Rainbow", Whitestone Gallery, Taipei, "Social distancing", A2Z Art Gallery, Paris, France; 2020 "Entrance Gallery Vol. 1 Egami Etsu", Chiba; 2019 "Your Name ? ", Whitestone gallery Ginza, Tokyo, Japan, City Museum of Art, Chiba, Japan; 2018 "Dialogue beyond 4000 years", Chiba art center, Japan, "Dialogue beyond 400 years", Playground London, London, England.
The artist participated in "Art Paris Art fair", 2022, Paris, France and Asia Now Paris 2021 and 2022.
She also participated in the Xin Jiang Art Biennale, Urumchi, early 2023.
Etsu Egami's works are already in the collections of international institutions, including the CAFA Art Museum in Beijing, the Garage Museum of Contemporary Art in Moscow and the E-Land Foundation in Seoul.
Etsu Egami CV
ETSU EGAMI | Whitestone Gallery (whitestone-gallery.com)
Media: Amid a Feverish Market for Her Prismatic Paintings, Japanese Art Dynamo Etsu Egami Is Keeping a Cool Head | Artnet News
TETSUYA ISHIDA
TETSUYA ISHIDA is a Japanese surrealist painter. He died prematurely in 2005, at the age of 31. With cumulative sales of $ 1,037,213, he ranked 169th in the 2017-2018 Artprice ranking (revenue from sales) of the world art market. He ranked 158th in the Artprice Ranking 2020/2021 with cumulative sales of $ 1.731.921.
In April 2014, a painting by the artist -"Earthquake / Terremoto"- was sold at Christie's for almost $ 350,000, or 10 times the estimated price, proof of his continued popularity. His work 'Prisoner' was sold at ' United Asian Auctioneer Evening Sale 'in 2012 for nearly $ 820,000. A work "Untitled" by Tetsuya Ishida was sold at Christie's Hong Kong, on May 24, 2021 for 772,753$.
https://www.tetsuyaishida.jp/71843/
PROFILE
Tetsuya Ishida was born in Yaizu, Shizuoka, Japan, in 1973. He studied design and illustration at Musashino Art University of Shizuoka Prefecture. He died in a train accident in 2005, at the age of 31.
Tetsuya Ishida explores the dark side of modern life, the dehumanization of a society in favor of mechanization. He paints humanoid figures in surreal environments, reflecting on uncertainty and unease. He based on a portrait of himself who used absurd humor to talk about his emotions. "I tried to make of myself, my weakness, my sad state, my anxiety, a joke or something funny that you can laugh at," the artist said. In "Waiting for a Chance" (1999) for example, Ishida paints a hospital room in which the characters show melancholy and worried faces. Patients sit or lie on abandoned cars in place of beds: a way to relate this emotional atmosphere to questions about the uncertainty of industrial, economic as well as social future of Japan. His deeply unhappy characters are often entangled in constructions or machines, they are representative of his vision of Japan as a soulless, mechanized society.
The retrospective exhibition dedicated to him by the Museo Reina Sofia in Madrid in 2019, entitled "Self-Portrait of Other", brought together 70 works produced by Tetsuya Ishida between 1996 and 2004. These showed the uncertainty and desolation of a Japanese society radically changed by technological advancements and crises that have affected economies and politics around the world. "The artist has worked extensively on incommunication and alienation in a world dominated by uncontrollable forces." "We discovered him at the 2015 Venice Biennale," declared Manuel Borja-Villel, director of the Museo Reina Sofía […] He is an artist who reflects the dystopia of the society in which we live with a precision that almost resembles that of a surgeon ". Tetsuya Ishida captured the fragility of an entire generation although he was not paid attention until 2005, after her death.
EXHIBITIONS
Tetsuya Ishida started exhibiting in Japan in 1999; after his death in 2005, the artist's personal exhibitions followed one another in Japan.
BIO/EXHIBITIONS
TAKAHIRO KONDO
TAKAHIRO KONDO is a renowned contemporary Japanese ceramicist, born into a family of ceramicists who were famous for their sometsuke porcelain (cobalt blue and white porcelain)
Contact: http://www.kondo-kyoto.com/
PROFILE OF THE ARTIST
Takahiro Kondo was born in 1958 in Kyoto, Japan. He graduated from Kyoto Prefectural Ceramics Technical Institute (1985) and Kyoto Municipal Institute of Industrial Research (1986). He also obtained a Master of Design and Applied Arts awarded, at the Edinburgh College of Art (2002) and a Master degree of Design and Applied Course, Edinburgh College of Art (Inglis Allen Masters of Design Award) (2003). In 1994 he received the Kyoto City Emerging Artist Award. Takahiro Kondo lives and works in Kyoto.
Takahiro Kondo draws his inspiration from the world of nature, with water being a central theme. The artist started creating ceramics when he was twenty years old. When he reached the age of 50, Takahiro Kondo then decided to review his work and his history. This was followed by the creation of a working group in which he mould his own porcelain head and revisited the main glazes, designs, motifs that he had used during his 25 years of work with the clay. It is a very personal series, presenting both masks of death and life, but also a set of works that expresses his concerns about the (deteriorating) relationship between men and nature and the instability of the current economic system which has led to excesses and distortions due to the misuse of resources and imbalances in the distribution of wealth.
This working group ended in 2010 and then exhibited in Japan, New York and London. Soon after, the Tohoku region of Japan was hit by a magnitude 9 earthquake that revived the fear of the nuclear threat. Takahiro Kondo then felt the need to respond to disaster with his art. Thus, from 2014 he created a Series of porcelain sculptures from a mold made on his body, "the Reduction Series". His characters adopt a yogic posture, which makes one think of a return to the artist's roots, to Buddhism, meditation, the gift of oneself. The gintekisai glaze is characteristic of Takahiro Kondo and illustrates his interest in water in all its forms. It is made of a mixture of silver, gold and platinum which forms subtle flows of droplets on the sculpture.
A ceramic sculpture by Takahiro Kondo was on display at the Guimet Museum as part of the "Buddha, the golden legend" exhibition, from June 19 to November 4, 2019. The sculpture, made from a mold on the body of the artist, is covered with glazes, dear to the artist. The Guimet Museum in Paris acquired this work entitled "Reduction". In this sculpture, Takahiro Kondo responds to the 2011 Fukushima tragedy by a scaled-down mold of his body, adopting a yogic position, that of the padsama, when he holds his breath.
Takahiro Kondo presented his latest solo exhibition "Making Waves", at Joan B Mirviss gallery, from March 16 to April 22, 2022, in New York. It consists of thirty new sculptures in swirling whirpools of black, grey and white marbleized porcelain that shimmer with "silver mist". Departing from his earlier works, the artist here incorporates a whiter clay into his marble technique (nerikomi).
EXHIBITIONS
Takahiro Kondo has shows all over the world. Let us mention his last personal exhibitions: 2022 "Making Wawes", oan B Mirviss LTD, New York ; 2019 "Mizuniwa and Utsuwa, Aquatic Garden and Sky", Gallery Satsu, Tokyo.
Takahiro Kondo Exhibitions
Takahiro Kondo participated in the group exhibition "The Spirit of Japanese Ceramics" at the Mashiko Museum of Ceramic Art, Japan, from January 19 to March 29, 2020.
YAYOI KUSAMA
YAYOI KUSAMA is a Japanese visual artist, a contemporary multidisciplinary artist painter, sculptor, writer, performer. She is famous around the world for her impressive immersive installations. Yayoi Kusama sold at Phillips Auction Hong Kong on December 3, 2020, an artwork titled "Fruits" for HK $ 12,350,000.
http://yayoi-kusama.jp/e/information/index.html
NEWS
Launch of Kusama / Louis Vuitton's fashion collection in January 2023
Yayoi Kusama's large Retrospective in M+ Museum , Hong Kong, from 12 November 2022 to 14 May 2023;
PROFILE
Yayoi Kusama was born in Matsumoto (Nagano Prefecture), Japan, in 1929. She attended the Tokyo Municipal School of Applied Arts and trained in traditional and modern painting including Nihonga painting. In 1957 - supported by the American painter Georgia O'Keeffe, to whom she had naively written a letter, - she moved to Seattle and then to New York in 1958 where she studied at the Arts Students League. Since 1977 Yayoi Kusama has been living in a mental hospital. She has a workshop opposite the hospital where she works with her assistants every day.
Yayoi Kusama is subject to hallucinations since the age of 10. The artist says "My life is a pea lost among thousands of other peas". The origin of these peas goes back to a family meal where she experienced her first hallucination, which multiplied in the whole room the red patterns of the tablecloth. She began to draw to avoid being engulfed in her world of spots and polka dots. Then she used her mental illness in her creative process. "She says she practices psychosomatic art and paints all day long to cure her neuroses. Yayoi Kusama also questions the place of the "I", fears the disappearance of individuality, does not want the human being to be just another pea.
In 1959, she created her Infinity Net series, made of a network of lines and peas, exhibited at Brata Gallery in New York. The notion of infinity is a common thread throughout Yayoi Kusama's work. The mirrors demultiply the space, colonized by the peas and annihilating the boundaries between man and his environment.
The artist marked the 1960s with her performances related to nudity and the freedom to enjoy one's body. Yayoi Kusama creates environments filled with phallic forms made from her sheets or old socks. In 1966 in New York, she realized her first happening, 14th Street Happening, downstairs in her loft. The artist was lying in the middle of the sidewalk on a mattress covered with protruding phallic forms, themselves covered with polka dots. Yayoi Kusama rarely stages herself, but rather uses the bodies of others, relying in particular on the goal, a Japanese choreographic art. "The artist has often recalled in interviews that she had a haunting of sexual relations (and by extension, machismo and the position of men in society). Painting is a form of catharsis for Yayoi Kusama. If peas or phalluses frighten her, she reproduces them by the thousands to get rid of this feeling of fear (more)
EXHIBITIONS
Yayoi Kusama's work has been the subject of major retrospectives around the world.
Her museum, the Yayoi Kusama Museum has reopened in Tokyo with an exhibition entitled (deep breath) "The Vision of Fantasy That We Have Never Seen Is This Splendor", from July 30, 2020 to March 21, 2021.
The artist has had numerous solo exhibitions over the past 30 years.
http://yayoi-kusama.jp/e/exhibitions/00.html
The Tel Aviv Museum of Art presented a major retrospective of Yayoi Kusama's work, from 15 Novembre 2021 to 23 Avril 2022. https://tamuseum.org.il/en/exhibition/yayoi-kusama-a-retrospective/
From April to August 2021, Yayoi Kusama had a large retrosspective at Gropius Bau, à Berlin.
https://kusama-digital-guide.gropiusbau.de/en/
La Tate Gallery presents two of Infinity Mirror Rooms, immersive installations of Yayoi Kusama, from 18 Mai 2021 to 12 June 2022 (extended until June 2023).
TAKASHI MURAKAMI
TAKASHI MURAKAMI, painter and sculptor, is today one of the most quoted Japanese artists, representative of the new Japanese culture.
With cumulative sales of $23 million, Takashi Murakami ranked 16th in Artprice's 2019 global art market rankings (sales revenue) (594 lots sold). He was 21st in the Artprice 2020/2021 ranking of the top 500 contemporary artists in the world with a turnover of $21,514,629 (1.591 lots sold). He ranked 15th in Artprice Report's Top 1000 Contemporary Artists Sold at Auction - 2000 to 2019.
is work 'My lonesome cowboy' sold at Sotheby's for over 15 million dollars in May 2008. In 2012, "The Castle of Tin Tin" (1998) was sold for $4.4 million at Sotheby's New York. Takashi Murakami's diptych The World of Sphere (2003) sold for $2 million at Sotheby's Hong Kong in the fall of 2013. Miss Ko2 Original (Project Ko2) (997) was sold for $2,550,000 at Sotheby's New York during their Contemporary Art Evening Auction on November 14th, 2019.
https://www.instagram.com/takashipom/?hl=en
https://gagosian.com/artists/takashi-murakami/
PROFILE OF THE ARTIST
Takashi Murakami was born on February 1, 1962 in Tokyo. He graduated from the Tokyo University of Fine Arts (painting department) (1988) where he chose not comics but traditional nihonga painting, until his doctorate in 1993. He lives and works between Tokyo and New York.
It is his musician friend, Masato Nakamura, who will bring Takashi Murakami to contemporary art and the pop movement. After a one-year stay in New York, he created his own production studio Hiropon Factory in 1995, which became an "art production company" named Kaikai Kiki Co. He is considered as the leader of the "Superflat" movement, influenced by Japanese animation films, manga and pop culture.
Today, Takashi Murakami seems to be more inspired by Buddhist philosophy than by manga, even if manga remain important reference points in his life.
EXHIBITIONS
Takashi Murakami has had numerous exhibitions throughout the world and in prestigious galleries.
The Busan Museum of Art hosted TAKASHI MURAKAMI: MurakamiZombie, a large scale retrospective of the artist, from 26 January to 12 March 2023.
First exhibition of Takashi Murakami in Dubai: at Perrotin Gallery, from November 25, 2022 to 23 January 2023.
Takashi Murakami Expositions Biography
KIYOSHI NAKAGAMI
KIYOSHI NAKAGAMI is a contemporary Japanese artist who beautifully paints light.
https://en.knakagami.com/?fbclid=IwAR32FAGXkR_u052W0KiEFrgS6mzonhWM9cB-nsDL0RaQutUHhifiagd6Nfg
https://www.facebook.com/Kiyoshi-Nakagami-%E4%B8%AD%E4%B8%8A%E6%B8%85-190203961321461/
PROFILE
Kiyoshi Nakagami was born in Shizuoka, Japan, in 1949. He began drawing at the age of 17. In 1971, he went to study art at the B Seminar in Yokohama City from where he graduated. He lives and works in Yokohama City. He has been represented by galerie Richard (Paris, New York) since 2003.
"As a painter, there is nothing more difficult to represent than light. The ones who can do that are the greatest painters, greatest artists." says Kiyoshi Nakagami.
The artist puts his acrylic paint on the canvas, moving it here and there, and letting gravity move the pigment he has "enriched" with gold mica. His works are thus made of undulations and evoke cascades of light without any trace or use of brush. Light spreads through a series of absolutely sumptuous shades, it passes through an indefinite vaporous material. "His ability to beautifully reproduce the scattering of light in a painting is second to none." Kiyoshi Nagakami's paintings send the audience back to a meditation space.
"Nakagami does not reproduce the light of the natural world. The light of his paintings exists only in painting. The artist's awareness of time at the precise moment when the light manifests itself is closely linked to the surprise encounter of something ephemeral and sublime. Kiyoshi Nakagami is a solitary painter respected in Japan.
EXHIBITIONS
Kiyoshi Nakagami has had numerous solo exhibitions over the world since 1971. The most recent include: 2020 "Light in Painting", Richard, New York, NY; 2019 "Kiyoshi Nakagami", Richard, Art Paris, Paris, France, "La Beauté Sublime", Richard, Paris, France, "Theophany", hino gallery, Tokyo, Japan; 2018-2019 Theophany, Galerie Richard, New York; 2018 Imaginary Places, Galerie Richard, Paris, Light from Afar, Lew Allen Galleries, Santa Fe; 2016/17 Miles McEnery Gallery, New York, hino Gallery, Tokyo; 2015 Galleria Finarte, Nagoya, Art-Taguchi, Gifu, Epiphany II, Richard Gallery, New York; 2014 Recent Paintings, Galerie Richard, Paris, Square Paintings, Galerie Richard, New York, Museum Haus Kasuya, Yokohama, hino Gallery, Tokyo.
The artist also participates in group exhibitions: 2022 Palm Beach Art Fair, Miami ; 2021-2021 Galerie Richard, Paris; 2020 Art Paris; 2019 Art Paris, Galerie Richard; 2016 The Advent of RINPA - Touring the "RINPA CODE" of the Pre-Modern / Modern / Contemporary, Kyoto Municipal Museum of Art, Kyoto; 2015 Modern: Blossoming Garden- Oita World Museum, Oita Prefectural Art Museum, Oita , Dawn of Gods - Encounter of Venus, and Spiritual Landscape, East and West, Oita Prefectural ,Art Museum, Oita ; 2014 Art Paris, Galerie Richard, Paris.
The artist is also part of the public collections of Japanese museums including the National Museum of Modern Art in Tokyo.
YOSHITOMO NARA
YOSHITOMO NARA is one of the leading artists of the Neo Pop Movement in Japan. He is best known for his depictions of children and animals that are both charming and diabolical. He practices painting, drawing and sculpture.
With cumulative revenue of Us$ 85,9 million, Yoshitomo Nara ranked 9th of the Artist Top 10 of Aertprice ranking 2021 (Produits des ventes). (Sales Revenue). He ranked N°3 in the Artprice ranking of the top 500 contemporary artists in the world in 2020/2021 with a turnover of $146,9 million (569 lots sold). Yoshitomo Nara ranked 9th in Artprice Report's Top 1000 Contemporary Artists Sold at Auction - 2000 to 2019 - with a revenue of $327.8 million.
Yoshitomo Nara sold a painting "Witching" (1999) for Us$ 740,000 at Sotheby's online auction in May 2020. He sold his work "Hothouse Doll" (1995) for $13.3 million (HKD 103 million) at Phillips Hong Kong on December 3, 2020. Yoshitomo Nara was among the top performers at Sotheby's Evening Sales of Modern and Contemporary Art in Hong Kong on April 18-19, 2021. His work Nara's Frog Girl (1988) sold for HKD 82 million ($12.4 million with buyer's premium), making it the third most expensive work by the artist ever sold at auction. His work "Missing in Action" sold at Phillips HK on June 7, 2021: $15.8m.
Contact: https://www.facebook.com/michinara3/
https://www.pacegallery.com/artists/yoshitomo-nara/
PROFILE
Yoshitomo Nara was born in Hirosaki, Aomori, Japan, in 1959. He studied at the Aichi Prefectural University of Fine Arts and Music, where he received his BFA and MFA (1987). In 1988 he moved to Germany and attended the Kunstakademie Düsseldorf (1993). In 1998 he taught at the University of California, Los Angeles as a visiting professor. In 2000 he returned to Japan. Currently he lives and works in Tokyo.
Yoshitomo Nara is influenced by elements of popular culture such as anime, manga, Walt Disney cartoons and punk rock. His work is derived from the Japanese neo-pop movement. The artist explores the themes of rebellion, isolation and spirituality. His sculptures, made mainly of fiberglass, and his drawings on postcards, envelopes or pieces of paper, continue this exploration with the same elegance of line and colors as in his paintings. Yoshitomo Nara is a contemporary of Takashi Murakami in the neo-pop movement of Japan but he considers the associations between his work and that of other recognized artists of Japanese visual culture such as the "Superflat" movement of the 1990s, as well as manga comics and graphic novels and its video form, Anime, to be reductive. Anime. The artist insists on the very personal origins of his characters who revive a nostalgia for fantasy and the emotion he took from his fiction books when he was a child. His work "Wish World Peace" could be considered a perfect illustration of Yoshitomo Nara's artistic practice. It is thanks to this emblematic subject of the little girl that the artist has captured the imagination and has been respected by museums and collectors around the world. In the early 2000s, the artist softened the temperaments of his characters. Explaining his artistic work in early 2018, Yoshitomo Nara said: "Drawings have always helped me as an artist when my painting process was not going well, but since I first used clay for about 10 years ago, it has become something that strongly links painting and drawing in my opinion [...] I think it's because it differs from other sculpture mediums that can be controlled, but my encounter with ceramic creation has been one of the most important of my artistic life." The artist continued: "recently I realized that clay is freer than pencil".
From May 9 to October 28, 2022, an iconic sculpture by Yoshitomo Nara, "Peace Head" (2021) was installed in Hanover Square, central London, opposite the Pace gallery. It was the first public presentation of a Yoshitomo Nara sculpture in the UK
EXHIBITIONS
Yoshitomo Nara has had numerous solo exhibitions since 2007. The most recent include: the Yuz Museum in Shanghai presented a major exhibition of Yoshitomo Nara from March 5 to September 4, 2022.It was not only the artist's first solo exhibition in mainland China but also his first international retrospective ; 2021 Yoshitomo Nara at Kaohsiung Museum of Fine Arts, Taiwan . 2020 "After all I'm cosmic dust", Pace Gallery, NY, East Hamptons; 2019 Taiwan Ceramics Biennale.
Yoshitomo Nara Solo Expositions
https://www.pacegallery.com/artists/yoshitomo-nara/
https://www.pacegallery.com/artists/yoshitomo-nara/
On July 24, 2020, the New York Times published an article dedicated to the artist, entitled "Yoshitomo Nara paints what he hears":
A first substantial monograph of Yoshitomo Nara, written by researcher Yeewan Koon was published in September 2020 (Phaidon Press, 2020).
https://www.nytimes.com/2020/07/24/t-magazine/yoshitomo-nara.html
SHINJI OHMAKI
SHINJI OHMAKI is a contemporary Japanese artist artist, a sculptor of light.
Contact : http://www.shinjiohmaki.net/profile/index_en.html
NEWS
Shinji Ohmaki is participating in the exhibition "Space Symphony" at the Paradise Art Space of the Resort Paradise City Hotel in Incheon, South Korea, from 25 October 2022 to 26 March 2023.
PROFILE
Shinji Ohmaki was born in Gifu, Japan, in 1971. He received his Bachelor of Arts (BA) in Sculpture from Tokyo University of the Arts (1995) and his Master's degree in 1997. He became a professor at the same university in 2009, and is currently an associate professor in the Department of Sculpture at the Tokyo National University of Fine Arts and Music.
Shinji Ohmaki was born into a family of traditional Japanese fabric makers. He has experienced the effects of globalization and the decline of traditional factories. All these upheavals led him to choose as his theme the fragile balance between existence and extinction. Existence has always been Shinji Ohmaki's main subject.
Shinji Ohmaki's conceptual art spaces are immersive experiences that blur the boundaries between time, space and history. His interest in Asian philosophy leads him to form a subtle beauty of colors and materials. The artist works in a variety of media, from canvas to 3D installations, often combining light and air movement in a given space. The artist constantly searches for the boundary between what is substantial and spiritual, the self and others.
Shinji Ohmaki not only builds his installations inside traditional exhibition spaces, but also as permanent outdoor sculptures and even in collaboration with the fashion world. For example, in 2016, Shinji Ohmaki had installed his Liminal series in 3 museums in Japan, Singapore and in the Hermès showcase in Paris. He had also made an installation for the presentation of a men's collection at Louis Vuitton in Paris.
The artist experiments with new mediums with each new project. "I am looking for materials that are constantly changing, such as physical texture or phenomena caused by light. I am also interested in using traditional Japanese craft techniques and I am constantly researching to combine them with new concepts," he said.
EXHIBITIONS
After being selected to exhibit his work "Opened Eyes Closed Eyes" in the Tokyo Metropolitan Government's public exhibition Tokyo Wonder Wall 2000, Shinji Ohmaki has had many exhibitions.
Recent solo exhibitions include: 2020 'Rustle of Existence', Kuandu Museum of Fine Arts, Taipei; Memorial Reberth, Senju, Toneri Park.
BIO/EXHIBITIONS
HIROSHI SENJU
HIROSHI SENJU, born in 1958, the "waterfall artist", is a contemporary Japanese painter, known worldwide for his sublime images of waterfalls and cliffs, often on a monumental scale. He combines a minimalist visual language with ancient Japanese painting techniques: he is widely recognized as one of the current masters of the 'nihonga' painting style.
With cumulative sales of $594.4 million (48 lots), he ranked 259th in Artprice's 2018/2019 World Art Market Rankings (sales revenue). He ranked 410th in the Artprice 2020/2021 ranking of the top 500 contemporary artists in the world with sales of $441,786 (32 lots).
Contact: http://www.hiroshisenju.com/
http://www.senju-museum.jp/en/
PROFILE
Hiroshi Senju was born in Tokyo in 1958. He graduated from Tokyo National University of Fine Arts and Music with a BFA (1982) and an MFA (1984). In 1987 he completed a PhD program in Fine Arts at Tokyo National University of Fine Arts and Music. From 2007 to 2013 he was President of Kyoto University of Art & Design. He is currently a professor at Kyoto University of Art & Design and chairman of the joint education system of Kyoto University of Art & Design and Tohoku University oArt & Design. He lives and works in New York.
Hiroshi Senju has put all his talent and energy into promoting traditional Japanese paintings and techniques around the world. He uses pigments made of minerals, stone debris, shells and corals, bound with animal skin glue (nihonga technique) as well as acrylic. His works show mostly natural spaces such as waterfalls or nightfall while tending towards abstraction in his painting form. His "Nightfall" series for example is characteristic of its fluorescent acrylic paint that contrasts with dark backgrounds.
Hiroshi Senju has also created many murals, including the 77 paintings of Jukoin, a sub temple of Daitokuji, a Zen Buddhist temple in Japan, the large waterfall at Haneda Airport International Passenger Terminal in Tokyo, and the two installations at the Benesse Art Site on Naoshima Island in Japan. Hiroshi Senju exhibits a hundred of his works in his museum, the Hiroshi Senju Museum, opened in 2011.
EXHIBITIONS
Hiroshi Senju's recent solo exhibitions include: 2021 "Hiroshi Senju: Beginnings", Waterfall Paintings Series, Sundaram Tagore Gallery, Singapore
Exhibition by Hiroshi Senju at the Art Institute of Chicago: "Senju's Waterfall for Chicago", from 13 November 2021 to 26 June 2022
Hiroshi Senju Recent Exhibitions
CHIHARU SHIOTA
CHIHARU SHIOTA is a Japanese artist living in Berlin. The artist creates spectacular, often monumental installations, usually made of woven threads, in red or black, drawings and videos. Chiharu Shiota's signature is the accumulation of memory in objects.
With cumulative sales of $190,294, Chiharu Shiota ranked 206th in the 2020/2021 Artprice ranking of the top 500 contemporary artists in the world (28 lots sold).
Chiharu Shiota sold on December 3, 2020 a work "Spiral", for $97,538.95 at Phillips HK . She also sold at Phillips Hong Kong, a work entitled "State of Being" Books, 2017, for $ 121,419, on September 17, 2021.
Contact: https://www.chiharu-shiota.com/
https://www.facebook.com/ChiharuShiotaArtist
NEWS
Chiharu Shiota presents "The Soul Trembles", at MACAN Museum, Museum of Modern and Contemporary Art, Jakarta, from 26 November 2022 to 30 April 2023
PROFILE OF THE ARTIST
Chiharu Shiota was born in Osaka, Japan, in 1956. She began her studies at Seika University in Kyoto in 1992 and then at the Canberra Shool of Art in Australia. In 1996, she moved to Germany and enrolled at the University of Art Braunschweig in Hamburg in the studio of Marina Abramovic. In 1999, she moved to Berlin where she attended the University of the Arts until 2003. Her teacher was Rebecca Horn, a prominent figure in body art. She lives and works in Berlin.
Chiharu Shiota creates interlacing threads, her favorite material: they are monochrome, red, black or white, always woven in a network, she hangs objects (keys or suitcases), wraps boats or beds, encloses them in rectangular parallelepipeds (sextant, dress, chair). For Chiharu Shiota, the threads represent memory or physical links. "Black is used to translate emptiness, oblivion and the infinite universe, the outside of oneself. Red refers to memory, and then to this organic view of the interior of the body. The keys represent memory vestiges, because they open or seal the time of memory. The suitcases make us think of a journey, both figuratively and literally. Abandoned pianos, lonely chairs, these objects testify on the one hand to the absence". It's hard to find your way in this new world," explains Chiharu Shiota about his exhibition "Navigating the Unknown" at Koenig London until December 19, 2020. Where is the surface in this ocean of information. The boats float in space, like a boat floats on water. Each line is like an emotion. Using wires, lines, and ropes is something that allows me to explore breath and space like a line in a painting. The architectural form of the boat only lets the passengers go forward. We travel on the ocean without a sense of direction. (read more).
The Guimet Museum gave carte blanche to Chiharu Shiota, from 16 March to 6 June 2022.
Responding to the Bangkok biennale's theme Chiharu Shiota created the massive installation "Eye of the Storm" made of suspending networks of red threads with thousands of sheets of white paper swirling like a typhoon inside.
EXHIBITIONS
Chiharu Shiota has had numerous solo exhibitions where she has presented her installations over the past few years. Let's mention the most recent ones: 2022 "The Soul Trembles", Long Museum West Bund, Shanghai ; 2021 "The Soul Trembles", Taipei Fine Arts Museum, Taiwan, "Linhas da Vida" (Lifelines), (Chiharu Shiota Retrospective), Centro Cultural Banco do Brasil, Rio de Janeiro; "I Hope", Koenig Gallery in Berlin; 2020 "Between us" Gana Art Center, Gana Art Nineone, Seoul, "Inner Universe", Galerie Templon, Paris; 2019-2020 "Counting Memories", Muzeum m Śląskie, Katowice, Poland; 2019-2020, "Lifelines", Centro Cultural Banco do Brasil, São Paulo.
She participates in the Bangkok Biennale 2022 with her installation "Eye of the storm"
https://www.chiharu-shiota.com/solo-exhibitions
https://www.chiharu-shiota.com/group-exhibitions
HIROSHI SUGIMOTO
HIROSHI SUGIMOTO, is a major Japanese artist, an internationally recognized photographer. With cumulative sales of $4.3 million, he was ranked 58th in Artprice's ranking of the world art market in 2019. He was ranked 115th in Artprice ranking 2020/2021 with cumulative sales of $ 2.994.988.
Contact : http://www.sugimotohiroshi.com/
PROFILE
Hiroshi Sugimoto was born in 1948 in Tokyo. He graduated from Saint Paul University in Tokyo (1970) and then from the Art Center College of Design in Los Angeles (1974). He moved to New York in 1974. He lives and works between New York and Tokyo.
Hiroshi Sugimoto began his work in 1976 with his "Dioramas" series, for which he photographed displays in natural history museums. These featured stuffed wild animals in trompe l'oeil settings. For his 1978 series Theaters, he photographed old American movie theaters and drive-ins. Photography preserves and fixes memory and time. "I imagine my vision and then try to make it happen, just like painting," the artist explained. Hiroshi Sugimoto is also known for his "Seascapes" series, seascapes that he photographed with an identical proportion of sea and sky. With his "Portraits" series, begun in 1999, he substituted photography for painting. In the early 2000s, he embarked on another series devoted to architecture, 'The Architecture Series', photographing 20th century architectural buildings all over the world.
Hiroshi Sugimoto is currently working on the renovation of the Hirshhorn Museum's Sculpture Garden in Washington, D.C., and the expansion and construction of the Odawara Art Foundation in Japan.
EXHIBITIONS
Hiroshi Sugimoto exhibits worldwide. Recent solo exhibitions include: 2020 Past Vitam. Kyoto City KYOCERA Museum of Art, Kyoto, Opticks. Fraenkel Gallery, San Francisco, Past Presence, Gallery Koyanagi, Tokyo
Hiroshi Sugimoto participated in the group exhibition "Beyond Color: Black and White, at the Couvent des Jacobins in Rennes, France, where his work 'The Last Supper' (1999) is on display, until August 29, 2021.
https://www.sugimotohiroshi.com/biography-1
YUJI UEDA
YUJI UEDA is a Japanese contemporary ceramic artist. He is supported by the famous Japanese artist Takashi Murakami.
https://www.instagram.com/yuji____ueda/?hl=ja
PROFILE
Yuji Ueda was born in 1975 in Shigaraki, Shiga Prefecture, Japan, an area known for its pottery and tea plantations, where he lives and works. He studied under the guidance of the great local ceramist Kohyama Yasuhisa.
Yuji Ueda has created a unique process for his art: he uses whole blocks of feldspar (a mineral extracted from rocks) or creates irregular clay surfaces that can be fired in wood kilns. Since 2019, he has also been making paintings.
When you see Yuji Ueda's work, you might wonder if it's 'kintsugi' - the Japanese art of repairing broken ceramics and turning imperfections into something beautiful. But this is not repair but creation: unique pieces, raw, irregular, cracked objects.
The famous artist Takashi Murakami became interested in the work of this new generation of ceramists such as Yuji Ueda, Kazunori Hamana and Otani Workshop over five years ago. As a result, he organized an exhibition of these artists, in New York at Blum & Poe, in 2016. Takashi Murakami's Kaikai Kiki Gallery in 2020, organized Yuji Ueda's second exhibition in his gallery in Tokyo. Entitled "Picking seeds," the artist exhibited eroded ceramic planters and abstract paintings.
In 2020, Yuji Ueda was part of the group exhibition "Healing", dedicated to Kaikai Kiki artists (Takashi Murakami's production studio), at Perrotin Seoul Gallery and in 2021 at Perrotin Shanghai Gallery.
EXHIBITIONS
Yuji Ueada has been exhibiting since 2008. These include his solo exhibitions: 2020 "Picking Up Seeds", Kaikai Kiki Gallery, Tokyo; 2018, "Memories of Resonating Clays", Kaikai Kiki Gallery, Tokyo; 2015 Yuji Ueda, Solo exhibition, Mario Hirama Soe Bana; 2014 Yuji Ueda's Ceramics Works, t.gallery , Minato-ku, Tokyo, "Cosmic Eruptions, Yuji Ueda's solo exhibition, Pragmata, Tokyo; 2013 "Yuji Ueda Pottery exhibition Shigaraki no Tsuchi To Hi To Toki Ho, Gallery Fukka, Tokyo, "Yuji Ueda Mitsutamari no Tschuchi", Oz Zingaro, Tokyo; 2012 Yuji Ueda, Sunaba, Sundries, Tokyo: 20O9 "Cafe Wakaya solo exhibition", Mie; 2008 Gallery Karahashi, solo exhibition, Shiga.
Yuji Ueda participates in the group exhibition "Healing" dedicated to Kaikai Kiki artists, organized by Takashi Kuramaki, at the Perrotin Gallery Shanghai from February 5 to March 20, 2021
DAIYA YAMOMOTO
DAIYA YAMOMOTO is a japanese contemporary visual artist. He is one of the most promising artists of the young Japanese generation.
(1) Daiya Yamamoto | Facebook
https://www.reijinshagallery.com/product-category/daiya-yamamoto/
Galerie Tamenaga
PROFILE
Daiya Yamamoto was born in 1989 in Nara, Japan. He graduated from Hiroshima City University, where he specialized in oil painting technique (2010). In 2012 he pursued a Graduate Master Program at the Hiroshima City University Institute of the Arts Faculty of Painting.
Daiya Yamamoto has always been fascinated by the extreme realism of trompe l'oeil works and especially by the more classical genre in art history, still lifes. Thus, he takes up this pictorial genre, using his usual technique of oil painting, to associate it with a very contemporary approach with the use of everyday objects. He likes to scatter these objects, hang plants from wires and freeze everything in a radical vacuum. Its aesthetic, with its refined composition and clear palette, creates timeless still lifes through which emanates a real serenity in respect of the Japanese tradition.
EXHIBITIONS
Daiya Yamamoto began exhibiting as soon as he finished his studies.
These include his solo exhibitions: in 2020 Afterimage collection, Reijinsha Gallery, Tokyo; in 2019 'Amplified'. Reijinsha Gallery, Tokyo, Yokohama Honmoku Picture Gallery / Kanagawa, "Z Axis Events" (Lapis Gallery / Hiroshima; 2017, 'Space Corrosion' Reijinsha Gallery, Tokyo; 2016 Miyasaka Gallery, Tokyo, 'Synchronism' (Kamome no Baaba); 2015 "Multi-Millimeter Borderline" (Cafe Funchana), Nara; 2014 Solo exhibition Okanoyama Museum, Nishiwaki, Japan; 2013, solo exhibition, Nets Gallery "BOX".
The artist also participates in group exhibitions including the most recent: 2020 Galerie Taménaga, Art Paris, Art Paris Digital; 2018 RUBICON REBOOT (Hiroshima Hatchobori Tenmanya) Current/Kokugakai Alumni. "Drawing x Framing" (Gallery Cafe Am / Hiroshima), RUBICON Exhibition (Toho Art / Tokyo), Machiya Museum vol.2 "Contemporary Peace Art Festival" (Nara Town Nigiwai no Ie / Nara), OSAKA ART FES 2018, Hazama (Hiroshima City University Art Museum)