Vietnamese Contemporary Artists
Vietnamese Artists/Art News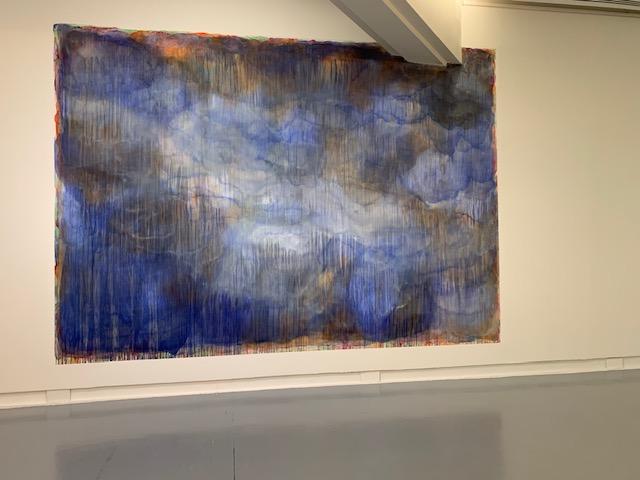 THU-VAN TRAN
We live in brilliance
From 10 June to 3 October 2023, the Musée d'Art Moderne et Contemporain de Nice is presenting a major exhibition by Vietnamese-born artist Thu-Van Tran "Nous vivons dans l'éclat". The exhibition's scenography highlights the main aspects of the artist's work, which is imbued with her dual Franco-Vietnamese culture; the shared history of the two countries and the heritage still inscribed in the language and bodies of Vietnam. It's also a question of rubber, a tree that was once prolific in the country. Thu-Van Tran has also just completed a major site-specific commission at the Carnegie Museum of Art in Pittsburgh.
https://www.mamac-nice.org/exposition/thu-van-tran-nous-vivons-dans-leclat/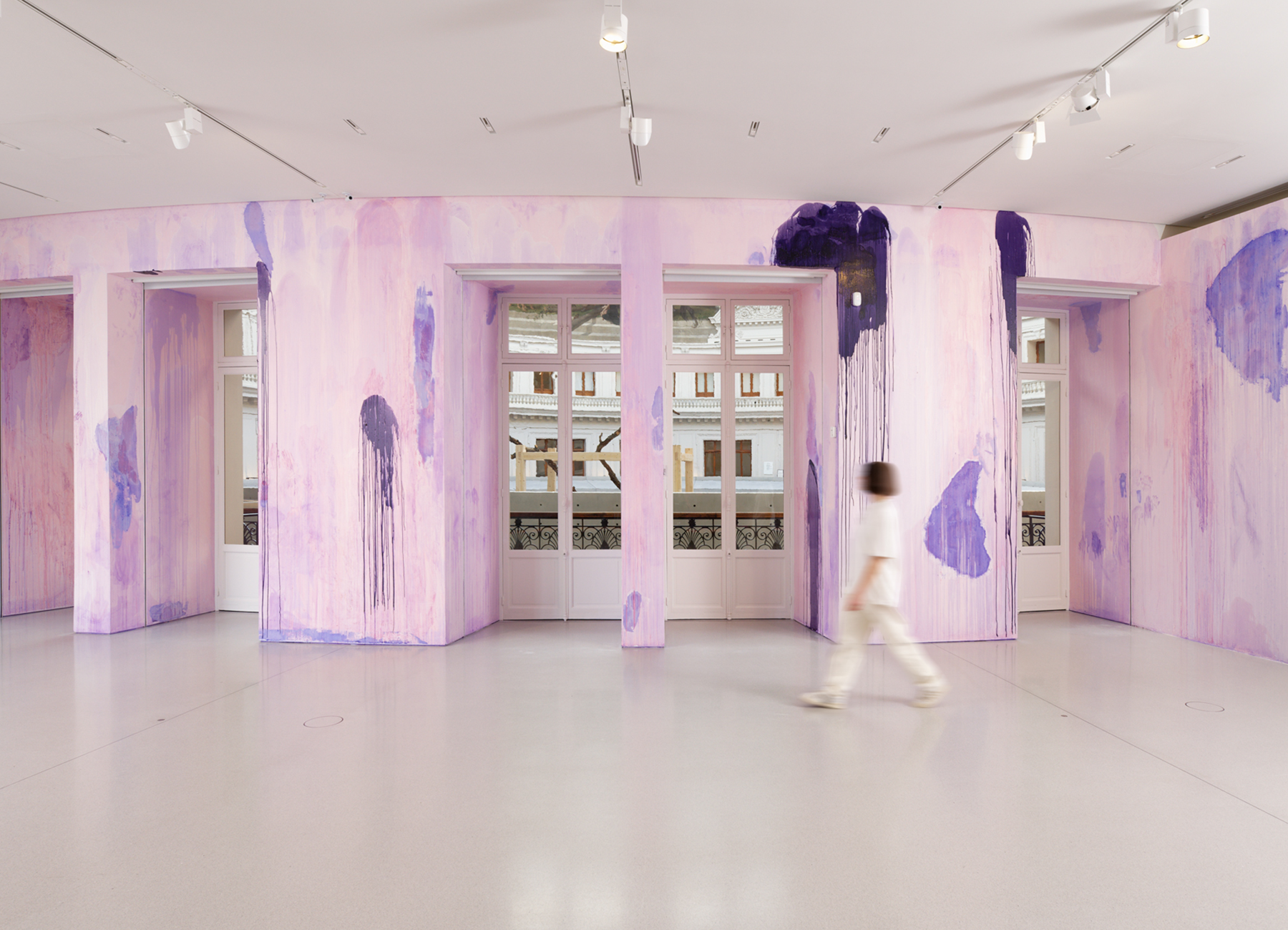 THU VAN TRAN
Bourse du Commerce
As part of the new exhibition "Avant l'orage" at the Bourse du Commerce in Paris until 11 September 2023, the Vietnamese-born artist Thu-Van Tran presents a pictorial landscape on all the walls of her exhibition space. Inspired by the American napalm attacks in Vietnam, the large purple and pink stains - made from pigmented rubber skins - depict a toxic world as much as a hallucinated or dreamlike vision. Thu-Van Tran's artistic work is nourished by a reflection on the colonial history of Vietnam, and on the generalized systems of exploitation of man and nature throughout the globalized world. Thu-Van Tran work was exhibited at the Centre Pompidou during the 2018 Marcel Duchamp Prize exhibition for which she was selected. In 2017, she participated in the international exhibition of the 57th Venice Biennale Viva Arte Viva.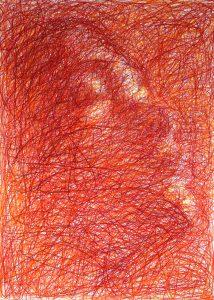 HOM NGUYEN
Portraits of women
French-Vietnamese artist Hom Nguyen presents "Illuminations, Portraits de femmes" at Musée d'Art et d'Histoire Paul Eluard, 22 bis rue Gabriel Péri 93200 St Denis, France, from 8 September to 6 November 2023. Hom Nguyen presents 8 portraits of anonymous women with diverse histories and origins, exhibited in the cloister gallery. For the Carmelite Chapel, 3 monumental works have been designed, including a Virgin and Child. Also on display are portraits of Nusch and Gala, the two wives of the surrealist poet Paul Eluard to whom Hom Nguyen has chosen to pay tribute. "The luminous presence of the female figures depicted by Hom Nguyen emerges from this very special technique that the artist has built up by mixing heritages. A free, lively gesture that owes as much to Asian tradition and the art of calligraphy as to the contribution of modern art, from Alberto Giacometti to Jackson Pollock and Francis Bacon. Born of this vibration of colours and blacks, between embodiment and erasure, the women's faces painted by Hom Ngyen embody the underside of appearances".
https://musee-saint-denis.com/event/illuminations-portraits-de-femmes-par-hom-nguyen/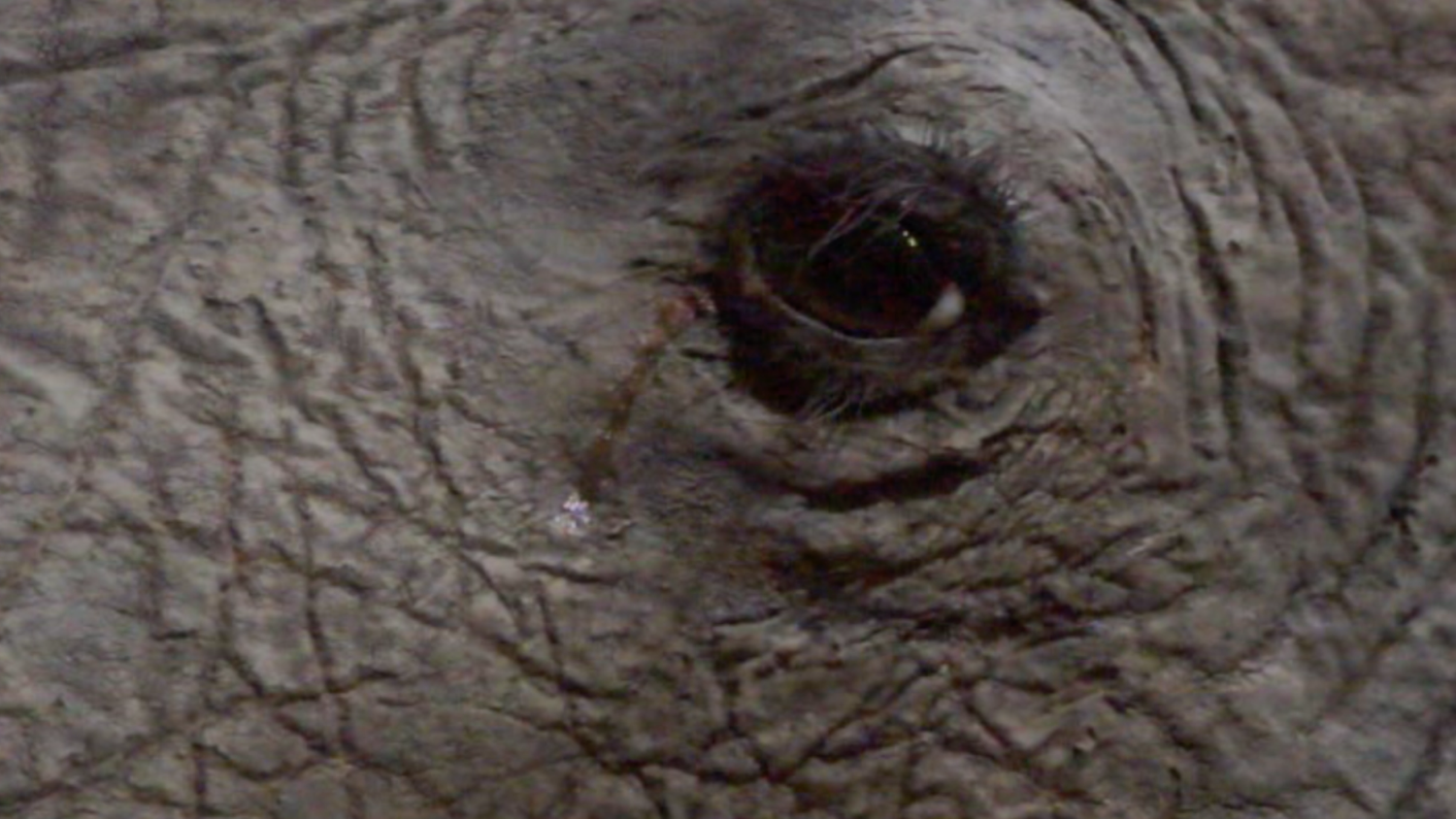 TRUONG CONG TUNG
Video Prize
The Han Nefkens Foundation has selected the Vietnamese artistTrương Công Tùng the first winner of the Han Nefkens Foundation – Southeast Asian Video Art Production Grant. Newly established this year, the Grant aims to consolidate the careers of video artists living in Southeast Asia. Employing a wide range of media, including video, installation, painting and found objects, Trương Công Tùng's works explore connections between science, cosmology, philosophy and the environment. His installation Long Long Legacies calls upon local spiritual practices to investigate environmental history and ecological devastation, and videowork. The "Lost Landscape" challenges practices of natural history museums. In the video installation "The lost landscape" (above), the camera tracks the journey of shadows in the eyes of stuffed animals on display in natural history museums.
TRUONG CONG TUNG
Vietnamese Artists. Profiles, Works & Exhibitions
First opened to the outside world in the early 1990s, Vietnam's art scene has experienced slow but steady development. In Saigon there are not many art fairs to promote Vietnamese art or attract local or international visitors. And there are very few collectors or rich investors. However, attitudes seem to be changing with the organization of art markets in Hanoi and computerized auction sales at HCMC. There are now 10 art spaces in the country which contribute to promote Vietnamese art in both Hanoi and Saigon. Social networks also participate to the development of contemporary art. A 3 year project promoting artistic expression and creativity in Vietnam - funded by the European Union - has started mid-2018. Six hubs including VICAS Art Studio, Heritage Space, Hanoi Grapevine or San Art, collaborate to the implementation of Cultural and Creative Hubs Vietnam (CHV).
BAO VUONG
BAO VUONG is an emerging French-Vietnamese artist who has recently made known with his deep, intense and symbolic black monochromes. Bao Vuong sold two works for respectively 14000 and 16000€ at BAD Bordeaux in early July 2022
Contact : https://www.baoartworks.com/
https://www.a2z-art.com/artists/artists/description/artistid/0000001006
PROFILE OF THE ARTIST
Báo Vuong was born in Ho Chi Minh City in 1978. His family having fled Vietnam to take refuge in France, he studied in Toulon. He obtained a Master's degree in Fine Arts at the Beaux-Arts in Toulon (1999). He graduated from the Ecole Supérieure d'Art d'Avignon (2001). After more than 30 years in France, Báo Vuong returned to Vietnam in 2013. He now lives and works in Ho Chi Minh City.
It is precisely this return to his native land that will give Báo Vuong all his inspiration. He then began to work on portraits: tar drawings of boat people (mothers, children) or old photographs washed out and stained with tar. A theme dear to Báo Vuong is oblivion, the forgotten or erased faces of migrants. The artist explains: "I started to paint using tar to represent these characters, because in fact we had stayed for a very long time in the hold of the boat, near the engine, where the smell of tar was very strong. It's as if it had been imprinted in my memory, and that's what I wanted to transcribe through the use of a very thick black paint".
The artist has also created installations in rice cakes, face casts, or photos of faces imprisoned in plastic bags or jars.
His first exhibition, in 2013, a performance on a graphic work in situ, was censored because it recalled painful parts of history. Some time later, he came up with the idea of painting the Black Sea alone, devoid of any clues and human beings, thus thwarting the censorship.
Báo Vuong has no concrete memories of his time spent at sea or in the camps. He was one year old at the time. However, the collective trauma remains anchored in him. Today, the artist pours this emotional memory into black monochromes, applying large masses of paint with a knife. To extract the memory of these forgotten wounds of his past, he created the series "The Crossing". His paintings are completely black, both realistic and abstract. It is a projection of thenights his family spent at sea, the same nights that thousands of refugees have experienced over the centuries, he explains. The reflections of light on the waves, on the skies and the shores concentrate the survival instinct of the shipwrecked, he continues. With the Crossing project, I'm now up to 25 or 26 paintings, and it's not going to stop," he says.
Regarding the comparison often made in France with the famous artist Pierre Soulages, Báo Vuong replies: "It was only afterwards that I realised that Pierre Soulages was doing abstraction. He didn't want to tell anything other than the beauty of black, whereas I was more in line with a realistic, figurative approach. I reproduce waves and clouds. These are two very different things.
A2Z Art Gallery presented The Crossing, Bao Vuong's first solo exhibition in its gallery, from 3 December 2020 until 9 January 2021. "Oscillating between abstraction and figuration, "The Crossing" allows everyone to observe, live and appropriate an experience of contemplation of the "light of darkness". The experience is very moving as well as impressive.
EXHIBITIONS
Solo exhibitions of Báo Vuong: 2022-2023"Horizons", at A2Z Art Gallery, Paris; 2021-2022 "Coming through", A2Z Art Gallery Paris; 2020 The Crossing, A2Z Art Gallery, Paris
Bao Vuong participated with his work "Alatar" in the group exhibition 'Remnants' in San Art, Saigon, from 15 July to 17 September 2022
Bao Vuong had a solo exhibition at the Vietnam House, The Hague, Nethetlands, "The Crossing", from 2 to 25 October 2022
Group exhibitions: Bao Vong participatedd in BAD+, the first contemporary art exhibition in Bordeaux, from 7 to 10 July 2022 (A2Z Art Gallery) ; Bao Vuong participated in Asia Now 2022 et 2021, presented by A2Z Art Gallery, Art Paris Art Fair 2021
→ BIO/EXHIBITIONS
BUI CONG KHAHN
BUI CONG KHAHN is a contemporary Vietnamese painter, sculptor, musician, video artist and performer. He was one of the first Vietnamese artists to gain international recognition in the 1990s with performances that questioned the restrictions on expression in communist Vietnam.
https://buicongkhanh.com/
PROFILE OF THE ARTIST
Bùi Công Khành was born in 1972 in Danang. He graduated from the College of Fine Arts in Ho Chi Minh City: BFA, Oil Painting Department, University of Fine Arts. He lives between Ho Chi Minh City and Hoi An.
Bùi Công Khành's subjects are about contemporary history and society in Vietnam, especially the increasing impact of capital in the world. The artist is also inspired by Buddhist and Taoist philosophy. His recent series of porcelain paintings use the traditional design and form of Vietnamese blue and white porcelain vases. But the artist integrates the present, noises and a vision of everyday life such as motorbike drivers, road signs, electric wires, advertising.
More recently, Bùi Công Khành has been drawing on ancestral Chinese/Vietnamese society by making sculptures in jackfruit wood - a material traditionally used to make boats in Vietnam, and also typical boats from the China Sea. These jackfruit sculptures "Dislocate" were notably shown in his solo exhibition 'Lac place' at the Factory Contemporary Art Centre in Ho Chi Minh City from June to August 2016.
In 2017, Bùi Công Khánh was invited to exhibit his work "Prayer on the Wind" in Israel and participate in the creation of the Wilfrid Israel Museum. The artist worked on an Israeli version of "Prayer on the Wind", inspired by the famous Wailing Wall in Jerusalem.
Recently the artist created a showroom in Hoi An for local people to have the opportunity to meet, exchange and be inspired by art, especially students.
EXHIBITIONS
Bùi Công Khánh's work has been exhibited in the most important Vietnamese cities but also in France, Cambodia, South Korea, Thailand and the United States. It has also been exhibited in international biennials around the world.
Bùi Công Khánh was among the finalists of the Sovereign Asian Art Price 2020
His latest solo exhibition "Porcelain Medals and jackfruit Wood Grenades" was organised by 10 Chancery Lane Gallery, Hong Kong in December 2018-January 2019. Bùi Công Khành participated in the group exhibition "Impressions on Earth", with Hong Linh, Le Trieu Dien, Nguyen Duc Phuong, in San ART, from 23 March to 29 May 2021.
Bùi Công Khành participates in the exhibition V.I.E... at A2Z Art Gallery, Paris, from 2 March to 1 April 2023.
BIO/EXHIBITIONS
DINH Q. LE
DINH Q. LE is one of the best known Vietnamese contemporary artists in the world. He is a conceptual artist who became popular in the 1990s for his images created from hand-woven photo strips using a traditional Vietnamese matting technique he learned as a child.
https://www.facebook.com/dinh.q.le
PROFILE OF THE ARTIST
Dinh Q. Lê was born in 1968 in Vietnam, near the Cambodian border. His family fled the Khmer Rouge invasion in 1979. He grew up in the United States, in Los Angeles. He continued his studies at UC Santa Barbara and obtained his BA Fine Arts (1989) and then at the School of Visual Arts (MFA photography, (1992) in New York. In 1996, he left New York for Ho Chi Minh City.
Dinh Q. Lê's most famous photograph is "From Vietnam to Hollywood", from 2002, was made from photojournalistic images and American war films. Other works by Dinh Q. Lê during these years were mainly posters showing, for example, objects that bear witness to the brutality of Agent Orange, which still contributes to the death of children at birth in Vietnam. Dinh Q. Lê is also known for his analyses of colonial history, in reference to his native country. In 2011 at the Sherman Contemporary Art Foundation, Sydney, Australia, he presented an interactive video installation "Erasure" related to debates in Australia on refugees and asylum seekers.
From September 14, 2018 to April 7, 2019 at the San Jose Museum of Art (California), Dinh Q Lê presented "Dinh Q. Lê: True Journey Is Return": five major video and photographic installations mixed with narratives of war and migration.
The Quai Branly Jacques Chirac Museum in Paris presented "Le fil de la mémoire et autres photographies » by Dinh Q Lê until November 20, 2022.
https://www.quaibranly.fr/fr/expositions-evenements/au-musee/expositions/details-de-levenement/e/dinh-q-le-39279/
EXHIBITIONS
The work of Dinh Q. Lê has been exhibited in galleries and museums in Asia, Europe and the United States since 1990. In 2003, six works from his 'From Vietnam to Hollywood' series were shown at the Venice Biennale.
Recent solo exhibitions include: 2022-2023 "Momentary Stillness" , Art Design & Architecture Museum in Santa Barbara, USA, CA ; 2022 "Le fil de la mémoire et autres photographies", Musée du quai Branly Jacques Chirac, Paris ; in 2020 Dinh Q. Lê/Screenprints, "Fragile Springs", Elisabeth Leach Gallery, Portland, USA; in 2019, "Pure Land", Tang Contemporary Art, Bangkok
Dinh Qe Lê was presented by the 10 Chancery Lane gallery, London at Asia Now Paris 2022.
Dinh Q.Lê participated in the inaugural Asia Society Triennial in New York, October 27, 2020 to June 27, 2021. He presented rolls from the WTC in Four Moments Series (2016), and a Four-channel video (2014).
HA MANH THANG
HA MANH THANG is considered one of the most important young painters in Vietnam. His work is inspired by socio-political documents and cultural references.
Contact : https://hamanhthang.com/
PROFILE OF THE ARTIST
Ha Manh Thang was born in 1980 in the northern province of Thai Nguyen. He graduated from the Hanoi University of Fine Arts (2004). He lives and works in Hanoi.
Considered one of the leading figures of the young generation of contemporary art in Vietnam, Ha Man Thang was featured in the major international Phaidon publication "Painting Today" in 2009. He is the only Vietnamese artist to have been featured alongside renowned artists such as Gerhard Richter, Jumaldi Alfi or Zhang Xiaogang.
Ha Manh Thang's paintings - on canvas or paper - are rich in texture and meaning. The artist has become popular for his series of colourful and at the same time sarcastic paintings on subjects such as tradition, modernity and the influence of consumerism since Doi Moi, the economic opening of Vietnam.
Ha Manh Thang draws on themes of memory, history and cultural heritage - from the ancient towers of Angkor Wat and sporadic village houses in rural northern Vietnam to the old costumes used by emperors and royal families during the Le and Trin dynasties. "My works usually mix images from my own cultural history and pop culture with the social necessities I encounter in contemporary life," the artist explains.
In his current work, Ha Manh Thang still studies Vietnam's iconic architectural structures, reducing them to their essential forms, isolating them from their context and questioning their roles and meanings.
"Passage of Time - a poetic meditation - was Ha Manh Thang's first solo exhibition in Hong Kong. He presented two series "Circle of Time" - about the meaning of symbols found in ancient objects.
Quynh Gallery in Saigon presented "Kia non non, nuoc nuoc, may may" by Ha Manh Thang from 21 December to 4 February 2023. Second chapter of his previous exhibition at the gallery - The Reflection -, the exhibition featured 16 works that illustrate the artist's fascination with time and the exploitation of historical and cultural heritage. With the aim of reinventing the table screen or folding screen, described by the old masters, Hà Mạnh Thắng has adopted the structure of these ancient objects in his work with silk paintings, canvas and a plethora of paint and gold leaf.
EXHIBITIONS
Some of Ha Manh Thang's most recent solo exhibitions include: in 2021-2022 "The Reflexion" Quynh Gallery, Ho Chi Minh City ; in 2019 "Landscape/Mindscape", Quynh Gallery, Ho Chi Minh city
BIO/EXHIBITIONS
HOM NGUYEN
HOM NGUYEN is a French artist of Vietnamese origin, born in Paris. He has become a master in the art of portraiture
Contact : https://www.hom-nguyen.com/
https://www.facebook.com/homnguye
https://www.instagram.com/homnguyen/?hl=en
NEWS
Hom Nguyen presents "Illuminations, Portraits de femmes" at Musée d'Art et d'Histoire Paul Eluard, 22 bis rue Gabriel Péri 93200 St Denis, France, from 8 September to 6 November 2023
PROFILE OF THE ARTIST
Hom Nguyen was born in Paris in 1972 from Vietnamese parents. He became head of the family at a very young age, and did not study art. He started out as a shoe shiner to earn a living, but in 2009 he became a specialist in the patina of branded shoes. He worked on leather colours and even drew on shoes. He then returned to painting and drawing. The artist has always had a passion for drawing. In 2009, he moved to a large studio in Bagnolet and in 2011 began to paint monumental portraits on canvas. He worked with the designer Ora-Ito (in 2011) who introduced him to the world of art and design. He lives and works in Paris.
Hom Nguyen is fascinated by the human face: his portraits make up most of his work. Hom Nguyen's style is particularly sensitive to the human values he embodies and conveys a sense of peace and communion. He works with charcoal, felt-tip gouache, oil and even pen. He throws the paint on the canvas, he uses the pencil technique to bring out the volumes. His gesture insists on the movement and the depth of the line. The artist deconstructs the features of the face with brushstrokes to leave only an intense expressive look springing from the dense material. His freedom of movement can be compared to street art.
While the artist has portrayed many French and international stars - from Serge Gainsbourg, Mick Jagger, Sophie Marceau, Gandhi, John Fitzgerald Kennedy to Ali Bongo - he has also sketched illustrious strangers and children. "I have to be interested in their faces. It's not their beauty or their fame that interests me, but their expression. What their physiognomy, the feelings and the emotion that float in it translate", he declared. The artist mainly paints Asian people such as teenagers, young children or grandmothers.
In 2015, Hom Nguyen presented a series on boxing at the A2Z Art Gallery in Paris, "The Fight of the Century", in which he unveiled some twenty portraits of famous boxers: from Sugar Ray Robinson to Mohamed Ali, via George Foreman and Marcel Cerdan or Jean-Marc Mormeck. In 2016, the exhibition "Sans repères", at Palais de Tokyo, allowed us to discover the monumental faces of Hom Nuyen, inspired by the exile of the boat people. Recently, as part of an exhibition in Corsica in 2021, in Calvi, the artist painted a portrait of Napoleon.
Hom Nguyen also has two major themes in his work: exodus and transmission. Thus he has produced a series of pencil drawings of children without mouths and ears, the result for him of a projection of memory: he was born of an immigrant mother who arrived in France among the boat people. If he does not include the mouth in the composition of the face, in these portraits of Asian children, it is because a mask rather than a portrait emerges from the canvas. Starting July 2022 until January 2023, Hom Nguyen is having a show "Un Monde Meilleur: A Better World" at SAC gallery in Bangkok. With this series of portraits specially created for the exhibition, the artist explores the turbulence of the inner world in response to the particular movements that surround and traverse us. "It's about giving space, vibrating the positive energy that lives in each of us, looking for a better world, hidden inside us".
EXHIBITIONS
Hom Nguyen has really made a reputation: he exhibits regularly in France and more and more abroad. His latest solo exhibitions include: 2022/2023 "A better World", SAC gallery, Bkk ; 2021 SAC Gallery, Bangkok, Thailand; 2020 "Empreinte", NAG Paris (Natacha Dassault Art Gallery) ; 2019 Miaja Gallery, Singapore
He participated in a collective exhibition in 2021 at the Galerie La Villart, Calvi (Corsica), presented by the A2Z Art Gallery. Hom Nguyen presented his collection "Woman", at the S&S Gallery in Hồ Chí Minh City (November-December 2021)
Hom Nguyen Exhibitions
Hom Nguyen is on permanent display at galerie François Duran, 40 avenue Niel, 75017 Paris.
https://www.instagram.com/galerie_francoisduran/?hl=fr
NGUYEN THAI TUAN
NGUYEN THAI TUAN is among the most important contemporary Vietnamese artists, whose reputation is growing abroad. The history of Vietnam is at the heart of his paintings.
PROFILE OF THE ARTIST
Nguyễn Thái Tuấn was born in Quang Tri, Vietnam in 1965. He graduated from Hue Fine Arts College (1987). He lives and works in Dalat, Vietnam.
Nguyễn Thái Tuấn's paintings are characteristic as they often depict headless and limbless bodies. The figures appear to be tortured or detained. In his childhood during the Vietnam War, Nguyễn Thái Tuấn indeed witnessed many atrocities. His Black Painting No. 40 (2008) also refers to the Land Reform of 1955, which resulted in a bloodbath throughout northern Vietnam. Nguyễn Thái Tuấn's work thus questions the history and fragility of humanist values and the affirmation of subjectivity in opposition to political power. His artistic practice is also rooted in the symmetry of fullness and absence.
Nguyễn Thái Tuấn's figures appear ethereal and phantasmagorical, their forms standing out against a featureless monochrome background. "Black Paintings" is a series of about a hundred oil paintings where the human form takes on meaning through its absence. This omission of human detail, masked in a colour suggesting darkness, ignorance or emptiness, is deliberate on the part of the artist. He explains 'Darkness always contains mystery and the unknown. Darkness arouses people's curiosity to go inside and find the hidden truth, but it also creates anxiety and turbulence".
In his exhibition "Fullness of Absence" (Sàn Art 2011), the artist painted fully clothed, bodiless men and women sitting in seemingly anonymous, hotel room-like spaces where the direction of light creates peculiar shadows on the floor and walls. In his Heritage Series, Nguyễn Thái Tuấn shows buildings and monuments related to Vietnamese history in the background. In this way he seeks to represent a critical space between the past and the present. Nguyễn Thái Tuấn's pictorial interiors are inspired in part by the palace compound of Emperor Bao Dai, the last Vietnamese king of the Nguyen dynasty. Through these reminiscences, he seeks to describe the socio-political phases of Vietnam, from the colonial, to the imperial, to the proletariat, to the "petits bourgeois", to the "new acquirers".
In his Series "Black Souls", there are still no characters with individual characteristics but black figures that merge with the environment in an impressionist atmosphere. More recently in his Series "Interiors", shadows rest, in the darkness that fully occupies the painting from the background.
Nguyễn Thái Tuấn's paintings can recall the American modernist, Edward Hopper, in his treatment of color and in the representation of interior spaces.
In Nguyen Thai Tuan's paintings, the present and the future are empty rooms, with anonymous souls hiding like the reincarnations of anonymous people. They wander in time, exist in isolation, between heaven and earth. They are absorbed into the wall, blend into the fiber of the mattress, and then melt into the air, morose and reclusive. They lose their days, "waiting for the wind to end," but in Nguyen Thai Tuan's paintings, day and night no longer show any sign of wind.
"Although Nguyễn Thái Tuấn is widely respected in Vietnam, one of his exhibitions has been censored and, like many artists in his country, he navigates a delicate balance between independent artistic practice and the challenge of the status quo."
EXHIBITIONS
Nguyễn Thái Tuấn has begun in recent years to become better known internationally. He presented "Interior & Black Souls" at the Primo Marella Gallery, Milan (online exhibition from June 15 to July 3, 2021).
Tha artist exhibited at the 195/14 Xo Viet Nghe Tinh Gallery (San Art), at HCMC: "Waiting for the end of wind", from March 1 to April 23, 2022.
Nguyễn Thái Tuấn participated in the collectice exhibition "S.E.A. Calling" at the Primo Marella Gallery in Milan, from February 10 to March 10, 2022
Primo Marella Gallery presented Nguyễn Thái Tuấn at Asia Now Edition 2021, Paris Asian Art Fair.
PHAM HUY THONG
PHAM HUY THONG is currently one of the most promising contemporary Vietnamese artists. He is represented by the Craig Thomas Gallery in Ho CHi Minh City and the 333 Gallery in Bangkok.
https://www.phamhuythong.net/home/
https://fr-fr.facebook.com/artistphamhuythong
https://www.instagram.com/artistphamhuythong/?hl=fr
PROFILE OF THE ARTIST
Pham Huy Thông was born in 1981 in Ha Tay, Vietnam. He graduated from Hanoi Industrial Fine Arts University: Bachelor of Fine Arts, Major in Graphic Design (2004). He lives in Hanoi.
Pham Huy Thông works with Vietnamese lacquer, acrylic and mixed media. His paintings are covered with symbols and messages. His work has been defined as political and social commentary on current issues. "He is an artist with a conscience."
Since I started to give my paintings more meaning, story and reflection, working with lacquer seemed to waste a lot of my time. It's not fun to have to wait months to find out if an idea worked well on a lacquer surface, so I've tried other materials like acrylic, watercolour, ink and oil [...] Sometimes, to express myself differently, I also try to do installations and performances. The art I did at the very beginning was mainly portraits or self-reflective paintings, he continued. But around 2006-2007, "I started trying to express my thoughts and understanding of more serious subjects such as political or social issues. My first solo exhibition in 2006 was a one-piece installation that depicted rain and people running under it trying to hide from a common threat, instinctively showing their own individual ways of trying to stay dry.
In his exhibition "Dong Bao", the artist presented a series of oil and acrylic paintings made between 2009 and 2010, in which he used iconic images of Vietnam to re-draw the nation's history. These paintings were based on traditional prints by Don Ho. "I took the same composition but recreated them with modern life issues".
Speaking about his Hope Series, the artist explains: the Hope Series - launched in March 2014 - focuses on exploiting the theme related to rural farmers and poor urban workers. The process of urbanisation and modernisation in Vietnam has thus created a growing gap between the rich and the poor. Those with a low position in society are increasingly marginalised. In times of economic crisis, the inequality gap does not decrease but is exacerbated. The Hope Series paintings exploit the contrast between images of storm clouds representing the uncertain future of the poor and images of white clouds as the hope that rises in their hearts.
His more recent Series, Nudity or Construction, are more dedicated to the female body.
Pham Huy Thông was one of the finalists of the Sovereign Asian Art Prize 2022
EXHIBITIONS
Pham Huy Thông has already had several solo exhibitions: in 2018 "Hope 2.0", Craig Thomas Gallery, HCMC
BIO/EXHIBITIONS
LE QUY TONG
LE QUY TONG is a Vietnamese contemporary artist. His "Bridge" series, the Long Bien Bridge, a symbol in Hanoi, is well known to art professionals and the public. Some of his works have reached $12,000 at auction.
Contact : http://lequytong.com/
PROFILE OF THE ARTIST
Lê Quý Tông was born in 1977 in Hanoi. He graduated from the Hanoi Fine Art Institute (Department of Painting) (2001) where he is currently a lecturer.
From his city, Hanoi, Lê Quý Tông offers a palette of colours, but above all he proposes a new feeling by using grey, blue and even non-colours. At the beginning of his work, the landscapes he depicts do not show any human but rather the process of modernisation and industrialisation of his city. Lê Quý Tông also made portraits that are a study of himself. The intensity of his portraits is enhanced by the artist's ability to capture mood and light on his face. Time, memory, emptiness, doubt, questioning the meaning of things and events are what guide Lê Quý Tông.
Lê Quý Tông entered the Vietnamese art scene with an impressive exhibition at the Espace-Centre Culturel Français in Hanoi in 2006, showing a collection of large-scale oil paintings of the Long Bien Bridge, a symbol in Hanoi. The audience immediately embraced his work. He brought a kind of new vision of the Hanoi art scene at the very beginning of the 21st century.
In 2007, he held his second major exhibition with a collection of 22 large-scale paintings of his city, a Hanoi of great creativity, full of strong emotions, but still painted in a rather romantic way.
At the end of 2015, the Manzi Art Space in Hanoi organised an exhibition of Lê Quý Tông's work, entitled 'True Blue', which showed his work over the last few years during which he has been exploring new techniques and themes. The result showed an evolution in the artist's practices that currently positions him among the most creative forces in Hanoi. Each of his works is based on photographic documents of important political meetings that have influenced the course of history.
In his exhibition "True Gold, Chapter II", at Affinity Art Gallery in Hong Kong, in September-October 2018, Lê Quý Tông reanimated photographs of revolutionary events, putting his characteristic grids and geometric shapes, golden pigments and erasing significant identities. It was up to the viewer to decipher between the invented and the authentic, the alternative and the obvious. The Vin Gallery in Ho Chi Minh City in turn presented the exhibition "Lê Quý Tông's True Gold Chapter II: The Loyalty" from 8 November to 14 December 2018.
EXHIBITIONS
Lê Quý Tông's recent solo exhibitions include: in 2020 "Le Quy Tong: World of Examination", Art Vietnam Gallery, Hanoi ; 2019 "True Gold # Chapter III # "Endgame", Flamingo Dalai Resort, Hanoi
Recently he participated to several group exhibitions at Art Vietnam Gallery, Hanoi.
BIO/EXHIBITIONS
VU TRONG THUAN
VU TRONG THUAN is a contemporary French-Vietnamese painter, living in France since 1980. From the realistic paintings of his beginnings, he evolved towards abstraction and thus gained a great freedom of expression in mixed acrylic paintings on canvas.
PROFILE OF THE ARTIST
Vũ Trọng Thuấn was born on 16 March 1939 in Hai Phòng, Vietnam. In 1954, he went to study painting at the School of Applied Arts in Saigon. In 1980, he moved with his family to France. Then in 1991, seeking to invest more deeply in his art, he returned to Vietnam where he opened his own art gallery in Da Nang to work and exhibit his work.
Between 1963 and 1999, Vũ Trọng Thuấn painted mostly landscapes, still lifes and some portraits in oil on canvas and lacquer on wood.
"Painting becomes for Vũ Trọng Thuấn a process of spontaneous creation in which the fluid and natural flow of paint on the canvases, escapes entirely from the artist's control. He seeks a pure and free plastic language that fully expresses the deep meaning of spontaneity of the living".
From 1999 onwards, his painting will tend towards abstraction and the use of original large format supports (for the largest: 2m high by 10m long and 2.5m high by 12m long). His technique of abstraction could recall that of certain great Chinese artists of the 20th century such as Chu Teh-Chun or Zao Wou-Ki.
His work 'Voilier', an oil on canvas flooded with light, painted in black and white (2004), could mark in the painter this kind of transition between figuration and abstraction. For the artist, painting is a return to the tranquility of the soul after a long eventful period. Vũ Trọng Thuấn spent much of his youth during the difficult Vietnam War (1955-1975). It is also a way to free oneself from one's suffering and to reconcile with oneself. This path naturally led him to abstract painting, an aestheticism that invites contemplation and beyond because it describes a very luminous universe where it is a question of love and peace, carried by magnificent colors.
EXHIBITIONS
From 1980, Vũ Trọng Thuấn started to exhibit his works in different galleries in France, in Salon en Provence and in Ile de France.
In Vietnam he has a permanent exhibition of more than 300 canvases and paintings in his gallery "Studio Vũ Trọng Thuấn", 277 Tran Hung Dao Street, in downtown Danang.
From 2000 to 2003, Vũ Trọng Thuấn exhibited a selection of his abstract-inspired work, in Vietnam at the Ho Chi Minh City Fine Arts Exhibition.
In January 2016, a private exhibition of the painter was organised in Bourg La Reine, near Paris. He also exhibited at the Galerie de Nesle, rue de Nesle, Paris 75006, as part of the Salon International des Arts, from 1 to 3 April 2016.
Vũ Trọng Thuấn participated in the contemporary art exhibition at the Museum of Fine Arts in Da Nang, Vietnam, from March 20, 2019 to April 20, 2019, where he exhibited large format paintings (acrylic on lacquer).
Vũ Trọng Thuấn exhibited until 30 June 2021 in the Galerie des Colonnes in Bourg La Reine, France.
Interview with Vũ Trọng Thuấn in his studio in Danang, on the banks of the Han River:
https://www.youtube.com/watch?v=CCDctKiB0Ps