Asia Contemporary Art Market








Artp

rice's ranking of the first Asian contemporary artists in 2020/2021




This year Hong Kong has established itself as the second city of the Contemporary Art Market after New York, notes the company Artprice in its latest report on the contemporary art market in the world (2020/2021). Thanks to the dynamic iniatives carried out by Christie's, Sotheby's, Phillips, Poly and China Guardian, Hong Kong is now the new hub of contemporary art. In addition, the Hong Kong model is exported to other countries in the region, including South Korea and Japan.
Yoshitomo Nara largely dominated the Asian market in 2020/2021. The best-loved Japanese artist of his generation ranks as the most successful contemporary with sales revenue exceeding $137million. He generally makes 80% of its sales in Hong Kong. Yoshitomo Nara also stands out as the third in the ranking of the World Contemporary Art Market (behind Basquiat and Banksy). The price of his works has doubled in two years. This success reflects the current importance of the Manga aesthetic. Chinese artist Liu Ye is attracting growing interest, with amazing solo exhibitions that have implanted him well in the Asian and Western visual landscape. He joined the international gallery David Zwirner in 2019 and thirty of his paintings exceeded $1 million at auction and a result above $10 million a few months after his first solo show organized by Zwirner in New York (Bamboo bamboo broadway, $12.6 million, Poly Interna - tional, Beijing, 4 June 2021). He was 6th in the Artprice 2020/2021 ranking with auction results of $55,296,494.
Among the most sought-after artists: Japanese artist Takashi Murakami and Filipino artist Ronald Ventura. Takashi Murakami has become a production machine with his own company Kaikai Kiki Co, that creates unique works, limited series, animated films and many derivative products. Murakami had never sold as many works as in this exercise (1,591 lots), especially to young people: mainly prints, exchanged in a very wide range of prices. The fourth Hong Kong price ascension was that of the Filipino Ronald Ventura, one of Southeast Asia's best-selling artists. The recent sale of his Party animal (2017), a large painting of anthropomorphic animals at a birthday party, raised his personal best to $2.5 million   
Healing by Takashi Murakami
 more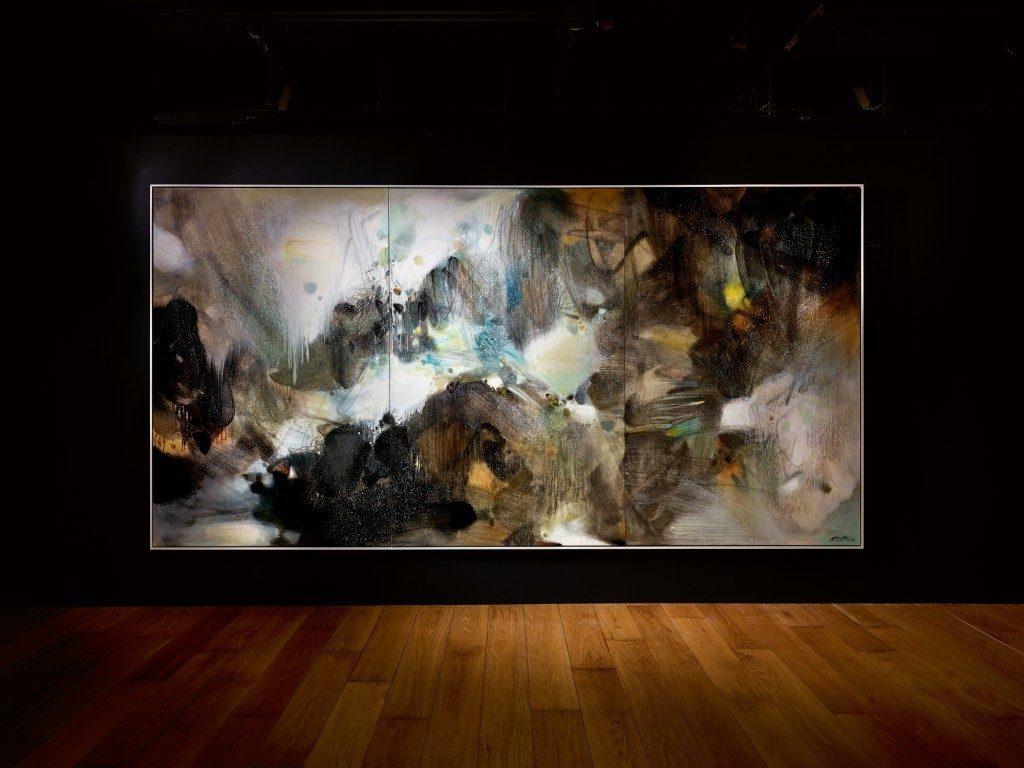 The influence of Chinese artists living in France
The famous artists Yan Pei-Ming, Sanyu, Chu Teh-Chun or Zao Wou-Ki, who settled in France in the last century, have benefited from the enthusiasm ofbuyers and collectors around the world in recent years. No wonder there are several major exhibitions dedicated to them in 2021, in France or in Hong Kong. An unprecedented exhibition on the life and work of Yan Pei-Ming, entitled "Yan Pei-Ming - In the name of the father", is in fact presented at the Unterlinden Museum in Colmar, from May 19 to September 6, 2021. Through portraits and self-portraits, the exhibition questions the artist's relationship with his origins - from Mao to the father figure - while including "international landscapes" and those of Shanghai. The Thaddaeus Ropac gallery in Paris is also presenting "Self-portraits" by Yan Pei-Ming, from May 19 to July 31, 2021. Created during the recent months, these self-portraits and still lifes in the exhibition bear witness to the feelings of constraint and of loneliness by the artist during the lockdown. The Hôtel de Caumont-Centre d'Art, in Aix en Provence, is presenting from May 19 to October 10, 2021, "It never gets night", an exhibition of 90 works by Zao Wou-Ki, from 1935 to 2009. The exhibition, organized with the Zao Wou-Ki Foundation, wanted to identify one of the artist's main themes of creation: the invention of new pictorial spaces built from a work on color and the representation of light. In Hong Kong, the Alisan Fine Arts gallery currently presents for the fifth time an exhibition by Chu Teh-Chun, as part of the French May Arts Festival, from May 13 to July 31, 2021. The exhibition presents 17 works by the artist who showcase his most iconic abstract compositions and calligraphy.
The influence of Chinese artists living in France, June 2021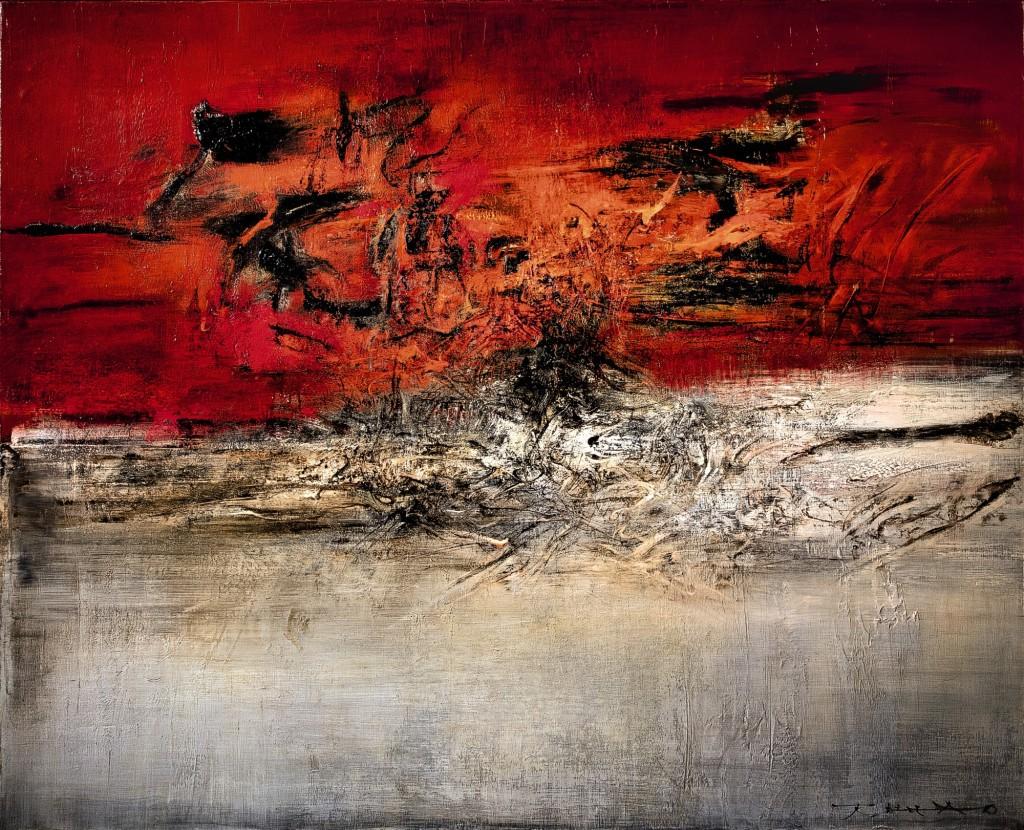 Great auctions for Asian artists at Sotheby's Hong Kong, April 18 and 19, 2021 A monumental triptych by Chu Teh-Chun "Harmonie Hivernale" (1986) reached HKD 229.6 million ($ 29.5 million) at Sotheby's sales (Evening Sales of Modern and Contemporary Art) in Hong Kong on 18 and April 19, 2021. The result is nearly double the artist's previous record of $ 14.6 million for "Les Eléments confédérés"(1983-1984),at Sotheby's in July 2020. A portrait of a reclining nude by Sanyu (around 1950) received three offers and ultimately sold for HKD $ 105.8 million ($ 13.4 million with premium). The price is far below Sanyu's top three most expensive works sold at auction, each of which comprises nude figures. Two lots from Zao Wou-Ki including "02.13.62" sold for $ 20.8 million and $ 9.5 million respectively. Japanese artist Yoshitomo Nara sold his work "Frog Girl" (1988) for HKD 82 million ($ 12.4 million with buyer's premium), making it the third-most expensive work by the artist ever sold at auction. Chinese artist Zhang Xiaogang sold "Bloodline: Mother and Son No.1" (1993) for 33,450,000 HKD ($ 4.3 million). Fang Lijun sold his work "1993 No.4 1993" for 24,375,000 HKD ($ 3.1 million). Zeng Fanzhi sold "Mask Series No. 18", 1994, for 14,695,000 HKD. Liu Xiaodong sold his work "Sons" for 10,460,000 HKD. Young Chinese artist Matthew Wong sold "The Beginning" for 26,795,000 HKD. "Three Boys" (2019) by emerging Pakistani artist Salman Toor's sold for 4.5 million HKD ($ 579,000), four times their estimate.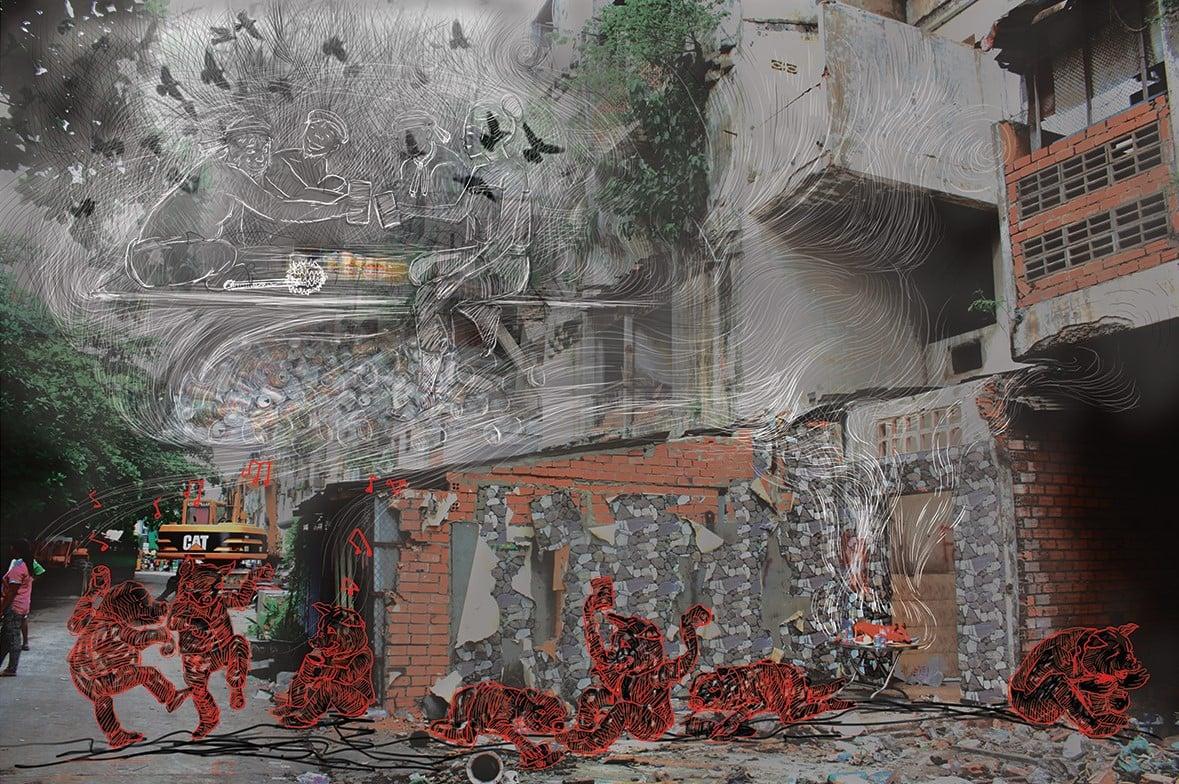 The 30 finalists of the 2021 Sovereign Asian Art Prize
The Sovereign Art Foundation has just revealed the list of 30 finalists for the 2021 Sovereign Asian Art Prize. The finalists were selected from a total of 744 artists coming from 30 countries and regions of the Asia Pacific zone and using various mediums: painting, photography, sculpture, digital and others. Australia has the strongest representation this year with five finalists, followed by India, Pakistan, the Philippines and South Korea. The finalists will be exhibited and their artwork sold in Hong Kong to benefit charitable programs for children in Asia. Votes for these artists must be sent before May 23, 2021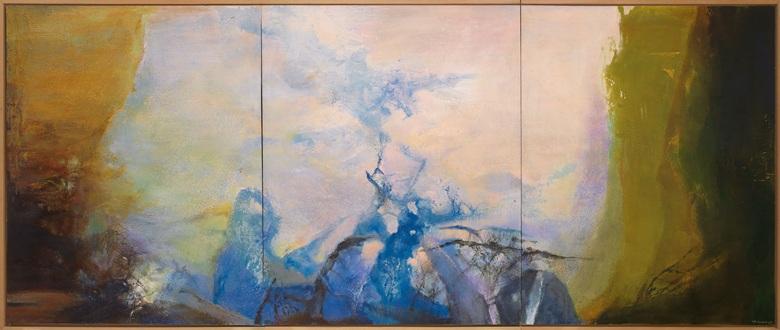 International art rating of Chinese artists living in France
In the post-war years, France welcomed Chinese artists such as Chu Teh-Chun, Zao Wou-ki or Sanyu, who became great names in painting worldwide. After the repression of Tiananmen Square, in Beijing, on June 4, 1989, Chinese artists involved in avant-garde artistic movements, also chose to emigrate to France like Wang Keping, Ma Desheng, Huang Yong Ping , Li Shuang and Yang Jiechang.
Today Sanyu (born 1901), considered as the "Chinese Matisse", is heating up the Asian market. Sanyu settled in the Montparnasse area in Paris in the 1920s. A painting by Sanyu "Quatre Nus", dating from the 1950s, sold at auction in July 2020 for more than HK $ 258 million ($33.3 million). In 2020, four Sanyu paintings sold for between US $ 17 and 33.3 million at Sotheby's. Previously in October 2019, "Nude", which depicts a woman lying on her back, was sold for KK $ 198 million (US $ 25 million) at Sotheby's. One month later, "Five Nudes" was sold at Christie's for nearly 304 million HK dollars (US $ 39 million), setting a new auction record for Sanyu's paintings.
Zao Wou-Ki, born in 1920, is considered as one of the most illustrious representatives of lyrical abstraction. In 1948, he moved to Paris, in the Montparnasse area. In December 2013, his work, "Abstraction" (1958) reached a first world record with 89.7 million yuan ($ 14 million) at Sotheby's in Beijing. At Christie's on May 26, 2018, his painting '14.12.59 ″ sold for HK $ 176.7m (US $ 22.6m). In May 2019, he had the best auctions at Christie's and Phillips Hong Kong. His 1987-1988 Triptych, Hommage à Matisse et Manet, sold for 178m HK $ (22.8m US $) on May 25, 2019 at Christie's. Consequently Zao Wou-Ki ranked third in the auction results of the Artprice 2018 Ranking, just behind Pablo Picasso and Claude Monet.
The Chinese artist Yan Pei-Ming, born in 1960, is one of the world's most renowned contemporary painters. He arrived in France in 1983. In 2018/2019 he ranked at the 217th place in the Artprice Ranking of the top 500 contemporary artists in the world with cumulative sales revenues of $ 794,308. He ranked 61st in the Artprice Report Top 1,000 Contemporary Artists Auction - from 2000 to 2019 - with a turnover of $ 57,029,680m.
more: La cote internationale des artistes chinois installés en France Pdf (French)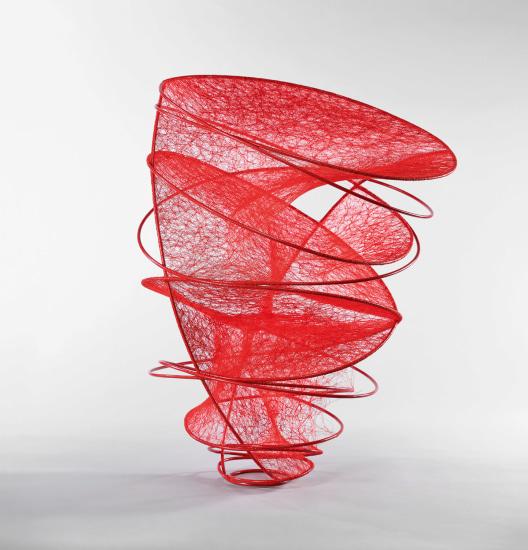 High level of sales of great Asian artists in Hong Kong
On December 2 and 3, 2020, sales of Asian artists were performing well, Sanyu breaking the record with his work "Goldfish", which Christie's sold for $ 18.8 million (HK $ 146m). Yoshitomo Nara, sold his work Hothouse Doll "(1995) for $ 13.3 million (HKD 103 million) at Phillips HK on December 3, 2020. Yayoi Kusama sold at Phillips HK" Epsob Fruits "for $ 1.6 million (HK $ 12,350,000). Pakistani-born artist Salman Toor sold a painting "Group Dance" for $ 520,000 (HK $ 4 million), ten times its estimate. Japanese artist Chiharu Shiota sold "Spiral" for $ 97,538.95 (est. $ 19,200-32,100). Chinese Li Chen's "Peony" sold at Phillips for US $ 308,870 (HK $ 2,394,000).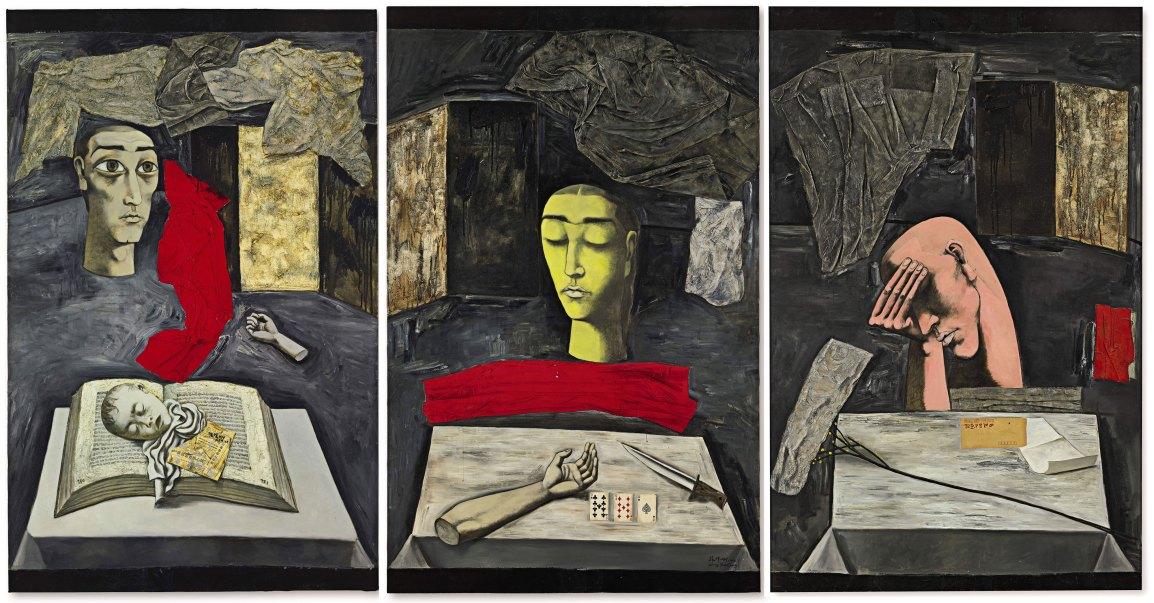 The Contemporary Art Rush
The contemporary global art market changed substantially at the start of the 21st century with the influx of new millionaire buyers and the arrival of China, explains Thierry Ehrmann, director of Artmarket.com. The publication analyzes 20 years of contemporary art at auction (2000-2019). In the early 2000s, the art market industry set out to discover new scenes, new artists and new buyers, in China, Russia, India, Brazil, and the Middle East. In the mid-2000s, Beijing and Shanghai became the new "cultural industry villages," to use the expression endorsed by the Chinese government. Chinese artists have acquired the status of real "stars", and their success has made a whole country dream. The first outbreaks were recorded in November 2005. Today Zeng Fanzhi - in terms of annual auction turnover - is number 5 among contemporary international artists, behind Basquiat, Koons, Hirst and Wool. In 20 years, his works have generated $518.5 million at auction. He is also the leading Chinese artist of the 32 in the Top 100 ranking. Nowadays these 32 artists are fetching similar prices to the recognized stars of European and American Contemporary Art. But the growth of the contemporary art market was not just China driven. It emerged as a general consequence of the ongoing globalization of the Art Market. Prices are exploding for both leading Indian artists (Anish Kapoor, Subodh Gupta), artists from the Middle East (Christie's has been in Dubai since 2006), and Westerners. Takashi Murakami's meteoric rise is thus emblematic of the rapid transformations of the contemporary art market. Almost absent from radars in 2000, he already joined the world top 10 in 2008 (annual sales revenue).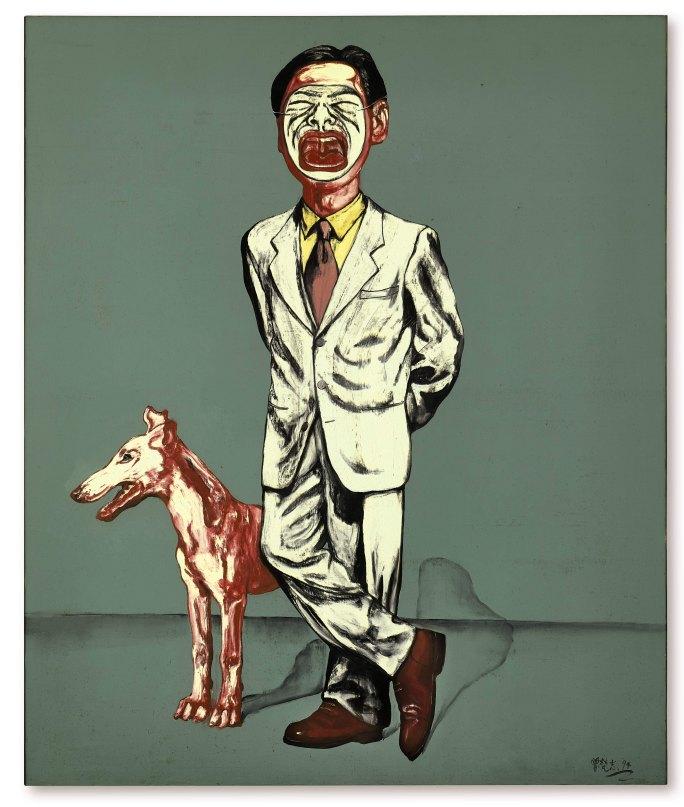 SALES OF WORKS BY MAJOR ASIAN CONTEMPORARY ARTISTS AT SOTHEBY'S HK 6-7 OCTOBER 2020
Works by Zhang Xiaogang, Zeng Fanzhi, Liu Wei, Yayoi Kusama – from the Johnson Chang Collection - were offered for sale, in the private collections section, at the Hong Kong Convention Center, on October 6, 2020. "The Dark Trilogy: Fear, Meditation, Sorrow", 1989- 1990, by the Chinese Zhang Xiaogang sold for HKD 54,920,000 → $ 7 million. It was estimated between $ 3.2 and $ 5.2 million. Zhen Fanzhi's "Mask Series No. 11" reached HKD 23,770,000 → $ 3 million. It was estimated between $ 1.5 million to $ 2.8 million. Pumpkin-(Cha) by the Japanese artist Yayoi Kusama sold for HKD 29,215,000 → $ 3.8 million. Chinese "Banana" Liu Wei sold for HKD 21,350,000 ($ 2.8 million). It was estimated HKS 6,000,000 - 10,000,000.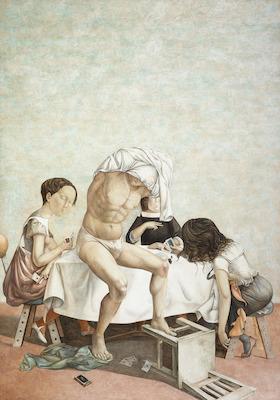 ART PARIS 2020, AN UNEXPECTED SUCCESS
Art Paris in the Grand Palais was one of the first major events in Europe for six months and many observers were looking to it as a test for the art market. The positive signs augured well for the fall art season. Unfortunately, we have just learned of the cancellation of FIAC in October 2020.
While some 38 galleries had withdrawn, the fair still included 112 participants. There was a 25 percent higher number of collectors and institution heads compared to last year, with around 30 museum groups attending. Apart from American galleries prevented from participating for health reasons, galleries from 15 countries were represented, including 21 without any base in France.
Among these, Canadian art dealer Christopher Cutts presented the work of Chinese artist Xiao Guo Hui (see opposite). By the second day of the fair, the gallery had already placed five of his six paintings with collectors. The Templon Gallery has sold over a dozen works ranging from $ 30,000- $ 90,000, including a painting by Indian artist Jitish Kallat for $ 50,000. Japanese artist Kiyoshi Nakagami, a master of light, with his compositions made from a mixture of acrylic, China ink and mica, was presented by Galerie Richard (Paris, New York). The Tamenaga Gallery exhibited the delicate work of Japanese artist Daiya Yamamoto, one of the most promising young artists of the new Japanese generation. The Raibaudi Wang Gallery dedicated a solo exhibition to the work of Franco-Chinese artist Li Chevalier: poetic works that mix sand, mineral shards and dark inks. The Franco-Chinese sculptor Wang Keping was also attending with his monumental wooden sculptures of women.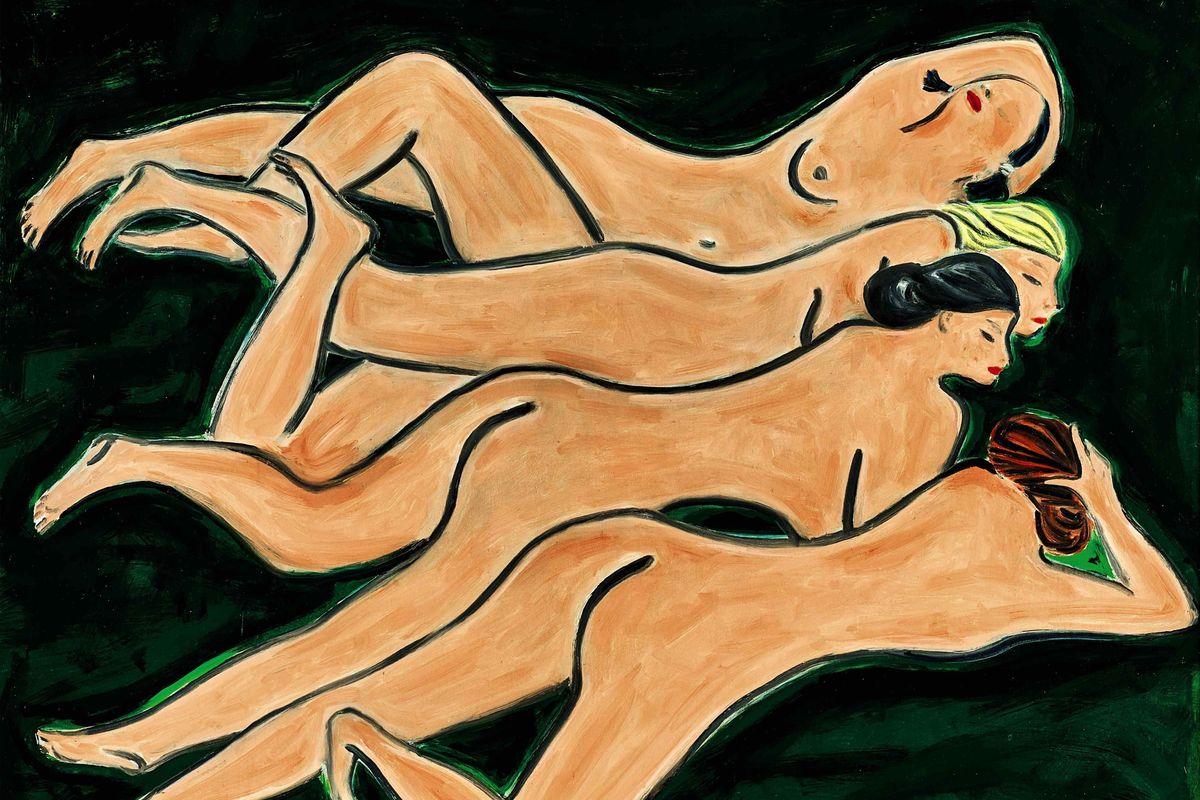 CHINESE PAINTER SANYU SETS THE ASIAN ART MARKET ALIGHT
A nude painting of Sanyu, hailed as the "Chinese Matisse", sold at auction in July 2020 for over HK $ 258 million (US $ 33.3 million), confirming his status as one of the most sought-after artists in the lucrative Asian art market, reports Oscar Holland of CNN Hong Kong. "Four Nudes", this painting painted in the 1950s that features four reclining female figures, topped Sotheby's first major sale in Hong Kong since the coronavirus disrupted its live auction schedule, becoming the most popular lot and the most expensive of the evening.
This surge in prices thus reflects a renewed interest from Asian collectors. Between 2000 and 2019, the price of Sanyu's work jumped more than 1,100 percent, according to the Artprice company, and the mainland China and Hong Kong markets now account for 91 percent of sales.Artprice also revealed that the $109 million produced by the painter's works at auction in 2019, made him the year's 16th biggest seller worldwide, above the likes of Mark Rothko and Roy Lichtenstein
Born in 1901 in the province of Sichuan, in southwest China, Sanyu was one of many young artists to settle in Paris in the early 1920s. However, he remained largely unknown during his lifetime, unrecognized by his peers, and he was even poor when he died in Paris in 1966.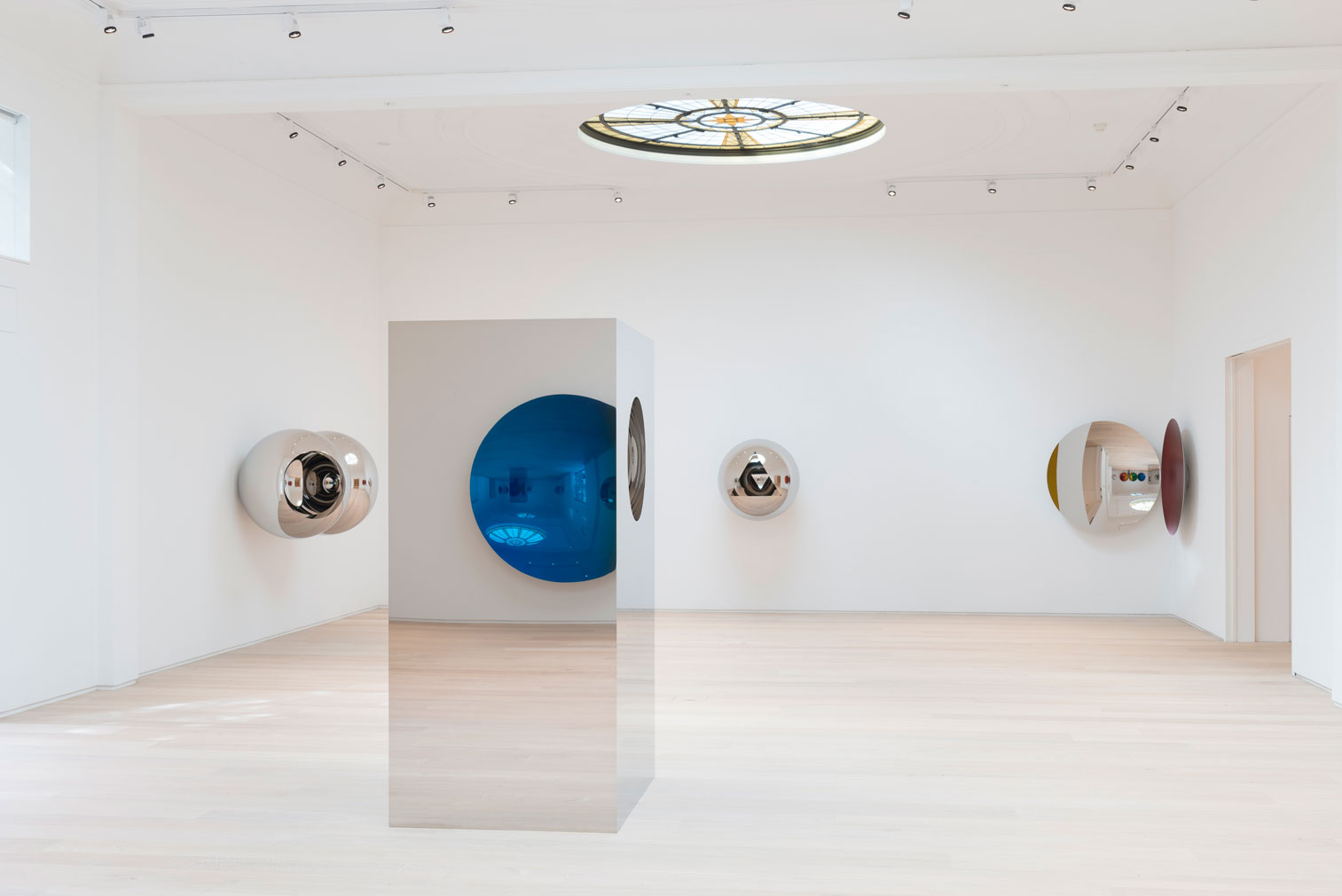 ANISH KAPOOR TOPS 2020 HURUN INDIA ART LIST
For the second time, Anglo-Indian artist Anish Kapoor is at the top of Hurun India Art List 2020 with sales worth Rs 44.39 cr. He is followed in the list of the 50 best living artists in India, by the painter Rameshwar Broota. Atul Dodiya, 61, and Jitish Kallat, 45, enter the top 10 for the first time. The youngest on the list is 39-year-old contemporary artist Valay Shende. Of the total, 22% are female artists. Modernist painter Arpita Singh continues to remain the most famous Indian female artist with cumulative sales of Rs 5.09 crore.
Of the top 50 artists, 17% live outside the country. New Delhi continues to remain the art capital of the country with 19 artists in the list, followed by Mumbai with 12 and Kerala 9;
Hurun Global President Rupert Hoogewerf says Indian art is highly undervalued as the most expensive works of Indian art sold at auction were the paintings of deceased artists Francis Newton Souza and VS Gaitonde for only $ 4 million each. According to him, the art auction market in India represents only 0.4% of the world art auction market, behind the United States, China and Great Britain with respectively 35%, 31% and 15% of the $ 13.3 billion market
CONTEMPORARY ART MARKET GEOPOLITICS: ASIA REMAINS SECOND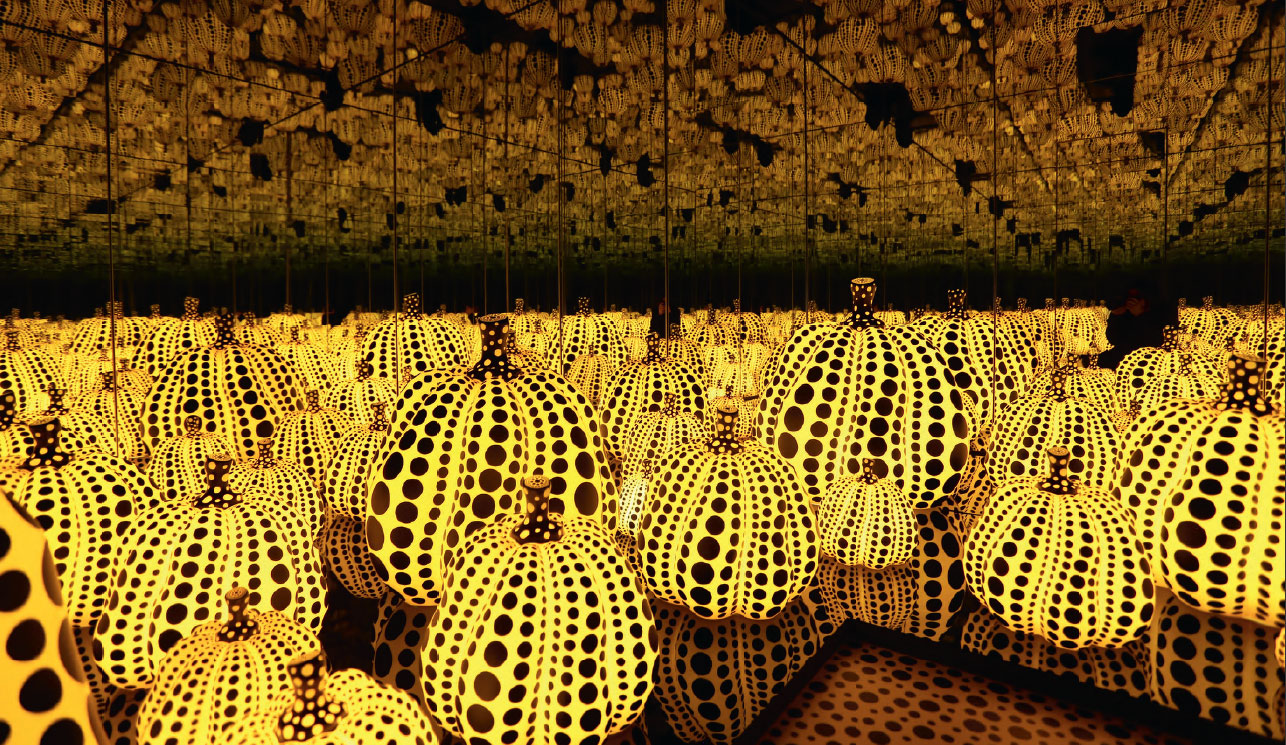 The United States remained the contemporary market's primary growth engine in 2019, although the Asian market is developing and diversifying, led by Hong Kong, which builds bridges between Asia and the West. With 29% of market share, and despite a slowdown in Chinese turnover in the contemporary art segment (-13%), Asia remains the second global power thanks in particular to the development of the market in Hong Kong.
Hong Kong accounts for nearly half (46%) of the contemporary art market in Asia and 14% of the global market. It is now the third fastest growing city in the world after New York and London for contemporary art auctions. No tax is levied on imports and exports of art in Hong Kong, which fully plays its role as an international trading platform.
Another important market in Asia is Japan, which recorded a 38% increase in auction turnover from contemporary art in 2018/19, reaching a total of around $ 20 million. Tokyo is now the 5th largest city by sales volume, just behind Beijing. The Japanese market is carried by a number of star artists including Yayoi Kusama (born in 1929), Yoshimoto Nara (6th in the top 500) and Takashi Murakami (3rd best-selling contemporary artist with a total of 594 lots sold in 2018 / 19)
In January 2019, Taiwan launched a new fair, Taipei Dangdai, whose first edition displayed an excellent level of professionalism. The big names of the Western art market (Gagosian, David Zwirner, Hauser & Wirth and Thaddaeus Ropac) rubbed shoulders with their Asian counterparts Kukje (South Korea) and Tina Keng (Taiwan). These galleries have made a strategic choice knowing that Taiwan is home to 521,000 millionaires for only 23 million inhabitants.
The most dramatic slowdown in Asia was in Singapore, where sales of contemporary art auctions were down 64% from the previous year. It just reached $ 655,000 on 95 lots sold in 12 months. The deterioration appears to have anticipated the contraction of the Singaporean economy in the second quarter of 2019, hit by the trade war between the United States and China and also the cancellation of Art Stage Singapore in early 2019.
The contemporary art market will inevitably be very disrupted in 2020, a consequence of the pandemic and the decline of world economies. It will be all the more difficult to compare developments in the different countries.
Source: Artprice, The Contemporary Market Report 2019

VERY REACTIVE ART MARKET DURING LOCKDOWN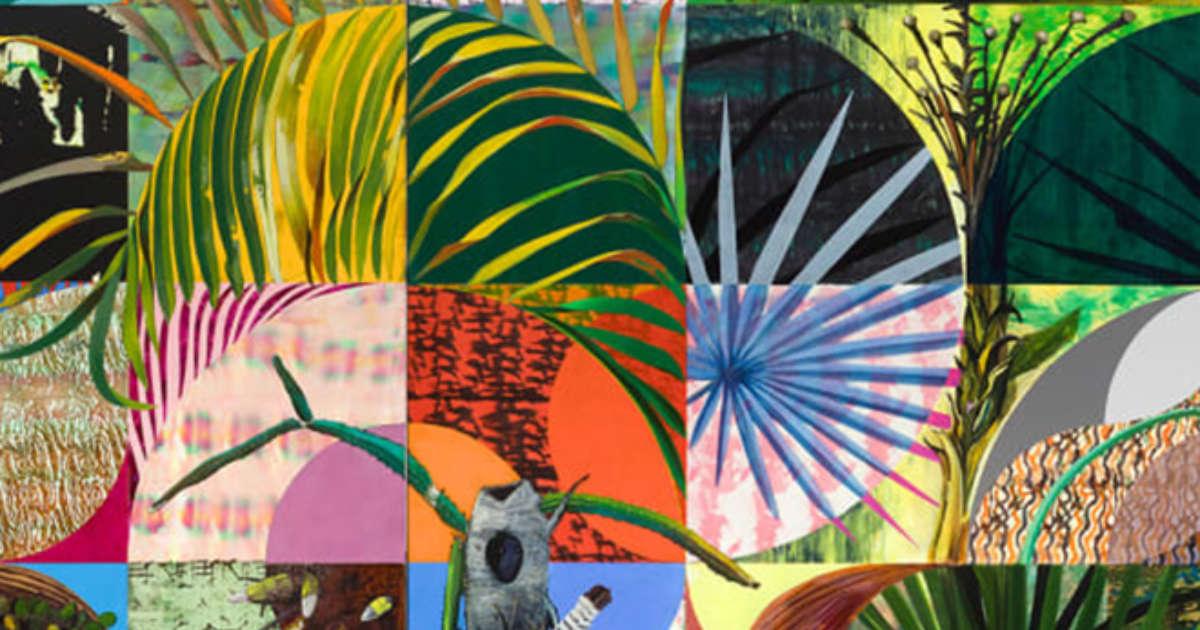 Cancellation of fairs, auctions, art exhibitions, closing of museums, the art world quickly reacted to this collapse in activity. In Hong Kong already in early 2019, the gallery owners immediately opted for a program of virtual exhibitions. The famous Sotheby's set up a multidirectional strategy on the web and its competitor Christie's rapidly did the same. Today they compete in imagination to multiply transactions.
The largest contemporary art fair in the world, Art Basel, which was to be held in June, was canceled in favor of a web version, from June 19 to 26, 2020. The challenge is for gallery owners to sell works of millions dollars as proposed by the fair this year on its site, explains Judith Benhamou-Huet in the French magazine Le Point. A transaction has already been completed in this context. A sculpture by Jeff Koons was officially sold for $ 8 million in the opening VIP hours of the operation. On June 29, 2020 at Sotheby's, a triptych by Francis Bacon should be offered for sale, exclusively online, from London, starting at $ 60million.

NEW YORK: ASIA SOCIETY TRIENNIAL POSTPONED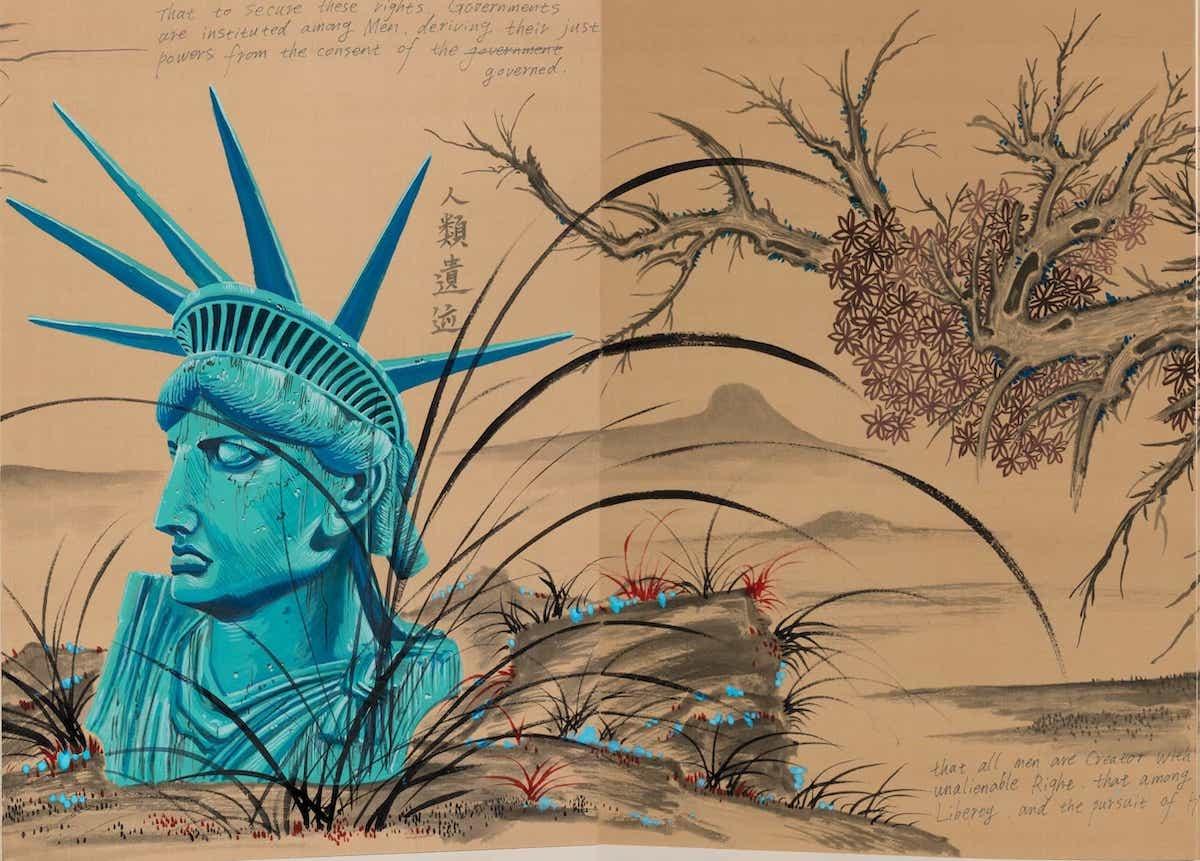 New York City's most ambitious cultural event, the Asia Society Triennial, that was scheduled to take place from June 5 to 9, 2020, was postponed until fall 2020 due to the COVID-19 outbreak. This Triennial will then be the first recurring initiative in the United States devoted to contemporary art from and on Asia. Entitled "We Do Not Dream Alone," the exhibit is expected to showcase 41 artists and collectives from 20 countries in Asia. Participants work in a variety of disciplines, including painting, sculpture, photography, video, fiber art and performance, and almost half of them were asked to create new works. Among the participating artists are : Christine Ay Tjoe (Indonésie), Dinh Q. Lê (Vietnam), Natee Utarit (Thailande), Sun Xun (Chine), Xu Bing (Chine)
DOUBLE ONLINE SALES OF CONTEMPORARY ART BY SOTHEBY'S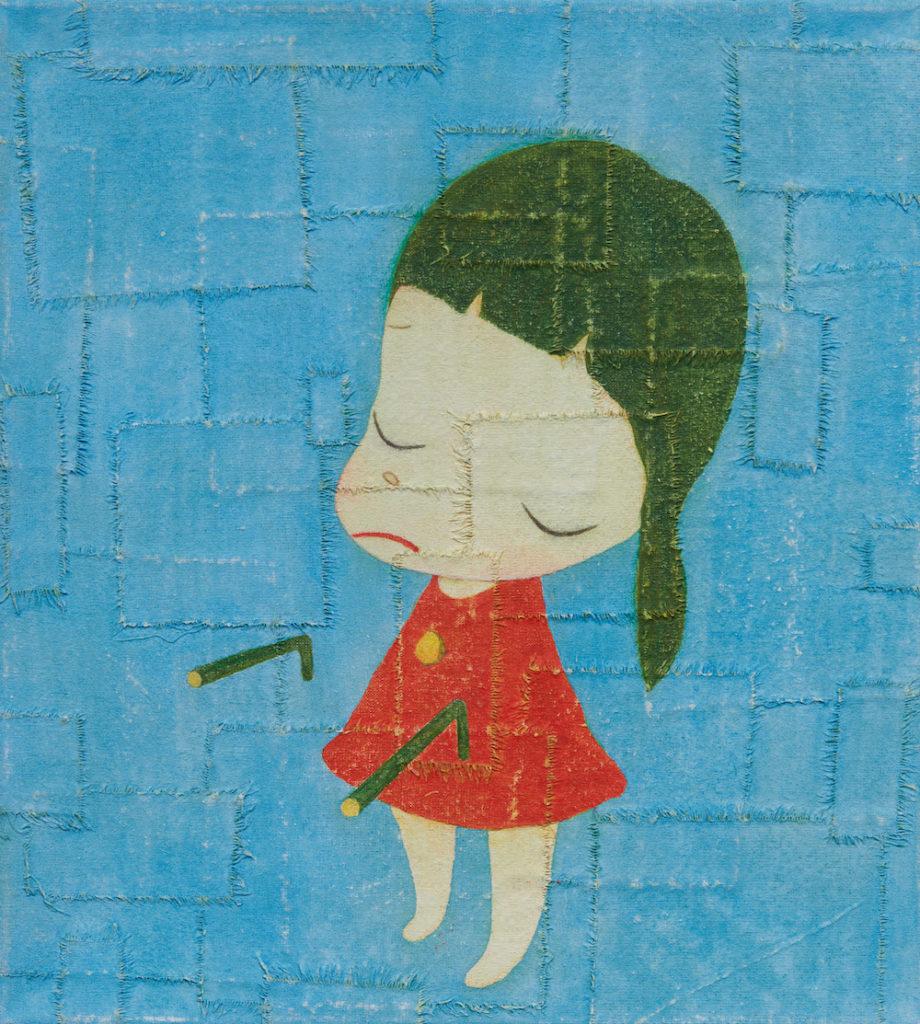 Sotheby's online sales of contemporary art - May 4-14, 2020 - reached $ 13.7 million - more than double the previous record for an online art sale three weeks ago. However statistics do not take into account the high number of withdrawn works, indicated Artnet News.
Overall, this is the highest result to date for online sales - and many of art prices seem to demonstrate that people are ready to buy works by younger and lesser-known artists, especially by museums. Among Asian artists, there was a strong demand for Japanese artist Yoshitomo Nara, whose auction record reached just under $ 25 million at a Hong Kong auction last fall. Witching (1999), a painting of one of his iconic childish figures with closed eyes and obstinate expression, was sold for $ 740,000, with an average estimate of $ 600,000 to $ 900,000.
SUCCESS OF SINGULART FOR ONLINE CONTEMPORARY ART SALES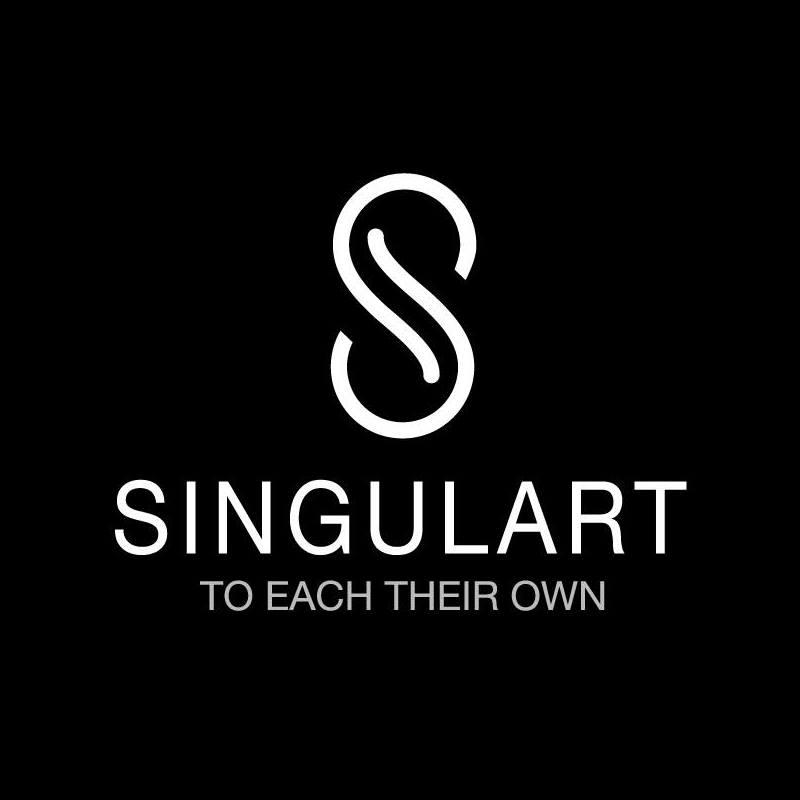 Singulart connects artists and buyers from around the world, taking in charge all the administrative and logistical part. The French start-up was founded by Vera Kempf, Brice Lecompte and Denis Fayolle. Launched in Paris in August 2017, its activity tripled during the lockdown, with an 86% growth in its business volume in March and April, reports the newspaper Les Echos, May 7, 2020.
Singulart sells works by artists of 110 different nationalities and in 55 countries. Today, "92% of our sales are cross-border," says Vera Kempf.
The company showcases more than 2,200 artists on its platform and has around 200 regular buyers. Its average basket is around 2,000 euros, and its business model is based on a commission between 40 and 50%, applied to the final sale price.
Recently Singulart turned to Asia. So it launched a site fully translated into Chinese, with a different local approach, notably commercial. For example, in China, the figurative is more successful than the abstract. "Sales from Hong Kong on our platform worked very well, explains Vera Kempf. We had very positive signals and decided to set up there. " The company recruited a Chinese employee to develop the portfolio of buyers, but it does not plan to offer local artists on its platform for the moment.
???????????????????
https://www.singulart.com/zh/

THE ART ANGLE PODCAST : AI WEIWEI EXPRESSES ABOUT CORONAVIRUS, CHINA, AND THE NEW ROLE THAT ART COULD PLAY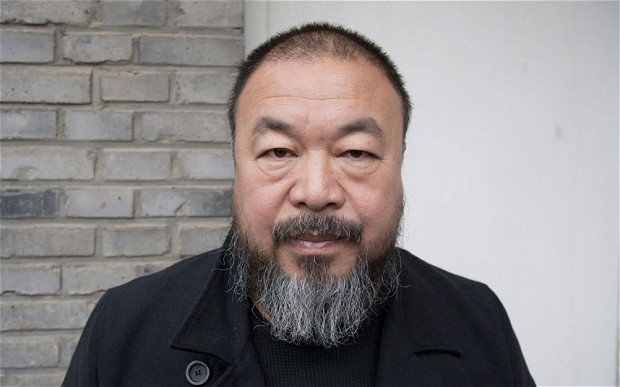 As the coronavirus outbreak continues to cause devastation at varying degrees around the world, the famous Chinese artist Ai Weiwei focused on how the disease shows the failures of governments and widens the lines of geopolitical divides between powers worldwide. Although China, where the disease started in December 2019, appears to have contained the virus enough to begin to return to some kind of normalcy, serious questions remain about the transparency of Xi Jinping's regime towards the disease .
After being chased by Party officials in response to his investigative work, Ai Weiwei knows better than anyone how the tentacles of the authoritarian Chinese government can reach citizens who want to criticize the state. He believes that here too, the bureaucracy's reluctance to admit its own mistakes has had disastrous consequences for others, this time around the world. But he also considers that the main Western countries, in particular the United States, are partly responsible for the fact that they have been too accommodating towards China for too long, all in the search of profit.
The Art Angle (Artnet News April 23, 2020) released a video podcast in which Ai Weiwei speaks about the outbreak, its effects on global politics and how artists can contribute to a world in turmoil. "Art plays a crucial role in societies but, in China, it never works as it should do because of current strict censorship laws," said the artist during a vision conference in Oslo in mid- April 2020.
https://news.artnet.com/the-art-angle/the-art-angle-podcast-ai-weiwei-1842471?utm_content=from_newscta&utm_source=Sailthru&utm_medium=email&utm_campaign=EUR%20April%2024%20AM&utm_term=EUR%20Daily%20Newsletter%20%5BMORNING%5D
ZAO WOU-KI TO LAUNCH THE VILLEPIN GALLERY ON MARCH 23, 2020, IN HONG KONG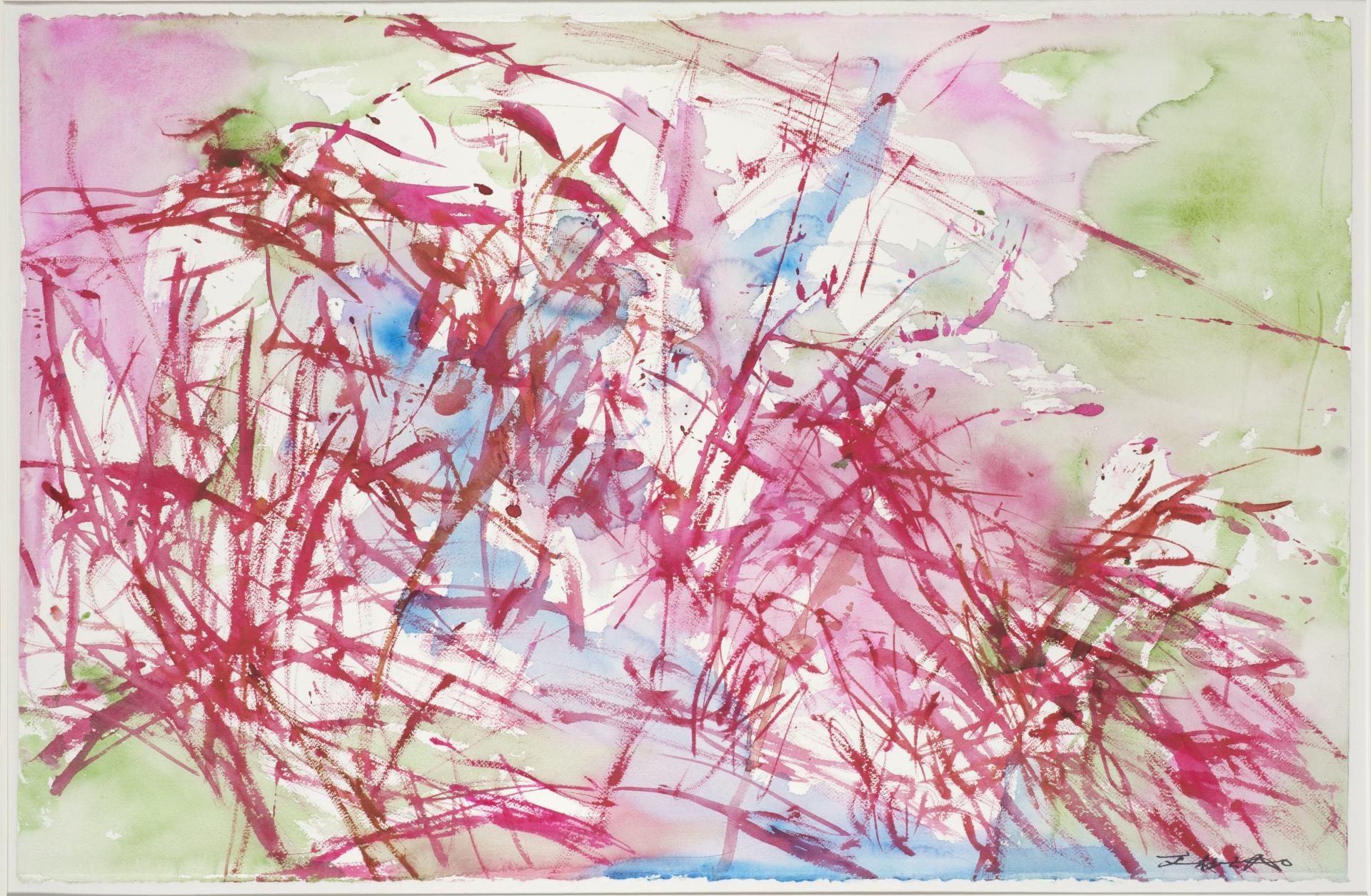 In March 2020, Dominique de Villepin, owner of the eponymous gallery, said the inaugural exhibition, entitled "Friendship and Reconciliation", with works by Zao Wou-Ki, was timely. "There has been an acceleration of trend in recent months, which is that of nationalism, protectionism and isolation," said Dominique de Villepin, a previous French prime minister. "There has been American politics since [Donald] Trump took power, and even before that," he added, referring to the growing division caused by the closing of the country's borders and racism in the midst of fear of coronaviruses. "We have to measure the new world we face, to fight againt this fear. Of course, we must adapt, protect ourselves and be disciplined collectively. But fear must not gain power. In art, we can find the wisdom, the distance and the questioning that art offers, to help us live this moment in the best way. "
The exhibition is more than a presentation of paintings for sale by Zao Wou-Ki, although he has been a favorite in auctions in recent years. It is also an attempt to retrace the artistic trajectory of an artist who reconciles with his identity and of the long friendship between Zao Wou-Ki and the Villepin family.
"The quest for [Zao] 's life was to find the truth in art," says Dominique de Villepin. "Friendship was a necessity for his creation. He also saw the division of the world, between figuration and abstraction, between East and West. Division must be set aside in order to emphasize reconciliation. It's a huge lesson he taught us. "
Arthur de Villepin – the manager of the gallery - said that the gallery is designed as a house to give visitors the feeling of entering the house of an art collector. "Our exhibitions are more personal," he said. "We hope to create a dialogue and bring people together." He added that his new gallery in Hong Kong is a long-term commitment: "Geographically, Hong Kong has a strategic location being at the center of Asia-Pacific. And the ambiance and energy of the city is something you can't experience anywhere else in the world ».
Extr. Artnet news, 23 Mars 2020