Asia Contemporary Art Market
ASIAN CONTEMPORARY MARKET TRENDS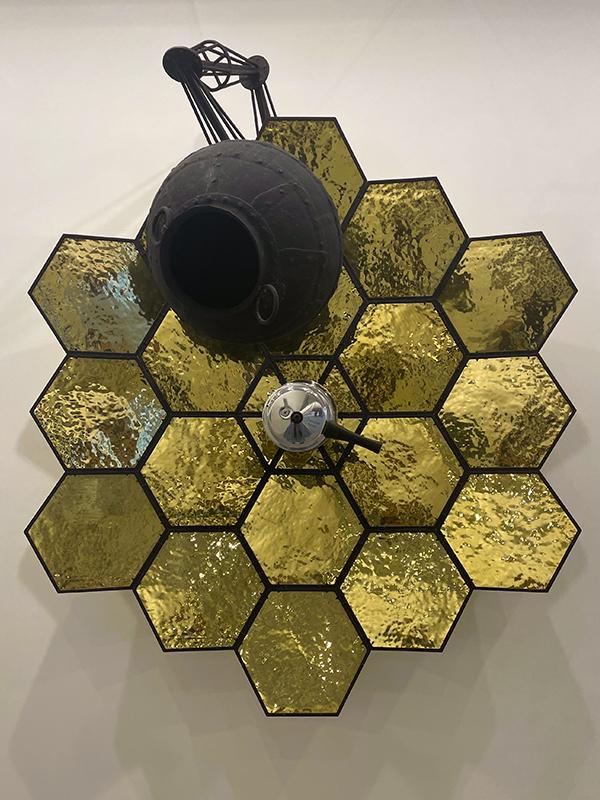 Subodh Gupta

INDIAN CONTEMPORARY ART THROUGH INDIA ART FAIR 2023
The Journal des Arts of March 1, 2023 reviews the 14th edition of India Art Fair which took place from February 9 to 12, 2023 in New Delhi. "For its 14th edition, the India Art Fair (IAF) brought together more than 70 galleries, most of them Indian, as well as a dozen private institutions at the NSIC (exhibition park located in the south of the capital). The limited number of international galleries (Continua, Marc Straus, Aicon and Grosvenor, among others) contrasts with the visibility of Western sponsors, led by BMW and Apple, both of which have developed artistic projects in partnership with the fair. It should be noted, however, that several Indian galleries have gone international via the Art Basel and Frieze fairs (Chemould Prescott Road, Experimenter, Nature Morte, and Vadehra) and the opening of branches (DAG in New York).
The presence of women artists was particularly notable: alongside Shilpa Gupta (Continua, Vadehra), Nalini Malani (Vadehra) and Reena Saini Kallat (Nature Morte), who are already well known in the West, emerging talents such as Sumakshi Singh (Exhibit 320), Tanya Goel (Nature Morte) and Anne Samat (Marc Straus).
Overall, most prices were between 5,000 and 75,000 euros: Art District XIII sold a painting by Smitha GS for 8,000 euros, Nature Morte a work by Reena Saini Kallat for 22,000 euros, and Chemould Prescott Road a sculpture by N. S. Harsha for 62,000 euros. This market segment accounts for the largest share of transactions. Prices are significantly higher for contemporary stars such as Subodh Gupta and Anish Kapoor: 100,000, although there are wide variations in price depending on the period and genre of the work. Jaya Asokan, director of India Art Fair, confirms that the majority of the fair's turnover is made up of sales of contemporary art (in volume and value). Modern art remains the preserve of the auction houses. Textile works were prominent on many of the fair's stands, the result of a re-reading of Indian heritage by various contemporary artists. The Experimenter gallery (Calcutta, Bombay) was particularly prominent with textile works by Lakshmi Madhavan, Kallol Datta and Kanishka Raja.
According to the fifteen or so galleries consulted, sales were satisfactory and in line with the commercial dynamic launched in 2022.
Source : India Art Fair, une Foire Régionale, par Rémy Jarry, correspondant à Bangkok - Le Journal des Arts, 1/3/2023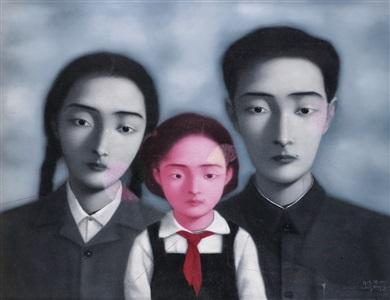 Zhang Xiaogang
HIGH SALES OF CONTEMPORARY CHINESE MASTERS IN BEIJING IN EARLY 2023
The 'Modern and Contemporary Art Evening Sale auction' by Yongle in Association with Phillips took place in Beijing on February 22, 2023. Three curated sessions were organized to bring together over 170 lots by Chinese modern art masters, sought-after contemporary names, as well as the rising Chinese artists born in the 1970s and 1980s, such as Zhang Xiaogang, Chu Teh-Chun, Zeng Fanzhi, Wu Guanzhong, Zhang Yingnan and Chen Fei. About 700 lots were sold for 32 millions d'euros. Zhang Xiaogang's work entitled « Bloodline Big Family N°1 1997 » sold for not less than 1.5 million euros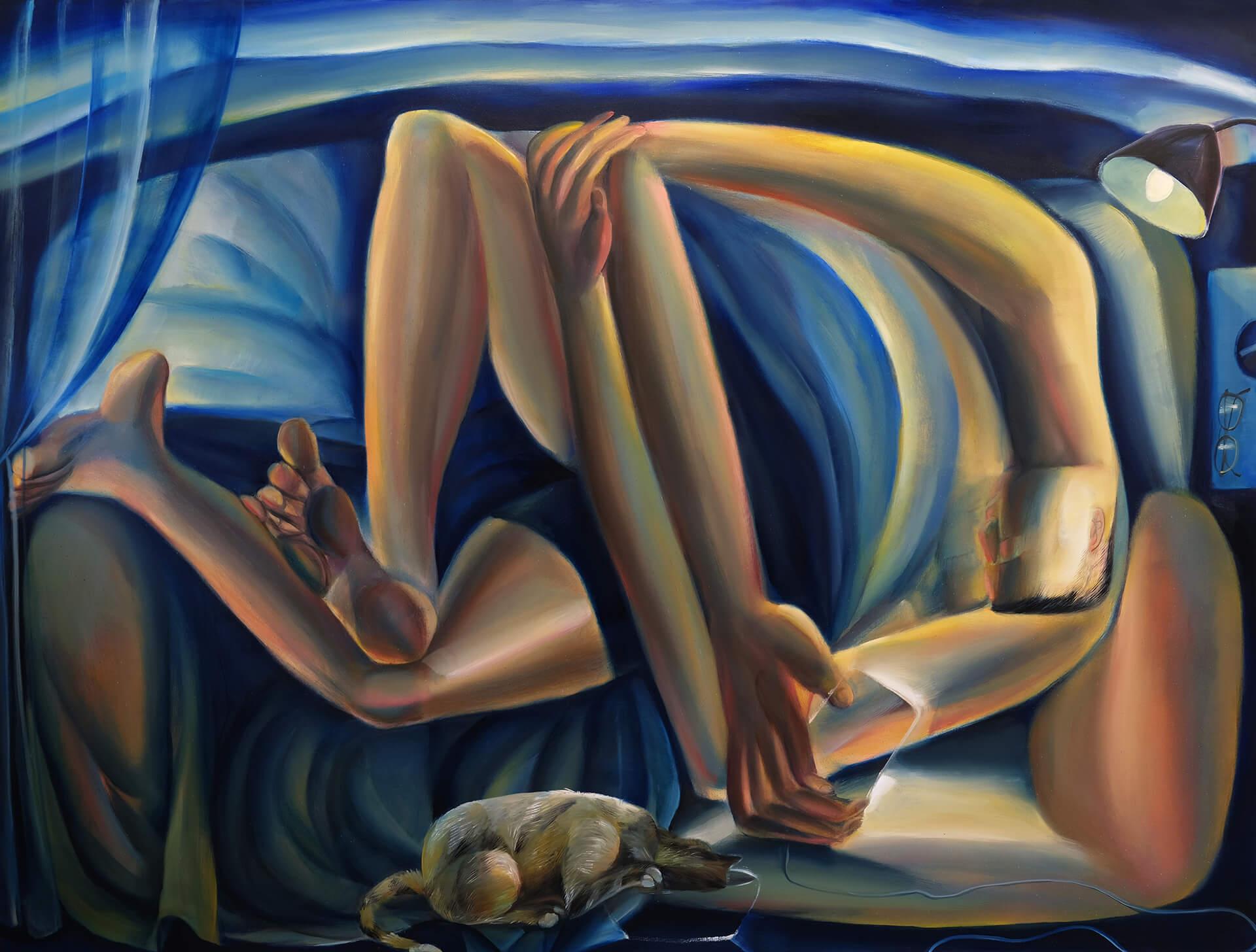 Alvin Ong
NEW ART FAIR: ART SINGAPORE
Singapore has long played second fiddle to Hong Kong in the Asian art market. Today, a new art fair, Art SG, has just opened its doors in Singapore on 6 January 2023. Its aim is to strengthen its growing influence on the changing art scene on the Asian continent. Singapore's role as an international art market centre did not seem to stand a chance against Hong Kong in 2011, when Art Basel announced the acquisition of ArtHK. The time may have come today for Singapore. "You could say that [Art Stage] was too early. Historically, Singapore's distance from China and its collectors was seen as a disadvantage; now it is regarded as the only neutral territory in Asia,"explained Magnus Renfrew, co-founder of Art SG. According to Renfrew, the geopolitical context has improved Singapore's prospects. Singapore's cultural scene is more mature than Hong Kong's in 2007, with the Singapore Art Museum and the vast National Gallery Singapore just two of its respected and much-visited institutions. According to the new director of Art SG, Shuyin Yang, galleries are regaining momentum since the pandemic and are focusing on two areas: Gillman Barracks and the Tanjong Pagar area around the Singapore Art Museum. In August 2022, Sotheby's held its first modern and contemporary art auction in Singapore, citing a "growing collector base in the region", for a total of S$24.4 million (about US$18 million), with more sales planned this year. "It's bittersweet that so many people have left China for Singapore, but it has become a real hub," says Rachel Lehmann, co-founder of Lehmann Maupin Gallery, which is present at Art SG. The gallery's stand features works by British-Malaysian artist Mandy El-Sayegh, Vietnamese-American Tammy Nguyen and South Korean artist Lee Bul. The Thaddaeus Ropac gallery is also presenting works by Mandy El-Sayegh, Alvaro Barrington and Oliver Beer. More than 150 galleries are represented. Many of them are international, such as Gagosian, White Cube and David Zwirner, but there are also local heavyweights such as Yavuz Gallery and STPI. Art SG also has another section called 'Reframe', with 8 galleries presenting digital art in many forms.
Source : Financial Times, Melanie Gerlis, 5 January 2023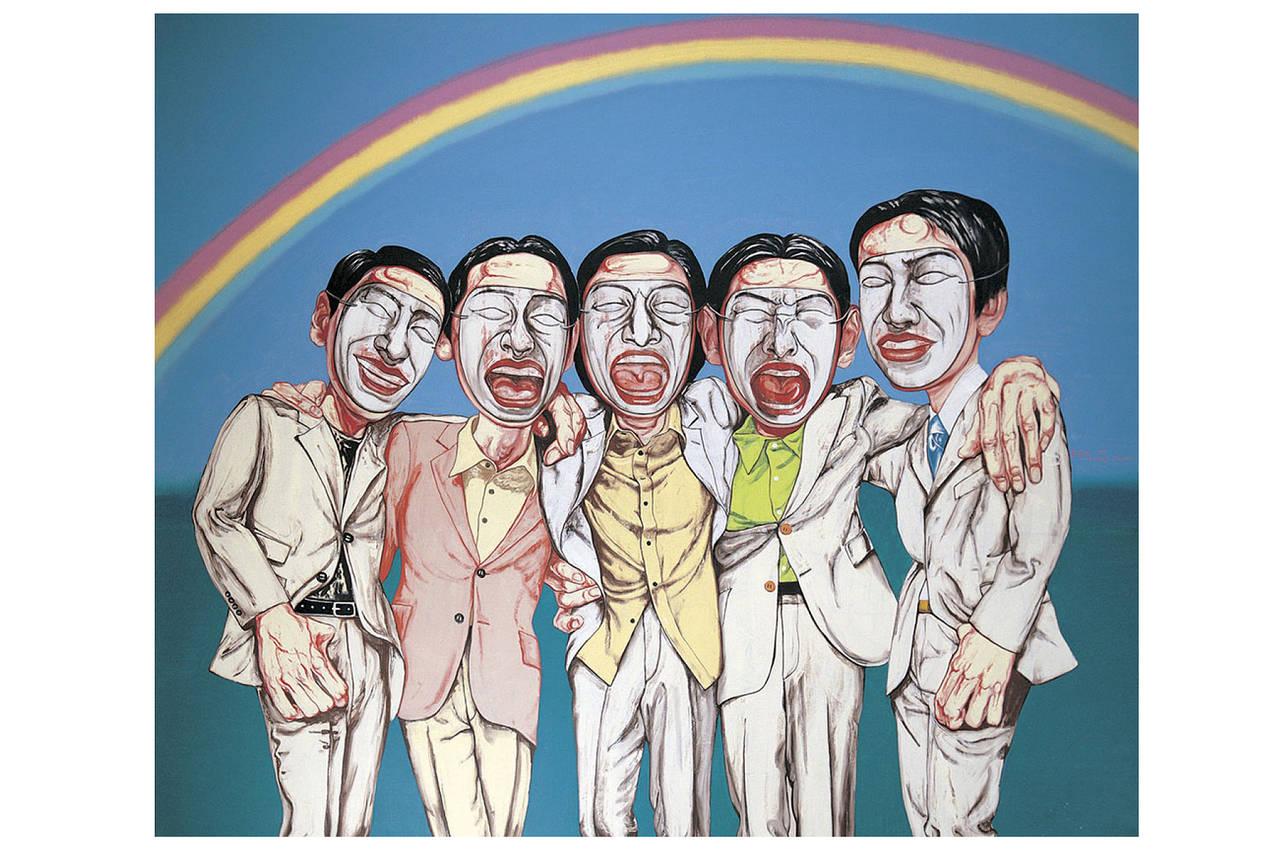 Zeng Fanzhi
THE CHINESE ART MARKET ON THE UPSWING IN 2021
As reported in The Global Chinese Art Auction Report published in partnership with Artnet and CAA, the Chinese Association of Auctioneers in November 2022, as the global art auction market gradually recovered and adjusted from the pandemic in 2021, the market for Chinese art and antiques also showed signs of a rebound, generating $7.4 billion in sales globally, an increase of 30% year over year. Mainland China's sales reached $5.9 billion, a 36% increase year over year, which also impressively accounted for 79% of the global total sales value in this market.
20th Century and Contemporary Chinese art continued to show a promising performance in mainland China. The number of lots sold for this category increased by 43% year over year in 2021. Coinciding with these numbers, total sales value increased by 62% with a 10-year high of $701 million. This category, however, struggled overseas with total sales values dropping by 18% year over year. As fewer lots for this category sold in the high-priced bracket, the average price unsurprisingly dropped by 24%.
Global Chinese Art Auction Market Report 2021 – Artnet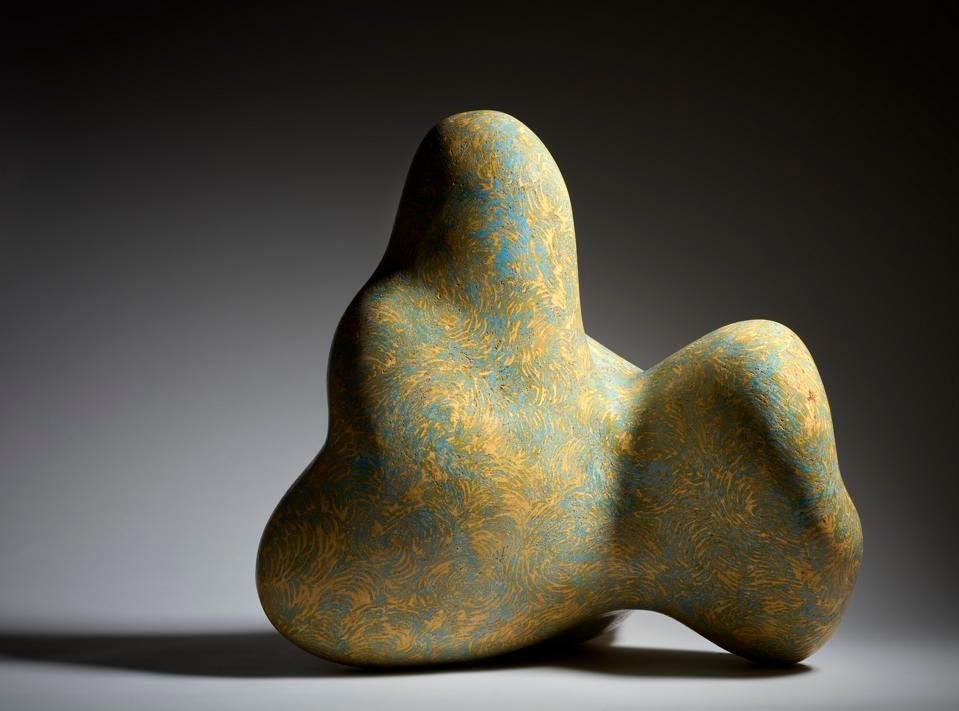 CONTEMPORARY ASIAN ART IN THE SPOTLIGHT
The 8th edition of the Asian contemporary art fair Asia Now closed its doors in Paris on 23 October 2022. This year, the fair received no less than 27,000 visitors, 9,500 of whom were already present on the day of the preview. 78 galleries were represented, 250 artists were exhibited, from 26 Asian countries. Many galleries sold the majority of their works on display, some even reaching six-figure sums. There were big names like Takashi Murakami or Ai Weiwei, but also many young talents. Since its inception in 2015, Asia Now has introduced a number of visual artists who have since entered the international scene and some have even represented their countries at Biennales, such as Venice.
This year, Asia Now chose a prestigious venue, the Monnaie de Paris. This new, larger venue was able to accommodate an ever-increasing number of galleries. Its location was no less attractive: in the historic heart of Paris, on the banks of the Seine, opposite the Pinault Collection and the Louvre. Renowned galleries represented at Asia Now were also exhibiting simultaneously at Paris +/Art Basel, at the Grand Palais Ephémère, such as Almine Rech, Nathalie Obadia, Perrotin and also Yeo Workshop, Yavuz, Jeanne Bucher Jaeger, De Sarthe, Frank Elbaz, Lee-Bauwens, Galerie LJ, Michael Janssen and Louis & Sack.
The 8th edition of Asia Now highlighted contemporary ceramics. Amongst the artists that stood out were the Singaporean ceramist Jason Lim and the Korean artist Sangwoo Kim. Among the other talents, too numerous to name, were Singaporean painters Jane Lee and Alving Ong, Chinese artist Lin Guocheng, Korean artist Chae sung pil, and French-Chinese artist Fu Site.
Alexandra Fain, director and founder of Asia Now commented: "Asia NOW PARIS aims to shine a light on contemporary art across Asia – the broader geography, the artists, galleries, institutions, and collectors - to provide a European hub where they can participate in a more global conversation during Paris Art Week. Our continuing efforts to focus on various regions, generations, and now practices across art communities in Asia position Asia NOW as the leading contemporary art fair dedicated to pan-Asian artists and projects, and Asian diasporas."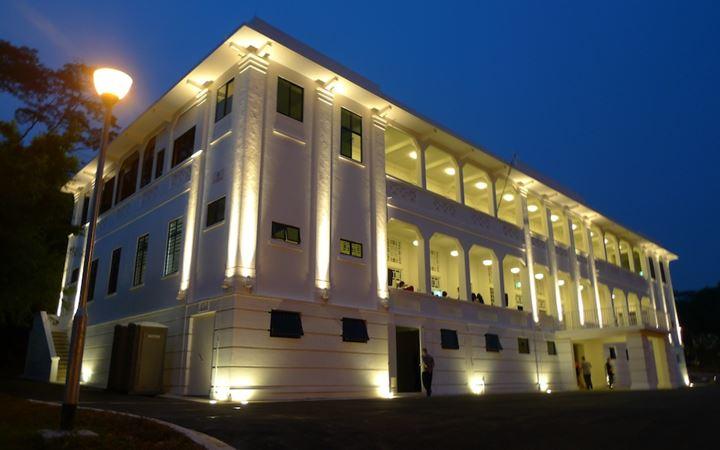 ShanghArt Gallery
THE RETURN OF TRADITION IN CONTEMPORARY ART IN CHINA
"In 2016, Xi Jinping's campaign propelled Chinese culture to the forefront - encouraging the development of "red tourism" through the preservation of historical heritage and encouraging the population - forced to forget its 5,000 years of history during the Cultural Revolution - to (re)discover its own culture. The celebration of traditional culture has particularly affected the native Chinese generation Z and millennials. These younger generations are developing a deep interest in their country's historical culture and forging emotional connections with its aesthetics. The revitalization of craftsmanship in Jingdezhen, the world's cradle of porcelain, landscape painting, and technology in the service of tradition, all point to a trend that marks the desire of a new generation to be recognized and to shine in China, and a form of disinterest in being exhibited internationally. However, international contemporary art - whether by established or emerging artists - occupies the first place among young Chinese collectors. "From a more Western culture, they are familiar with the global art world and are starting to collect from an international perspective. These are some of the findings established by Caroline Boudehen in her book entitled "Le boom de l'art contemporain en Chine", published in October 2022 by Editions de l'Aube. The author is a freelance journalist, specialised in contemporary art. She lived in Shanghai between 2015 and 2021 where, fascinated by the artists and galleries she discovered, immersed herself in contemporary Chinese art then in full development.

Korean artist Haegue Yang
WOMEN ARTISTS IN THE ART MARKET
The feminine is distrusted when it is creative"
Le Figaro Madame of 13 October 2022 presents the latest volume of the series devoted to women artists by French journalist, historian and writer Laure Adler: "Women artists are increasingly dangerous "*. Here are some excerpts.
"From the nourishing body to the "power of the useless". "The history of art has been written and transmitted by and for men, this is a historical reality. Women have always been told to live indoors, to fulfil two essential functions, those of conjugality and motherhood. But imagination, dissociation and splitting, with the possibility of leaving a 'nurturing' body in order to be 'useless', so to speak, were not granted to them. The proof of this is that art schools were not open to women in Europe until the 1880s. My idea is very simple, but based on my readings of archaeologists, palaeontologists, historians and art historians: the possibility of thinking about the world outside themselves and their inner world is an extremely recent conquest for women.
Women in dialogue with themselves. "The feminine is distrusted, especially when it is creative. Anything that escapes the functions of reproduction and child-rearing is synonymous with useless expenditure, or even dangerous moods. The end of the eighteenth century and the whole of the nineteenth century were part of a hygienist vision of the woman's body; and what is not useful is assimilated to vapours, hysterical manifestations, deviances, madness, etc. Anything that is excess is interpreted as potentially dangerous, very dangerous indeed. We see this in characters like Emma Bovary. The woman who creates is in dialogue with herself, which is frightening. The sphere of intimacy is forbidden to her, because everything has to be understandable to men: therefore everything that escapes becomes an object of concern for them."
A lower rating than for men. "While few women had their work presented to the public in exhibitions, galleries and museums, a new wind seems to have blown in recent years. To be fashionable, women must now be shown in major museums, whether public or private. The movement began in the United States, continued in Great Britain, was driven by the great museographic policy of the countries of Northern Europe and is now arriving in France and Italy - the majority of the artists at this year's Venice Biennale are women, on the initiative of the curator, who is herself a woman... But women are still in the minority and, above all, their work does not have the same value as that of men: their rating is ten times lower, at the very least, than theirs."
Le Figaro Madame 13 October 2022 by Minh Tran Huy
* "Les femmes artistes sont de plus en plus dangereuses", by Laure Adler and Camille Viéville, Éd. Flammarion

Ranking of the famous contemporary Chinese artists in 2021
Cui Ruzhuo topped the Hurun China Art List 2022 once again with a total turnover of US$95mn. He has topped the list for eight consecutive years. Zeng Fanzhi, maintaining the 2nd with US$53mn. The painter Zhou Chunya's turnover increased by 8% to US$43mn, maintaining the 3rd place. The painter Zhang Xiaogang's turnover increased by 10% to US$33mn ranked 4th. The turnover of painter Chen Danqing increased by 310% to US$30mn, rising 7 places to 5th. This year is the highest ranking Chen Danqing has achieved since he first entered the Hurun China Art List in 2008, and it is also the first time that Chen Danqing has entered the Top 10. Liu Ye ranked 6th with US$29mn. Huang Jiannan, 70, ranked 7 with US$28.8mn. Zhu Yaokui, 90, ranked 8th with US$23.4mn. His 2009 work, 'The Source of the Yellow River,' was sold last year by Rong Bao Zhai (Nanjing) for US$9.8mn. The painter Huang Yuxing's turnover increased by 207%, ranked 9th with US$20.5mn. A 2019 painting of his was sold at Christie's last year for US$8.2mn. Huang Yuxing is the youngest artist in the Top 10. Chinese ink painter Fan Zeng, 84, ranked 10th withvUS$18.8mn. Fan Zeng has been listed on Hurun China Art List for 15 years in a row, and topped the list in 2011 and 2012.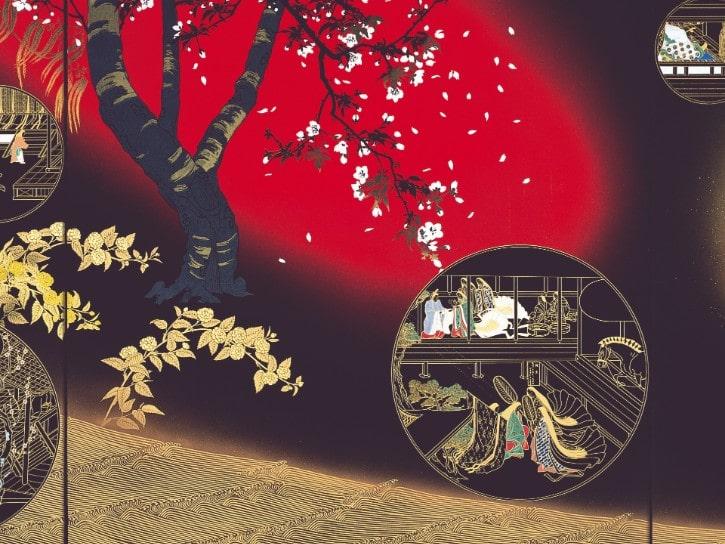 A MASTERPIECE OF ASIAN ART
Outside of any market trend but so exceptional as to be worth mentioning, The Maison de la Culture du Japon in Paris, presented a dazzling exhibition "Toshihiro Hamano - Esprit et Forme du Japon", from April 13 to May 11, 2022. Among the pieces was a masterpiece of four monumental screens. Drawing inspiration from the works of old masters, Toshihiro Hamano has created 'The Illustrated Life of Prince Shōkotu through the Four Seasons', with his own concepts. "The artist revisits the traditional aesthetics of the Far East, that of Japan in particular, and offers us an original and innovative universe." The total length of the work is 36 meters. Toshihiro Hamano created it for the Chûgû-ji in Nara, a Buddhist temple closely linked to the famous Japanese prince of the 6th century. "Gold panels on a black background - using the maki-e technique, lacquer whose surface is covered with gold powder - show seventy famous episodes from the life of the legendary Shōkotu inside circles of different sizes. Plants, flowers, and trees in the four seasons, arranged along a wide stream that flows from one end to the other, are scattered throughout the composition." The Katsura Imperial Villa series and the Chashitsu (tea pavilions) were also included. Toshihiro Hamano is a contemporary Japanese artist of international renown, born in 1937. He is particularly interested in Zen philosophy. Tradition and modernity, the self and the other, the West and the East, are united in the art of Toshihiro Hamano.
ART MARKET, TRENDS IN 2021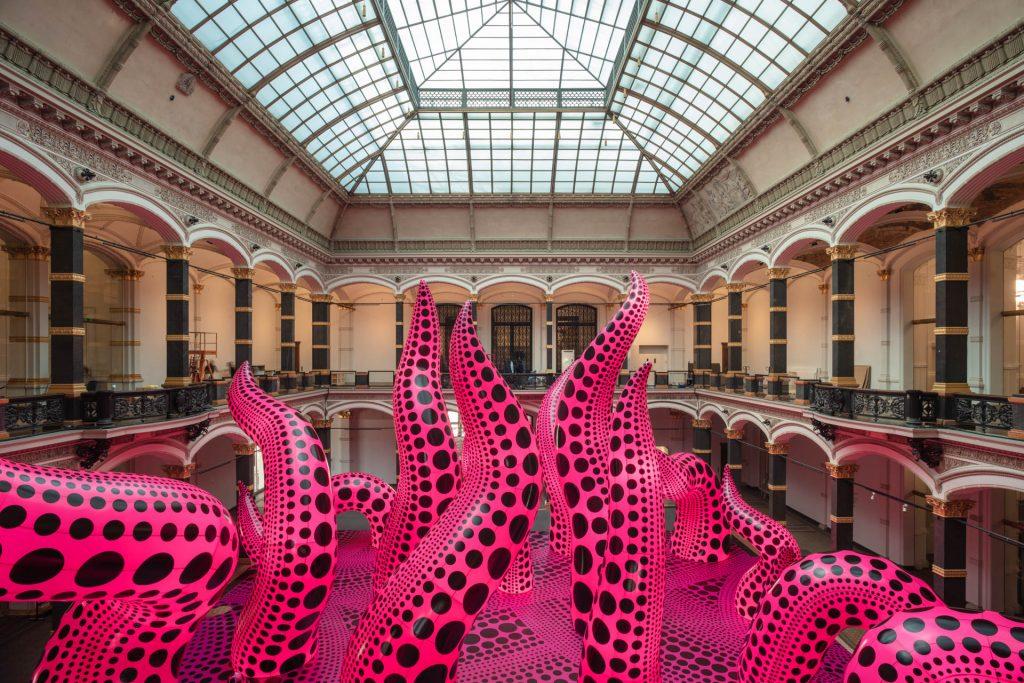 Yayoi Kusama becomes the first woman ever to make the 2021 Artprice Top 10
London remains the second strongest market in the West and an essential platform for Christie's and Sotheby's. However, Hong Kong is asserting itself more and more firmly on the world stage, to the point of competing with the British capital. From now on, Hong Kong sales bring in more revenue for Phillips than those in London. In the medium term, Hong Kong could even become the second largest market in the world, doubling London. The latter totals $1.9 billion, or only 10.5% more than Hong Kong.
As for the NFTs, Chinese collectors are currently paying close attention to the emergence of NFTs. However, the application of NFT encryption technology is limited to contemporary art. The Chinese traditional collecting community is still reluctant towards NFT Art, and it remains to be seen over a longer period of time whether it can really change the whole Art Market.
In Asia, South Korea (Seoul), and Japan (Tokyo), achieved record performances. Both countries are ranked in the Top 10 of the world's marketplaces, with a clear lead for South Korea. Despite a small number of lots sold (less than 2,700), the Korean market surprised by the leap forward it made in the space of two years: it weighed in at $237m compared with $58m before the pandemic, a fourfold increase in results. South Korea is asserting itself as a new major power in the art market. It has a prestigious art scene and artists with explosive prices - Lee Ufan, Seo-Bo Park, WhanKi Kim.
At 92, Yayoi Kusama is ranked in the world's Top 10, with a historic annual income of $178m. She becomes the very first woman in this ranking, exclusively male until 2021! The market for Yayoi Kusama has changed dramatically over the past 20 years: in 2000-2001, important works were reserved for American and British auction houses. The rest went to European sales. In 2021, however, 74% of her income will come from various Asian countries, where the artist's popularity is at its peak.
French-Chinese artist Chu Teh-Chun's rating has reached an important milestone, with a record set at $29.5m in April 2021 for a 1986 abstract masterpiece entitled Winter Harmony (Sotheby's Hong Kong). This new record surpassed the previous one (set in 2020) by $15m and propels Chu Teh-Chun into the top 30 performing artists.
Having appeared at auction two years ago after the artist's untimely death, Matthew Wong's works (1984-2019) are all selling, without exception, on a fully internationalized market. Buyers are coming from New York, London and Hong Kong. The artist's record was revised at the end of 2021 with the painting Night Crossing (2018), sold for over $4.8m at Sotheby's.
https://imgpublic.artprice.com/pdf/the-art-market-in-2021.pdf (March 2022)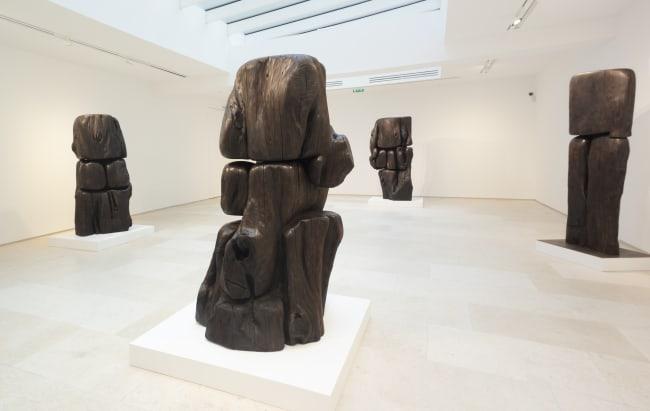 LARGE EXHIBITION OF ASIAN ARTISTS IN FRANCE AT THE BEGINNING OF THE YEAR 2022
Whether they are Chinese, Korean or Vietnamese, no less than a dozen exhibitions were devoted to Asian artists in the signifiant galleries in Paris, in early 2022. Galerie Nathalie Obadia presented from January 15 to March 15, 2022 the work of the French-Chinese artist Wang Keping, an internationally recognized sculptor: a set of eight majestic sculptures in cypress wood with a fire patina. PARIS-B Gallery (Paris Beijing) exhibited the new series of paintings by the young and talented Chinese artist Fu Site "Jeu de créatures", from January 8 to February 19, 2022. This is Fu Site's fourth solo exhibition at Galerie Paris B. Two years after Huang Yong Ping's death, Kamel Mennour Gallery in Paris proposed a duo exhibition of the artist and his partner Shen Yuan, in an ultimate project entitled "Is Paris Burning? 2019, from December 9 to January 29, 2022. The Chinese artist Wang Yan Cheng is currently honored in the Pinault collection, with two monumental paintings presented at the headquarters of Kering company (Pinault), in the chapel of the former hospital Laennec. Until January 31, 2022, in the Great Chapel of the Palace of the Popes, the French-Chinese artist Yan Pei-Ming presented huge unpublished portraits of Popes in the form of real installations. In addition nearly 140 works by the internationally recognized artist Yan Pei-Ming, from nearly 40 years of career, were exhibited at the Lambert collection in Avignon, from June 26 to September 26, 2021.
The Perrotin Gallery in Paris Marais presented a major exhibition of the Korean artist Lee Bae, "Black in Constellation", until February 2022. The artist exhibited five series of works tracing his last twenty years of work. Lee Bae is well known for his black monochrome paintings. More than twenty paintings from the most recent series by Korean artist Lee Bul were on display at Thaddaeus Ropac Marais Gallery, from January 20 to February 28, 2022. Lee Bul is one of the major Korean artists of her generation. She is also one of the most influential Asian women artists who emerged in the 1990s. The Korean artist Lee Ufan presents "Requiem", an important set of 14 new works installed in the ancient necropolis of Alyscamps, in Arles. The Korean Cultural Center in Paris presented a retrospective exhibition "30th anniversary" of the Sonamou Association, one of the most important associations of Korean artists founded in France.
New exhibition of the French-Vietnamese artist Bao Vuong at A2Z Art Gallery Paris, "Coming through" - a reference to the crossing experienced by the artist as a child and his mother on board a boat to escape Vietnam - from December 16 to January 29, 2022. The artist uses deep blacks that give a lot of intensity to his paintings. Lastly, the Guimet Museum gave carte blanche to the artist Duy Anh Nhan Duc from November 10, 2021 to February 7, 2022. A new exhibition of this visual artist of the plant, putting in the center of his work the dandelion flower.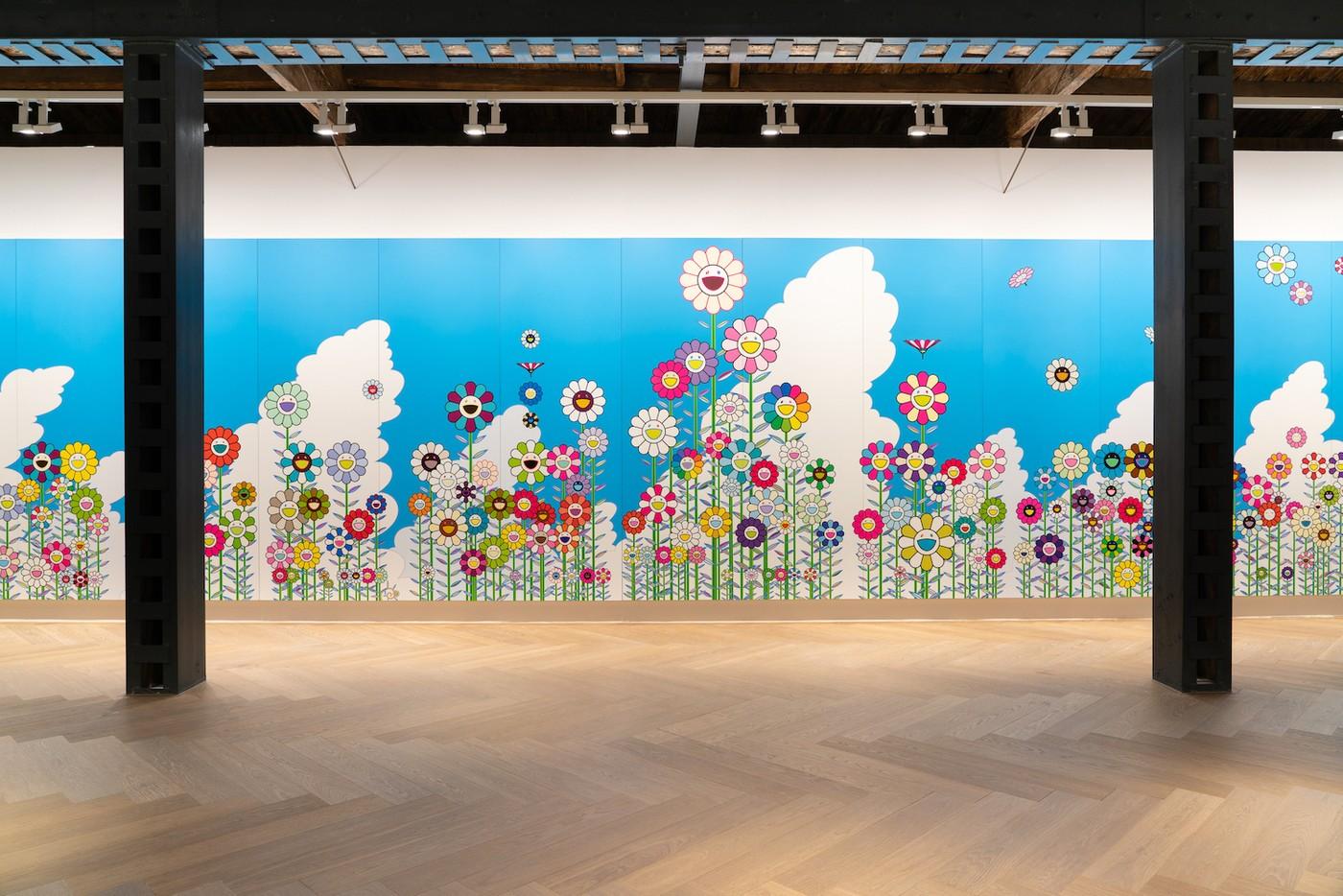 Artprice's ranking of the first Asian contemporary artists in 2020/2021
This year Hong Kong has established itself as the second city of the Contemporary Art Market after New York, notes the company Artprice in its latest report on the contemporary art market in the world (2020/2021). Thanks to the dynamic iniatives carried out by Christie's, Sotheby's, Phillips, Poly and China Guardian, Hong Kong is now the new hub of contemporary art. In addition, the Hong Kong model is exported to other countries in the region, including South Korea and Japan. Yoshitomo Nara largely dominated the Asian market in 2020/2021. The best-loved Japanese artist of his generation ranks as the most successful contemporary with sales revenue exceeding $137million. He generally makes 80% of its sales in Hong Kong. Yoshitomo Nara also stands out as the third in the ranking of the World Contemporary Art Market (behind Basquiat and Banksy). The price of his works has doubled in two years. This success reflects the current importance of the Manga aesthetic. Chinese artist Liu Ye is attracting growing interest, with amazing solo exhibitions that have implanted him well in the Asian and Western visual landscape. He joined the international gallery David Zwirner in 2019 and thirty of his paintings exceeded $1 million at auction and a result above $10 million a few months after his first solo show organized by Zwirner in New York (Bamboo bamboo broadway, $12.6 million, Poly Interna - tional, Beijing, 4 June 2021). He was 6th in the Artprice 2020/2021 ranking with auction results of $55,296,494. Among the most sought-after artists: Japanese artist Takashi Murakami and Filipino artist Ronald Ventura. Takashi Murakami has become a production machine with his own company Kaikai Kiki Co, that creates unique works, limited series, animated films and many derivative products. Murakami had never sold as many works as in this exercise (1,591 lots), especially to young people: mainly prints, exchanged in a very wide range of prices. The fourth Hong Kong price ascension was that of the Filipino Ronald Ventura, one of Southeast Asia's best-selling artists. The recent sale of his Party animal (2017), a large painting of anthropomorphic animals at a birthday party, raised his personal best to $2.5 million Healing by Takashi Murakami more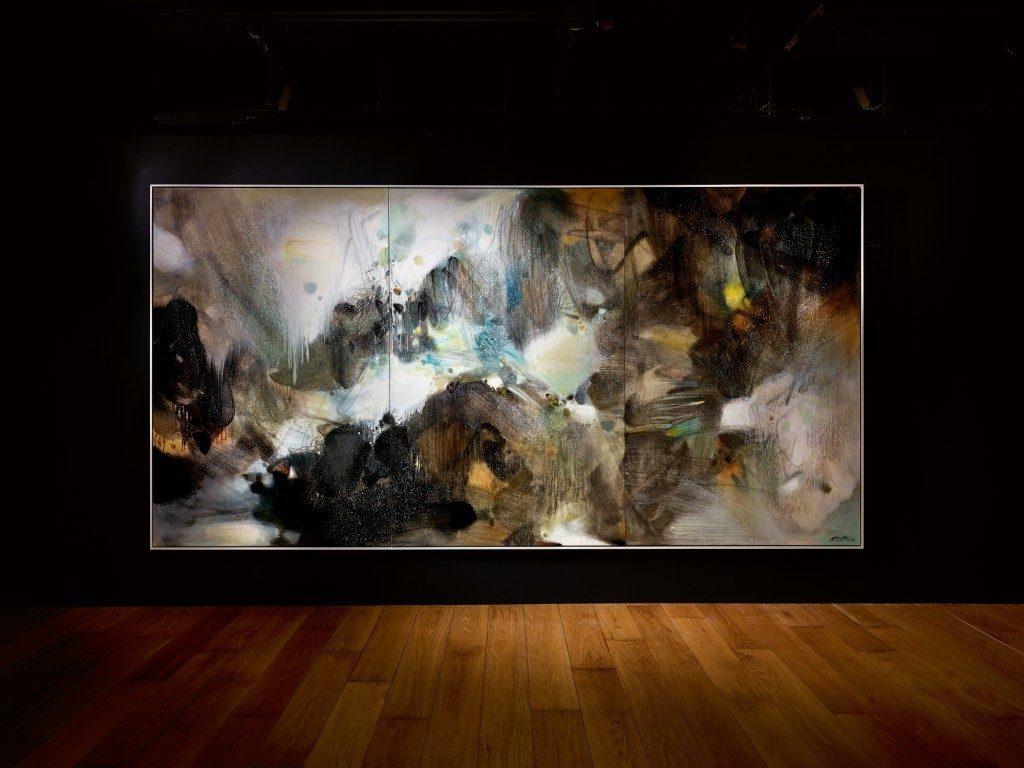 The influence of Chinese artists living in France
The famous artists Yan Pei-Ming, Sanyu, Chu Teh-Chun or Zao Wou-Ki, who settled in France in the last century, have benefited from the enthusiasm of buyers and collectors around the world in recent years. No wonder there are several major exhibitions dedicated to them in 2021, in France or in Hong Kong. An unprecedented exhibition on the life and work of Yan Pei-Ming, entitled "Yan Pei-Ming - In the name of the father", was in fact presented at the Unterlinden Museum in Colmar, from May 19 to September 6, 2021. Through portraits and self-portraits, the exhibition questionned the artist's relationship with his origins - from Mao to the father figure - while including "international landscapes" and those of Shanghai. The Thaddaeus Ropac gallery in Paris Aldo presented "Self-portraits" by Yan Pei-Ming, from May 19 to July 31, 2021. Created during the recent months, these self-portraits and still lifes in the exhibition was a witness of the feelings of constraint and of loneliness by the artist during the lockdown. The Hôtel de Caumont-Centre d'Art, in Aix en Provence, presented from May 19 to October 10, 2021, "It never gets night", an exhibition of 90 works by Zao Wou-Ki, from 1935 to 2009. The exhibition, organized with the Zao Wou-Ki Foundation, wanted to identify one of the artist's main themes of creation: the invention of new pictorial spaces built from a work on color and the representation of light. In Hong Kong, the Alisan Fine Arts gallery presented for the fifth time an exhibition by Chu Teh-Chun, as part of the French May Arts Festival, from May 13 to July 31, 2021. The exhibition included 17 works by the artist who showcase his most iconic abstract compositions and calligraphy.
The influence of Chinese artists living in France, June 2021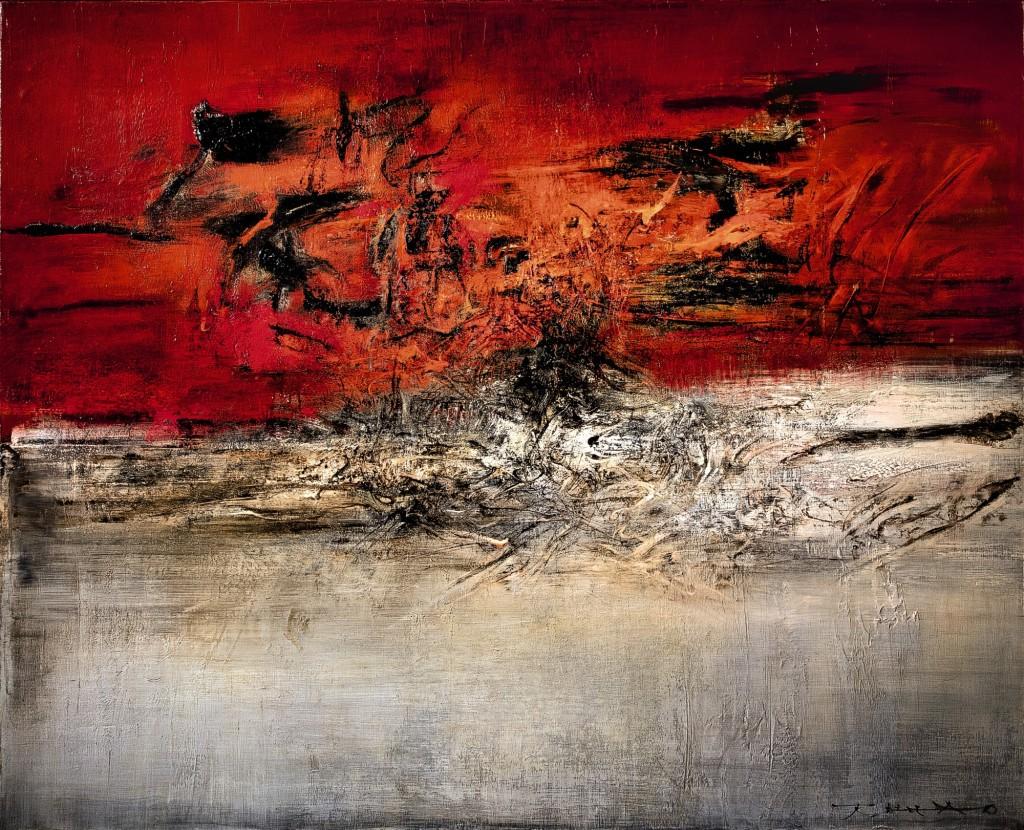 Great auctions for Asian artists at Sotheby's Hong Kong, April 18 and 19, 2021
A monumental triptych by Chu Teh-Chun "Harmonie Hivernale" (1986) reached HKD 229.6 million ($ 29.5 million) at Sotheby's sales (Evening Sales of Modern and Contemporary Art) in Hong Kong on 18 and April 19, 2021. The result was nearly double the artist's previous record of $ 14.6 million for "Les Eléments confédérés"(1983-1984), at Sotheby's in July 2020. A portrait of a reclining nude by Sanyu (around 1950) received three offers and ultimately was sold for HKD $ 105.8 million ($ 13.4 million with premium). The price was far below Sanyu's top three most expensive works sold at auction, each of which comprises nude figures. Two lots from Zao Wou-Ki including "02.13.62" sold for $ 20.8 million and $ 9.5 million respectively. Japanese artist Yoshitomo Nara sold his work "Frog Girl" (1988) for HKD 82 million ($ 12.4 million with buyer's premium), making it the third-most expensive work by the artist ever sold at auction. Chinese artist Zhang Xiaogang sold "Bloodline: Mother and Son No.1" (1993) for 33,450,000 HKD ($ 4.3 million). Fang Lijun sold his work "1993 No.4 1993" for 24,375,000 HKD ($ 3.1 million). Zeng Fanzhi sold "Mask Series No. 18", 1994, for 14,695,000 HKD. Liu Xiaodong sold his work "Sons" for 10,460,000 HKD. Young Chinese artist Matthew Wong sold "The Beginning" for 26,795,000 HKD. "Three Boys" (2019) by emerging Pakistani artist Salman Toor's sold for 4.5 million HKD ($ 579,000), four times their estimate.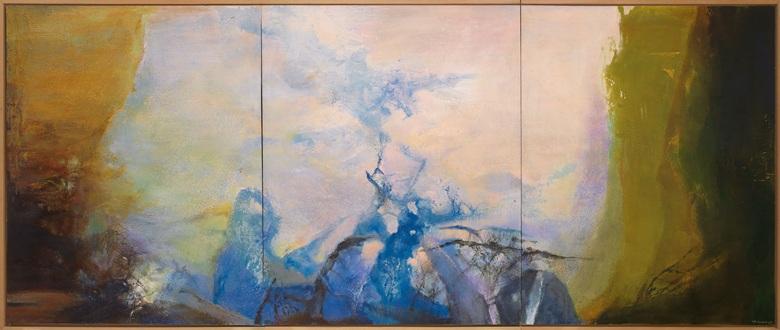 International art rating of Chinese artists living in France
In the post-war years, France welcomed Chinese artists such as Chu Teh-Chun, Zao Wou-ki or Sanyu, who became great names in painting worldwide. After the repression of Tiananmen Square, in Beijing, on June 4, 1989, Chinese artists involved in avant-garde artistic movements, also chose to emigrate to France like Wang Keping, Ma Desheng, Huang Yong Ping , Li Shuang and Yang Jiechang.
Today Sanyu (born 1901), considered as the "Chinese Matisse", is heating up the Asian market. Sanyu settled in the Montparnasse area in Paris in the 1920s. A painting by Sanyu "Quatre Nus", dating from the 1950s, sold at auction in July 2020 for more than HK $ 258 million ($33.3 million). In 2020, four Sanyu paintings sold for between US $ 17 and 33.3 million at Sotheby's. Previously in October 2019, "Nude", which depicts a woman lying on her back, was sold for KK $ 198 million (US $ 25 million) at Sotheby's. One month later, "Five Nudes" was sold at Christie's for nearly 304 million HK dollars (US $ 39 million), setting a new auction record for Sanyu's paintings.
Zao Wou-Ki, born in 1920, is considered as one of the most illustrious representatives of lyrical abstraction. In 1948, he moved to Paris, in the Montparnasse area. In December 2013, his work, "Abstraction" (1958) reached a first world record with 89.7 million yuan ($ 14 million) at Sotheby's in Beijing. At Christie's on May 26, 2018, his painting '14.12.59 ″ sold for HK $ 176.7m (US $ 22.6m). In May 2019, he had the best auctions at Christie's and Phillips Hong Kong. His 1987-1988 Triptych, Hommage à Matisse et Manet, sold for 178m HK $ (22.8m US $) on May 25, 2019 at Christie's. Consequently Zao Wou-Ki ranked third in the auction results of the Artprice 2018 Ranking, just behind Pablo Picasso and Claude Monet.
The Chinese artist Yan Pei-Ming, born in 1960, is one of the world's most renowned contemporary painters. He arrived in France in 1983. In 2018/2019 he ranked at the 217th place in the Artprice Ranking of the top 500 contemporary artists in the world with cumulative sales revenues of $ 794,308. He ranked 61st in the Artprice Report Top 1,000 Contemporary Artists Auction - from 2000 to 2019 - with a turnover of $ 57,029,680m.
more: La cote internationale des artistes chinois installés en France Pdf (French)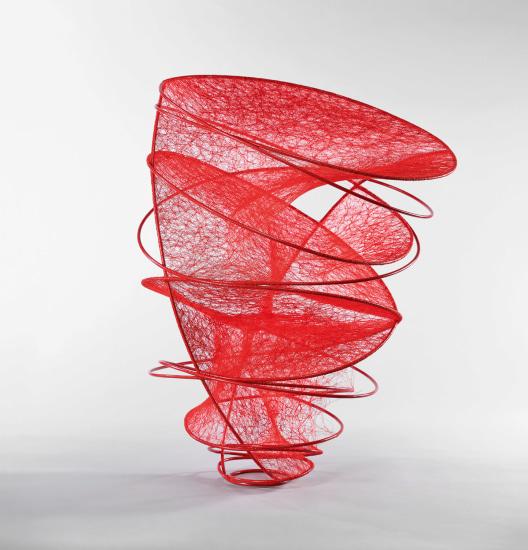 High level of sales of great Asian artists in Hong Kong
On December 2 and 3, 2020, sales of Asian artists were performing well, Sanyu breaking the record with his work "Goldfish", which Christie's sold for $ 18.8 million (HK $ 146m). Yoshitomo Nara, sold his work Hothouse Doll "(1995) for $ 13.3 million (HKD 103 million) at Phillips HK on December 3, 2020. Yayoi Kusama sold at Phillips HK" Epsob Fruits "for $ 1.6 million (HK $ 12,350,000). Pakistani-born artist Salman Toor sold a painting "Group Dance" for $ 520,000 (HK $ 4 million), ten times its estimate. Japanese artist Chiharu Shiota sold "Spiral" for $ 97,538.95 (est. $ 19,200-32,100). Chinese Li Chen's "Peony" sold at Phillips for US $ 308,870 (HK $ 2,394,000).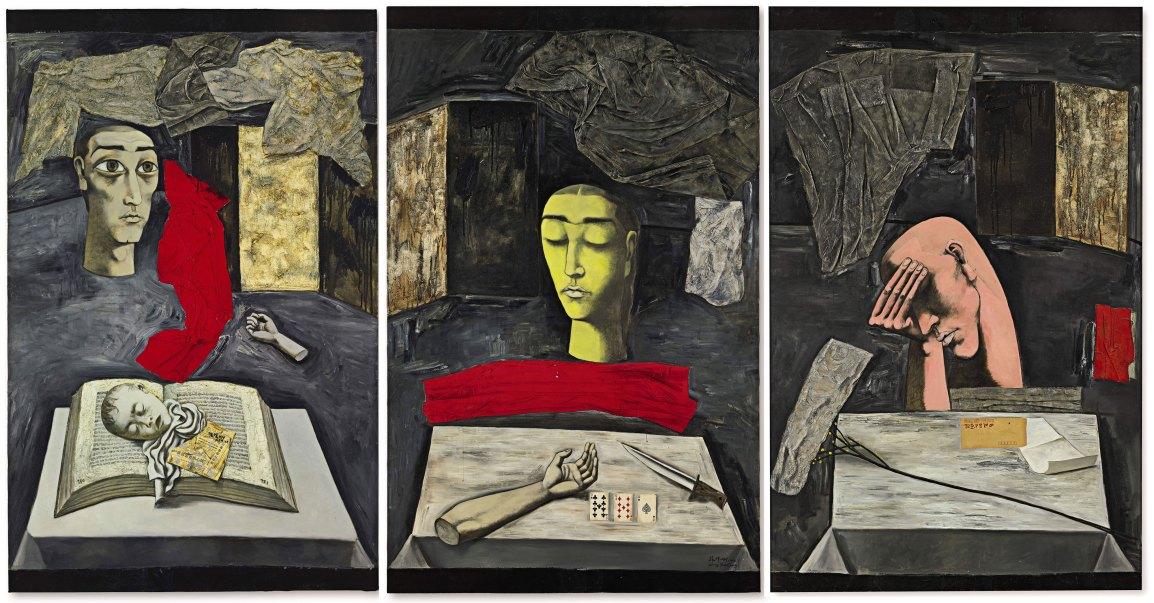 The Contemporary Art Rush
The contemporary global art market changed substantially at the start of the 21st century with the influx of new millionaire buyers and the arrival of China, explains Thierry Ehrmann, director of Artmarket.com. The publication analyzes 20 years of contemporary art at auction (2000-2019). In the early 2000s, the art market industry set out to discover new scenes, new artists and new buyers, in China, Russia, India, Brazil, and the Middle East. In the mid-2000s, Beijing and Shanghai became the new "cultural industry villages," to use the expression endorsed by the Chinese government. Chinese artists have acquired the status of real "stars", and their success has made a whole country dream. The first outbreaks were recorded in November 2005. Today Zeng Fanzhi - in terms of annual auction turnover - is number 5 among contemporary international artists, behind Basquiat, Koons, Hirst and Wool. In 20 years, his works have generated $518.5 million at auction. He is also the leading Chinese artist of the 32 in the Top 100 ranking. Nowadays these 32 artists are fetching similar prices to the recognized stars of European and American Contemporary Art. But the growth of the contemporary art market was not just China driven. It emerged as a general consequence of the ongoing globalization of the Art Market. Prices are exploding for both leading Indian artists (Anish Kapoor, Subodh Gupta), artists from the Middle East (Christie's has been in Dubai since 2006), and Westerners. Takashi Murakami's meteoric rise is thus emblematic of the rapid transformations of the contemporary art market. Almost absent from radars in 2000, he already joined the world top 10 in 2008 (annual sales revenue).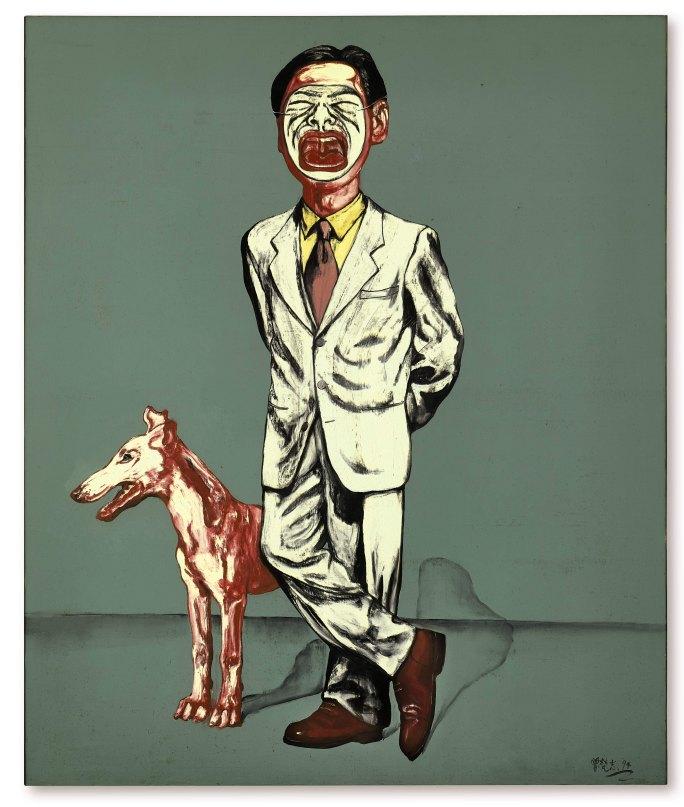 SALES OF WORKS BY MAJOR ASIAN CONTEMPORARY ARTISTS AT SOTHEBY'S HK 6-7 OCTOBER 2020
Works by Zhang Xiaogang, Zeng Fanzhi, Liu Wei, Yayoi Kusama – from the Johnson Chang Collection - were offered for sale, in the private collections section, at the Hong Kong Convention Center, on October 6, 2020. "The Dark Trilogy: Fear, Meditation, Sorrow", 1989- 1990, by the Chinese Zhang Xiaogang sold for HKD 54,920,000 → $ 7 million. It was estimated between $ 3.2 and $ 5.2 million. Zhen Fanzhi's "Mask Series No. 11" reached HKD 23,770,000 → $ 3 million. It was estimated between $ 1.5 million to $ 2.8 million. Pumpkin-(Cha) by the Japanese artist Yayoi Kusama sold for HKD 29,215,000 → $ 3.8 million. Chinese "Banana" Liu Wei sold for HKD 21,350,000 ($ 2.8 million). It was estimated HKS 6,000,000 - 10,000,000.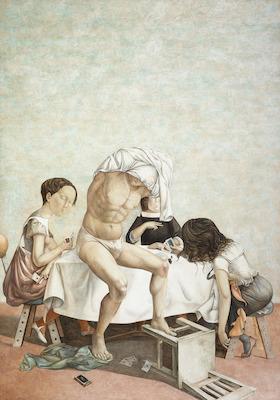 ART PARIS 2020, AN UNEXPECTED SUCCESS
Art Paris in the Grand Palais was one of the first major events in Europe for six months and many observers were looking to it as a test for the art market. The positive signs augured well for the fall art season. Unfortunately, we have just learned of the cancellation of FIAC in October 2020.
While some 38 galleries had withdrawn, the fair still included 112 participants. There was a 25 percent higher number of collectors and institution heads compared to last year, with around 30 museum groups attending. Apart from American galleries prevented from participating for health reasons, galleries from 15 countries were represented, including 21 without any base in France.
Among these, Canadian art dealer Christopher Cutts presented the work of Chinese artist Xiao Guo Hui (see opposite). By the second day of the fair, the gallery had already placed five of his six paintings with collectors. The Templon Gallery has sold over a dozen works ranging from $ 30,000- $ 90,000, including a painting by Indian artist Jitish Kallat for $ 50,000. Japanese artist Kiyoshi Nakagami, a master of light, with his compositions made from a mixture of acrylic, China ink and mica, was presented by Galerie Richard (Paris, New York). The Tamenaga Gallery exhibited the delicate work of Japanese artist Daiya Yamamoto, one of the most promising young artists of the new Japanese generation. The Raibaudi Wang Gallery dedicated a solo exhibition to the work of Franco-Chinese artist Li Chevalier: poetic works that mix sand, mineral shards and dark inks. The Franco-Chinese sculptor Wang Keping was also attending with his monumental wooden sculptures of women.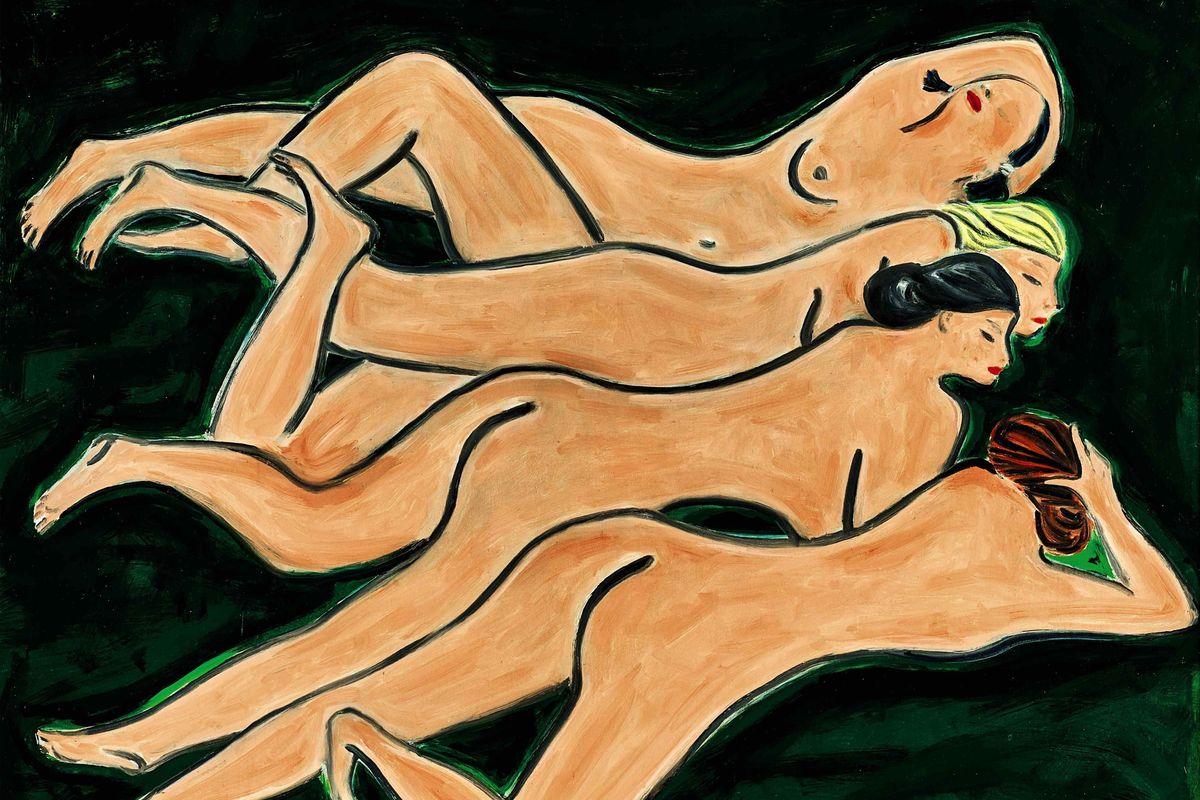 CHINESE PAINTER SANYU SETS THE ASIAN ART MARKET ALIGHT
A nude painting of Sanyu, hailed as the "Chinese Matisse", sold at auction in July 2020 for over HK $ 258 million (US $ 33.3 million), confirming his status as one of the most sought-after artists in the lucrative Asian art market, reports Oscar Holland of CNN Hong Kong. "Four Nudes", this painting painted in the 1950s that features four reclining female figures, topped Sotheby's first major sale in Hong Kong since the coronavirus disrupted its live auction schedule, becoming the most popular lot and the most expensive of the evening.
This surge in prices thus reflects a renewed interest from Asian collectors. Between 2000 and 2019, the price of Sanyu's work jumped more than 1,100 percent, according to the Artprice company, and the mainland China and Hong Kong markets now account for 91 percent of sales.Artprice also revealed that the $109 million produced by the painter's works at auction in 2019, made him the year's 16th biggest seller worldwide, above the likes of Mark Rothko and Roy Lichtenstein
Born in 1901 in the province of Sichuan, in southwest China, Sanyu was one of many young artists to settle in Paris in the early 1920s. However, he remained largely unknown during his lifetime, unrecognized by his peers, and he was even poor when he died in Paris in 1966.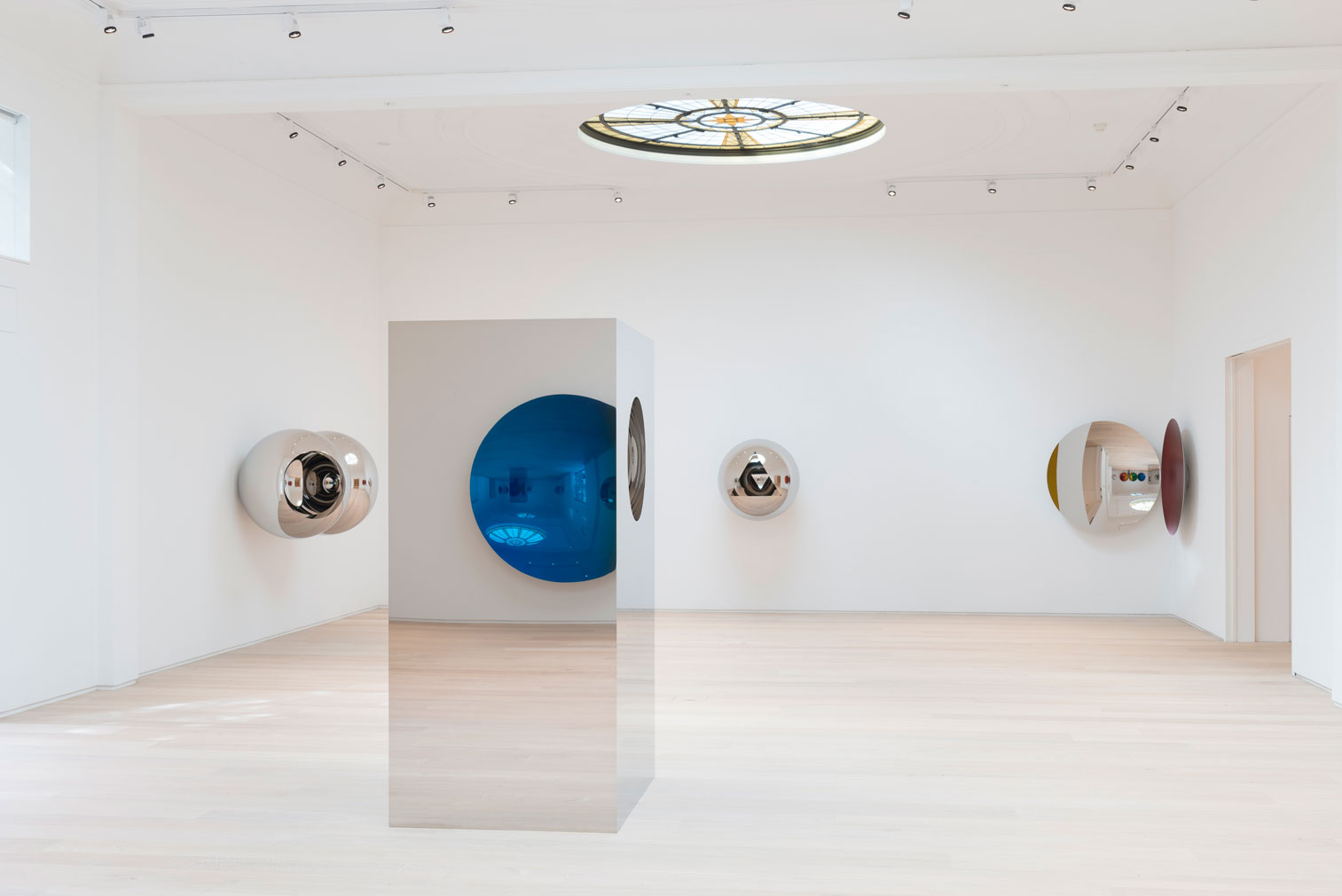 ANISH KAPOOR TOPS 2020 HURUN INDIA ART LIST
For the second time, Anglo-Indian artist Anish Kapoor is at the top of Hurun India Art List 2020 with sales worth Rs 44.39 cr. He is followed in the list of the 50 best living artists in India, by the painter Rameshwar Broota. Atul Dodiya, 61, and Jitish Kallat, 45, enter the top 10 for the first time. The youngest on the list is 39-year-old contemporary artist Valay Shende. Of the total, 22% are female artists. Modernist painter Arpita Singh continues to remain the most famous Indian female artist with cumulative sales of Rs 5.09 crore.
Of the top 50 artists, 17% live outside the country. New Delhi continues to remain the art capital of the country with 19 artists in the list, followed by Mumbai with 12 and Kerala 9;
Hurun Global President Rupert Hoogewerf says Indian art is highly undervalued as the most expensive works of Indian art sold at auction were the paintings of deceased artists Francis Newton Souza and VS Gaitonde for only $ 4 million each. According to him, the art auction market in India represents only 0.4% of the world art auction market, behind the United States, China and Great Britain with respectively 35%, 31% and 15% of the $ 13.3 billion market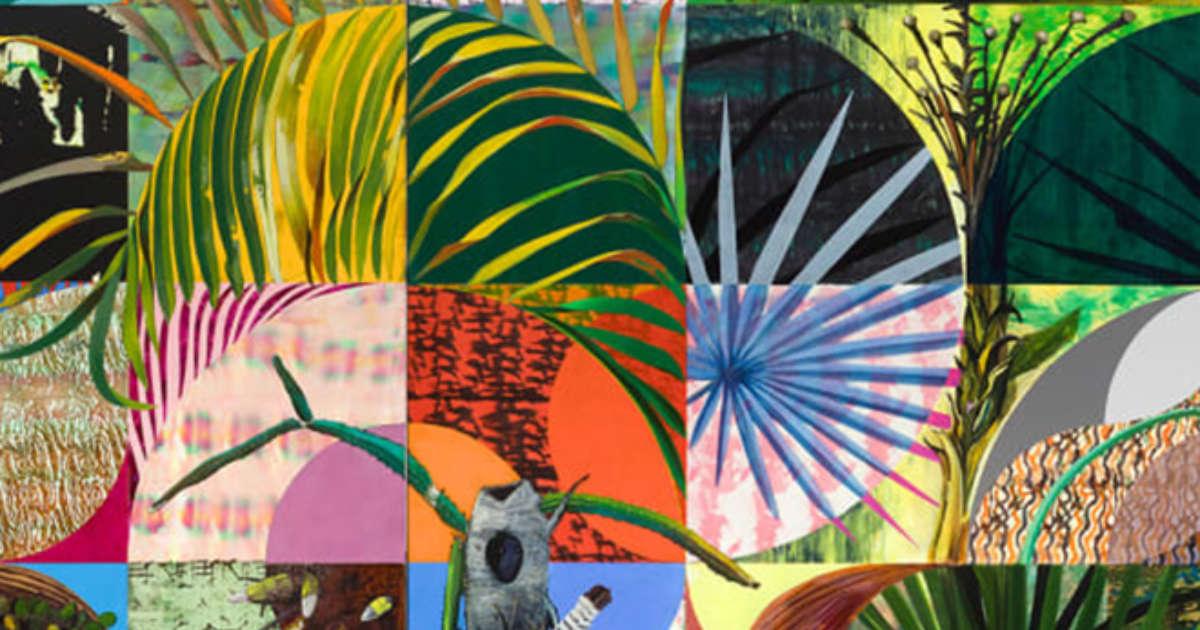 VERY REACTIVE ART MARKET DURING LOCKDOWN
Cancellation of fairs, auctions, art exhibitions, closing of museums, the art world quickly reacted to this collapse in activity. In Hong Kong already in early 2019, the gallery owners immediately opted for a program of virtual exhibitions. The famous Sotheby's set up a multidirectional strategy on the web and its competitor Christie's rapidly did the same. Today they compete in imagination to multiply transactions.
The largest contemporary art fair in the world, Art Basel, which was to be held in June, was canceled in favor of a web version, from June 19 to 26, 2020. The challenge is for gallery owners to sell works of millions dollars as proposed by the fair this year on its site, explains Judith Benhamou-Huet in the French magazine Le Point. A transaction has already been completed in this context. A sculpture by Jeff Koons was officially sold for $ 8 million in the opening VIP hours of the operation. On June 29, 2020 at Sotheby's, a triptych by Francis Bacon should be offered for sale, exclusively online, from London, starting at $ 60million.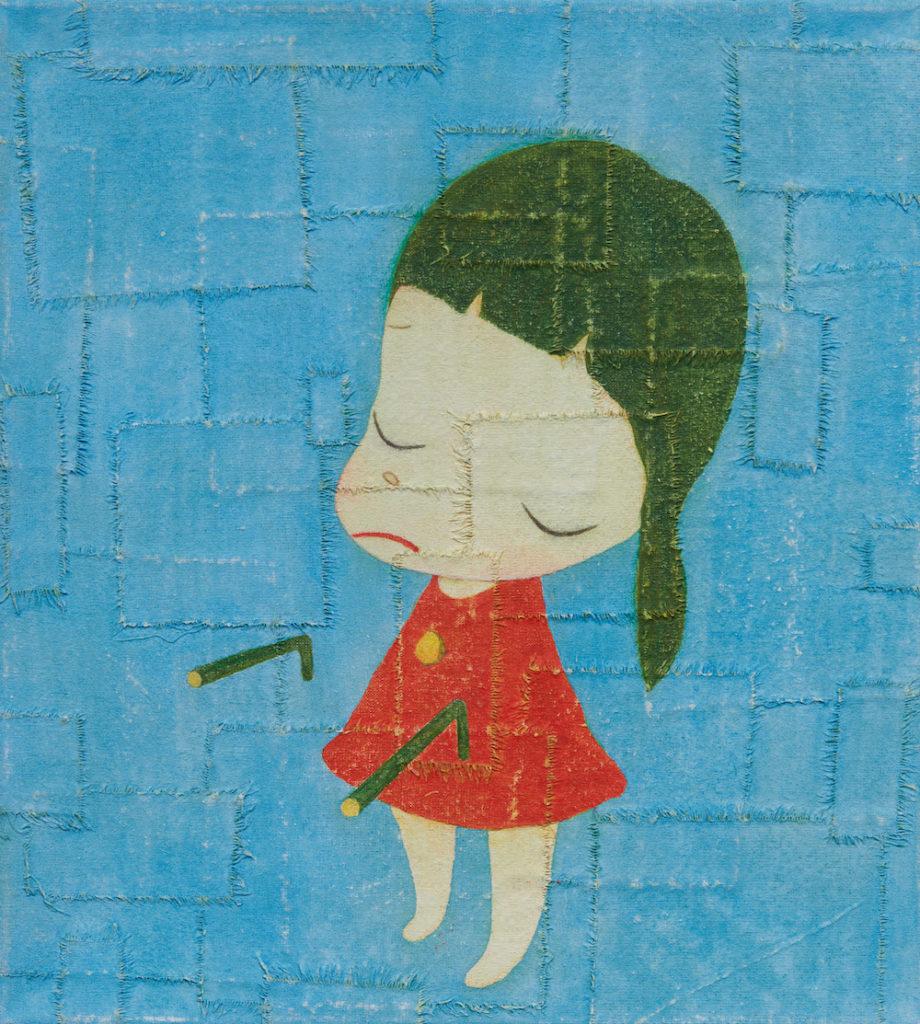 DOUBLE ONLINE SALES OF CONTEMPORARY ART BY SOTHEBY'S
Sotheby's online sales of contemporary art - May 4-14, 2020 - reached $ 13.7 million - more than double the previous record for an online art sale three weeks ago. However statistics do not take into account the high number of withdrawn works, indicated Artnet News.
Overall, this is the highest result to date for online sales - and many of art prices seem to demonstrate that people are ready to buy works by younger and lesser-known artists, especially by museums. Among Asian artists, there was a strong demand for Japanese artist Yoshitomo Nara, whose auction record reached just under $ 25 million at a Hong Kong auction last fall. Witching (1999), a painting of one of his iconic childish figures with closed eyes and obstinate expression, was sold for $ 740,000, with an average estimate of $ 600,000 to $ 900,000.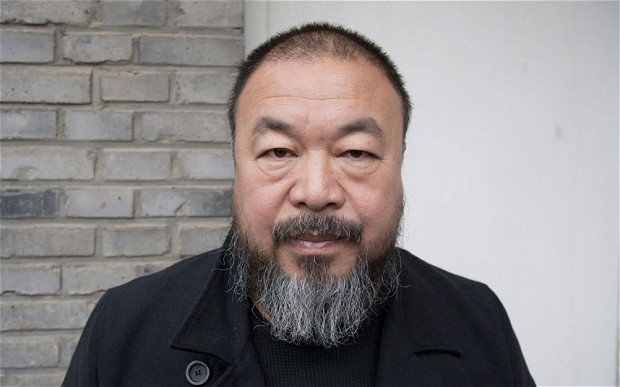 THE ART ANGLE PODCAST : AI WEIWEI EXPRESSES ABOUT CORONAVIRUS, CHINA, AND THE NEW ROLE THAT ART COULD PLAY
As the coronavirus outbreak continues to cause devastation at varying degrees around the world, the famous Chinese artist Ai Weiwei focused on how the disease shows the failures of governments and widens the lines of geopolitical divides between powers worldwide. Although China, where the disease started in December 2019, appears to have contained the virus enough to begin to return to some kind of normalcy, serious questions remain about the transparency of Xi Jinping's regime towards the disease .
After being chased by Party officials in response to his investigative work, Ai Weiwei knows better than anyone how the tentacles of the authoritarian Chinese government can reach citizens who want to criticize the state. He believes that here too, the bureaucracy's reluctance to admit its own mistakes has had disastrous consequences for others, this time around the world. But he also considers that the main Western countries, in particular the United States, are partly responsible for the fact that they have been too accommodating towards China for too long, all in the search of profit.
The Art Angle (Artnet News April 23, 2020) released a video podcast in which Ai Weiwei speaks about the outbreak, its effects on global politics and how artists can contribute to a world in turmoil. "Art plays a crucial role in societies but, in China, it never works as it should do because of current strict censorship laws," said the artist during a vision conference in Oslo in mid- April 2020.
https://news.artnet.com/the-art-angle/the-art-angle-podcast-ai-weiwei-1842471?utm_content=from_newscta&utm_source=Sailthru&utm_medium=email&utm_campaign=EUR%20April%2024%20AM&utm_term=EUR%20Daily%20Newsletter%20%5BMORNING%5D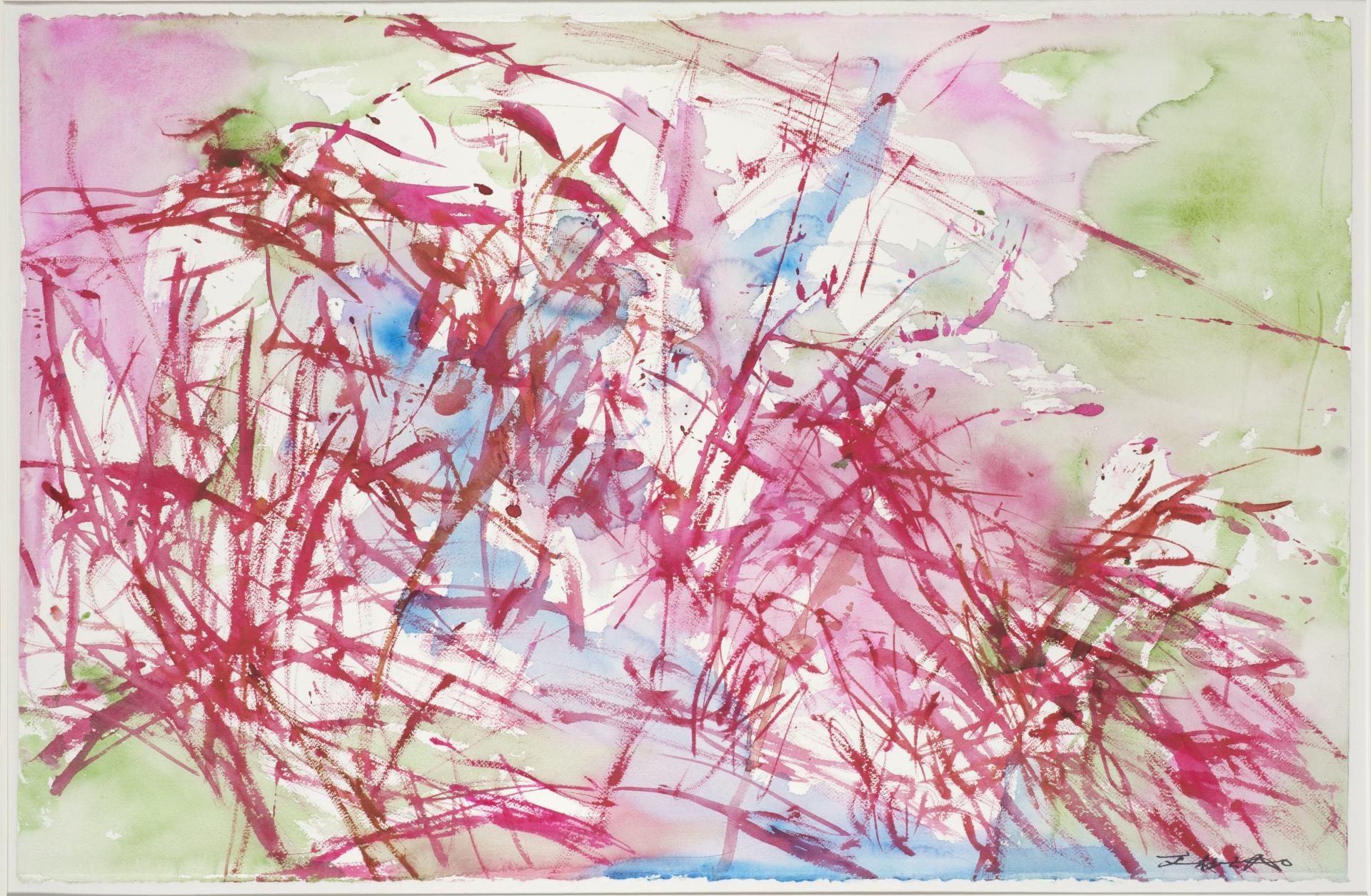 ZAO WOU-KI TO LAUNCH THE VILLEPIN GALLERY ON MARCH 23, 2020, IN HONG KONG
In March 2020, Dominique de Villepin, owner of the eponymous gallery, said the inaugural exhibition, entitled "Friendship and Reconciliation", with works by Zao Wou-Ki, was timely. "There has been an acceleration of trend in recent months, which is that of nationalism, protectionism and isolation," said Dominique de Villepin, a previous French prime minister. "There has been American politics since [Donald] Trump took power, and even before that," he added, referring to the growing division caused by the closing of the country's borders and racism in the midst of fear of coronaviruses. "We have to measure the new world we face, to fight againt this fear. Of course, we must adapt, protect ourselves and be disciplined collectively. But fear must not gain power. In art, we can find the wisdom, the distance and the questioning that art offers, to help us live this moment in the best way. "
The exhibition is more than a presentation of paintings for sale by Zao Wou-Ki, although he has been a favorite in auctions in recent years. It is also an attempt to retrace the artistic trajectory of an artist who reconciles with his identity and of the long friendship between Zao Wou-Ki and the Villepin family.
"The quest for [Zao] 's life was to find the truth in art," says Dominique de Villepin. "Friendship was a necessity for his creation. He also saw the division of the world, between figuration and abstraction, between East and West. Division must be set aside in order to emphasize reconciliation. It's a huge lesson he taught us. "
Arthur de Villepin – the manager of the gallery - said that the gallery is designed as a house to give visitors the feeling of entering the house of an art collector. "Our exhibitions are more personal," he said. "We hope to create a dialogue and bring people together." He added that his new gallery in Hong Kong is a long-term commitment: "Geographically, Hong Kong has a strategic location being at the center of Asia-Pacific. And the ambiance and energy of the city is something you can't experience anywhere else in the world ».
Extr. Artnet news, 23 Mars 2020