Korean contemporary artists
South Korean artists/Art News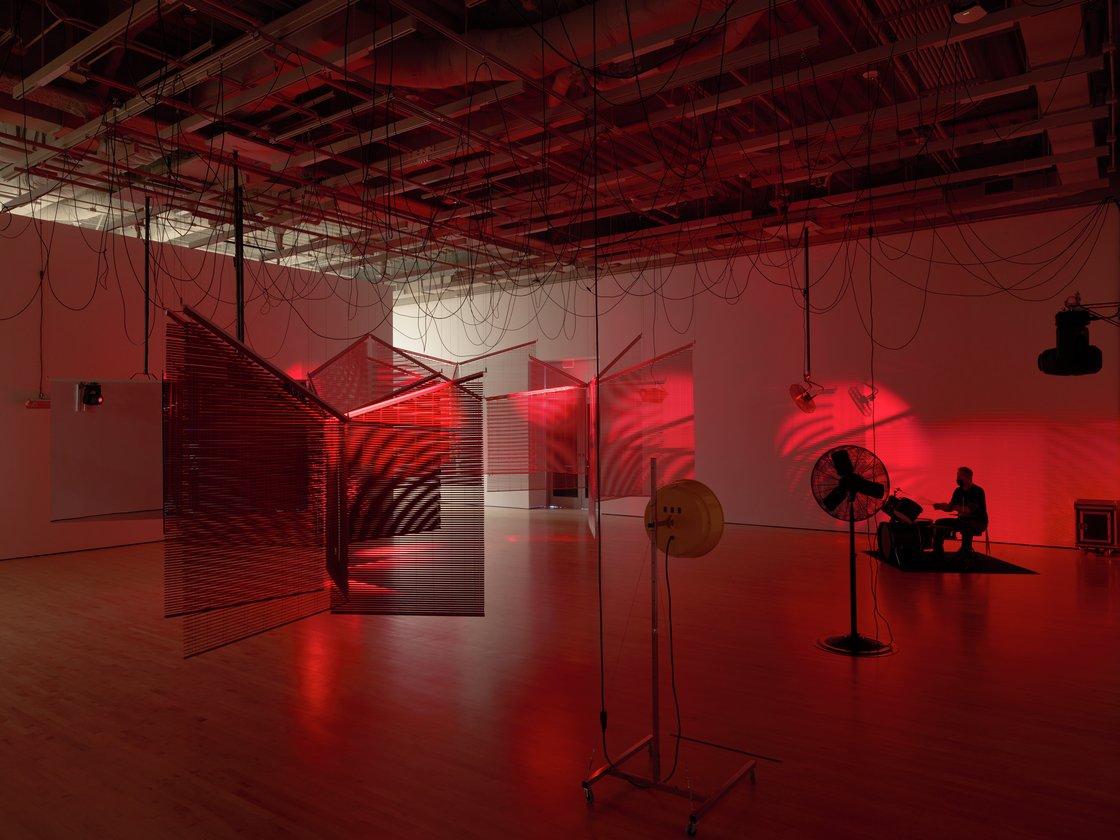 HAEGUE YANG
Red
Haegue Yang presents her installation 'Yearning Melancholy Red' (2008) in the exhibition 'Shifting the Silence' - inspired by artist Etel Adnan's book of the same name - on history and existence, at SFMOMA, San Francisco, until 5 September 2022. "Haegue Yang has created an environment in which the lights pass through the blinds, grazing its surfaces and creating intricate shadows on the walls and floor, as the light passes through its porous skin, before disappearing into the darkness of the room.
M+ Hong Kong
Haegue Yang's installation at M+ HK, Sonic Rescues Ropes (2021) until 24 August 2022. Commissioned by M+ in 2021-2022 and made of glittering bell ropes, Haegue Yang's Sonic Rescue Ropes stretch from ceilings of various heights to the ground.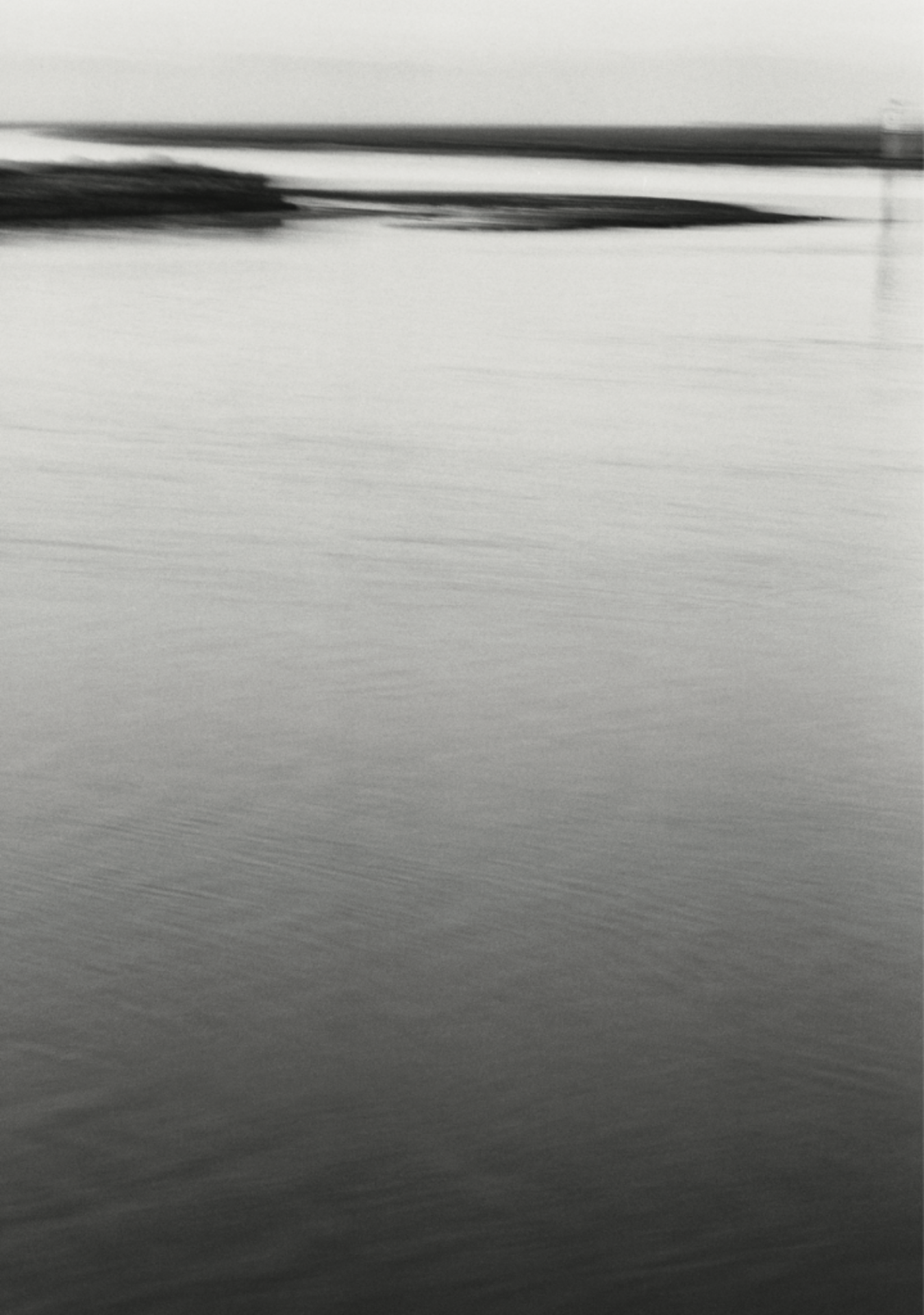 BAE BIEN-U
Lights of grey
The Wilmotte foundation presents, during the 59th Venice Biennale, "Light of Grey", a series of fifteen photographs by Bae Bien-U, in collaboration with Galerie RX. "In inviting Bae Bien-U, one of the most well known contemporary Korean artists, Jean-Michael Wilmotte recalls his commitment in favor of an art that rethinks and reinvents what is taken for granted".
https://www.galerierx.com/fr/actualites/bae-bien-u-6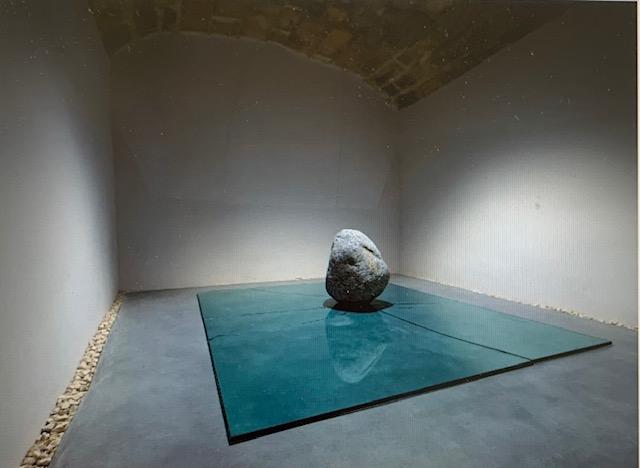 LEE UFAN
Opening of the Lee Ufan Arles Center
Lee Ufan opened his Center in Arles on April 15, 2022, in the Hotel de Vernon. On the first floor of the building, designed by the Japanese architect Tadao Ando, a dozen sculptures and installations from the Relatum collection are presented, all made with natural and industrial materials. On the second floor, the artist has chosen to exhibit about thirty of his paintings. Lee Ufan wished to make his paintings and sculptures resonate with the history of the city of Arles, a Roman city but also the city of Van Gogh.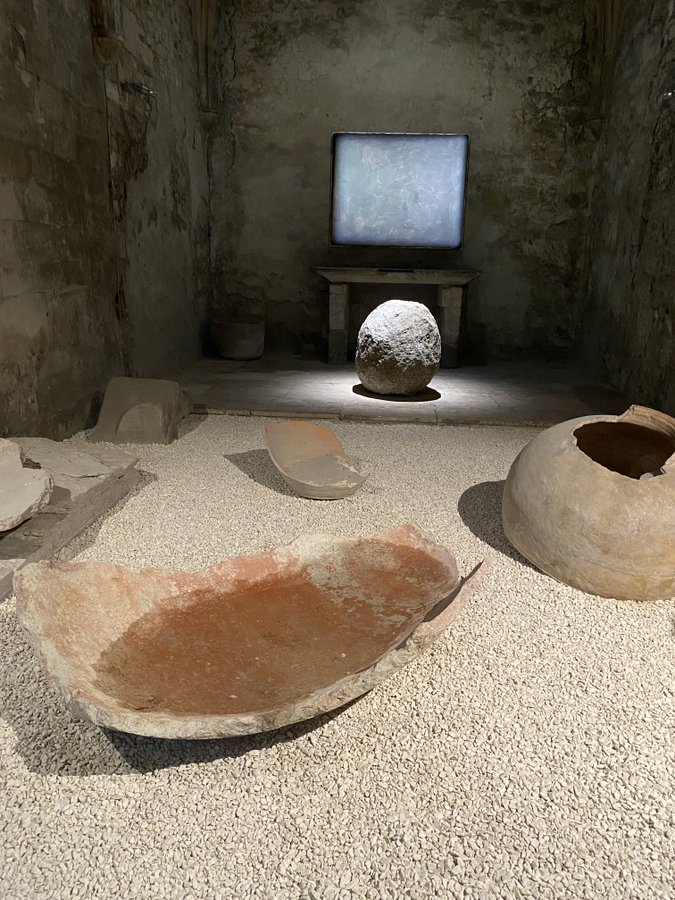 Lee Ufan « Requiem » in Arles, in the necropolis of Alyscamps
Lee Ufan « Requiem » exhibition brings together an important set of 14 new works by the artist, installed in the ancient necropolis of Alyscamps, one of the main heritage sites of the city of Arles. Lee Ufan has displayed his sculptures and paintings in the famous alley of sarcophagi that dot this city of the dead and in the Saint-Honorat church, an unfinished Romanesque building that concludes the tour. Lee Ufan « Requiem » is viewable from October 30, 2021 to September 30, 2022.
South Korean Artist Profiles - Biographies, Works, Exhibitions & Events
Seoul has become a major hub for contemporary art in Asia. South Korea is one of the most robust art markets in the world, according to Iain Robertson, a professor at Sotheby's Institute and an expert in art business. "It is driven in particular by its two main auction houses, K Auction and Seoul Auction. South Korea has the largest number of private art museums in the world (about 45). Many of them propel Korean contemporary art onto the international stage, developing a South Korean cultural aura. Based on Buddhist or Confucian values, as well as popular culture and social issues, South Korean art continues to thrive. "The dynamism of the local scene and the growing interest of international collectors in the big names of Korean art have pushed Western galleries to invest in the market in recent years. The Gwanju and Busan Biennials are helping to build momentum in events and networks between South Korea, the US and Europe. The Korean International Art Fair (KIAF) is the largest international art fair in South Korea. Today, many Korean artists are courted by major international galleries: Lee Bul is exhibited by Lehmann Maupin and Thaddaeus Ropac, Lee Ufan by Pace Gallery, Blum & Poe, Kamel Mennour and Lehmann Maupin, Lee Bae and Bae Bien-U by Rx and others.
KOREAN ARTISTS
LEE BAE
LEE BAE is one of the greatest Korean international artists. He is known for his monochrome paintings in black color. In 2011, he was named Artist of the Year 1995-2010 by the National Museum of Contemporary Art, Gwacheon, South Korea. On December 10, 2013, he received an award from the National Association of Art Critics of South Korea.
With cumulative sales of $1,065,742 (25 lots), Lee Bae was ranked 218th in the Top 500 of Artprice's ranking of contemporary artists' auctions worldwide in 2020/2021.
t Art Basel Hong Kong, May 16-23, 2021, Galerie Perrotin exhibited Lee Bae's works, all of which were purchased, in the range of US $ 10,000–500,000.
https://www.leebae.art/
Contact: https://www.perrotin.com/artists/Bae_Lee/333
PROFILE
Lee Bae was born in Chung-Do, South Korea, in 1956. Very young he learned calligraphy. He obtained his BFA, Painting, College of Fine Arts, Hongik University in 1979 and his MFA, Painting, College of Fine Arts, Hongik University in 1985. In 1990 he arrived in Paris where he met Lee Ufan whom he admired and of whom he will become. the assistant. He is also interested in Simon Hantai and Pierre Soulages. He lives and works in Paris.
Lee Bae's work is part of a Korean artistic movement called "Dansaekhwa", a monochrome movement born in the early 1970s, after years of war in Korea. The whole meaning of Dansaekhwa is that the artists who are associated with it refused to choose a subject, preferring to build their images from nothing and discover them as they were revealed. Lee Bae's pictorial and abstract universe thus focuses on the material. He creates an essential balance between the deep black of the charcoal for its abstract shapes and the milky white color obtained thanks to the resin and the successive layers of acrylic paint, smooth. These are mental images that the artist places on the canvas to bring them to life. He creates abstract forms without a narrative aspect and gives his painting energy, purity and spirituality.
Arriving in France in 1990, the artist searched for an inexpensive material to express himself. He discovered charcoal and it was a revelation for him. Charcoal reminded him of his origins, the world of Indian ink, calligraphy and the material's deep anchoring in Korean tradition. In 2000/2001, Lee Bae came up with the idea of ​​mixing acrylic with charcoal. Over time, his cream acrylic paint evolved into white. Previously Lee Bae had already produced "relief paintings", using small pieces of raw charcoal, cut, sanded and fixed on the canvas. His work around charcoal also extends to sculptures such as his installations of blocks of charcoal tied together, presented at the Guimet Museum in 2015. In his last exhibition "Promenade" at the Perrotin New York gallery, the artist offered the viewer to experience the aesthetic multiplicity of charcoal, through his drawings, paintings and sculptures. At the center of the exhibition, he had installed 24 sculptures from his "Issu du Feu" series.
EXHIBITIONS
Since 1982 Lee Bae has had numerous solo exhibitions: in France, South Korea, United States, among others. A major solo exhibition of Lee Bae was presented from February 24 to June 20, 2021 at the Phi Center, Foundation for Contemporary Art, in Montreal, Canada.
Perrotin gallery Paris presented the second exhibition of Lee Bae in its gallery "Black in Constellation", from 8 January to 26 February 2022. Perrotin Hong Kong Gallery presented a solo exhibition by Lee Bae entitled "Lee Bae, Paradigm of charcoal", from August 7 to September 11, 2021.
Lee Bae Expositions-Biographie
BAE BIEN-U
BAE BIEN-U is considered a master of contemporary photography in South Korea, but he is also famous around the world. A photo of Bae Bien-U sells for around 100 million won ($ 86,603) in South Korea, but the price is higher abroad, the artist said in 2012.
Contact: http://www.bbuart.com/
NEWS
Bae Bien-U presents "Light of Grey" at Wilmotte Foundation with the 59th Venice Biennale, with the collaboration of galerie RX
PROFILE
Bae Bien-U was born in 1950 in Yeosu, South Korea. He graduated from Hongik University in Seoul (1978); he is currently professor of photography at the Seoul Institute of the Arts.
Since 1985, Bae Bien-U has focused his work on pine forests, a very important symbol of Korean culture and soul, considered to be the junction between earth and sky. Thus "The pins of Gyeon Gju" are a major work of the artist. Bae Bien-U brings out the vital energy of trees. He uses light and shadow play, thus pushing back contours, creating an atmosphere such as to encourage meditation. It exudes a lot of serenity from his work. He also photographs the plains, oceans and mountains that merge with the sky. He is always in harmony with nature. The composition of his photos, generally in black and white, is also reminiscent of traditional Far Eastern painting techniques.
Bae Bien-U has worked about ten times and in different seasons in the Chambord forest over the past few years. He was in residence at the estate of Chambord in 2014 and 2015. The result of his work was presented in an exhibition in Chambord from September 29, 2015 to April 10, 2016. This exhibition opened the cross year France-Korea. Bae Bien-U exhibited at the Galerie RX in Paris seven monumental photographs under the title "Orum" from December 5, 2020 to January 23, 2021. The images were taken on the volcanic island of Jeju, the largest of Korea's 3,350 islands. There is Mount Halla (1,950m) and the small volcanic hills called "oreum" in dialect.
EXHIBITIONS
Bae Bien-U has exhibited in Korea and around the world since 1982: Asia, Europe, United States. Bae Bien-U's last personal exhibition, "Orum", RX gallery, Paris, from December 5 to January 23, 2021. As part of ASIA NOW Paris Asian Art Fair (October 18-22, 2017) Galerie RX exhibited the silver prints of Bae Bien-U's emblematic series on sacred trees, oceans and Orums - volcanic hills of a Korean island .
Bae Bien-U participated in the group exhibition "Nature" at galerie RX Paris, from 2 February to 22 May 2022
Expositions (Galerie RX)
LEE BUL
LEE BUL is a contemporary Korean sculptor-plastic artist. SHe is one of the major Korean artists of her generation. She is also one of the most influential Asian women artists to emerge in the 90s. At Art Basel Hong Kong in May 2021, Lee Bul sold a work titled 'Study for Light Tower' (2019) for US $ 115,000.
Contact: http://www.leebul.com/
NEWS
Lee Bul has been announced as one of the artists selected for the 2022 edition of Manifesta, the prominent roving European biennial, which will open in Prishtina, Kosovo, on 22 July 2022.
PROFILE OF THE ARTIST
Lee Bul was born in Yeongju in 1964. She obtained her BFA in sculpture from Hongik University, Seoul (1987).
Rising against the artistic conventions of her country, Lee Bul first made performances strongly centered on the body, notably with costume-objects, organic growths made of fabric. Lee Bul really rose to prominence with her famous Cyborg Series (body cast (1997-2011). Cyborg is a creature in a "post-gendered world." After her Cyborgs and Anagrams Series, she undertook to make installations, creating complex landscapes, sorts of models, reproductions of utopian architectures. She claims to be the heritage of the German town-planning architect Bruno Taut who used the transparency of glass and steel. Lee Bul explained in an interview in 2008: "My work has always been a representation of a desire to transcend limits. So the transition has been to move from the body to the larger idea of ​​social structures." Lee Bul draws her inspiration from the cinema as well as from the history of literature and architecture, including the history of ideas in Europe and that of her own country. Lee Bul was invited to the 58th Venice Biennale (May 11 - November 24, 2019) where she presented an installation entitled "Aubade" which symbolizes the tragic separation of the Korean peninsula
EXHIBITIONS
Some of Lee Bul's most recent solo exhibitions include: 2022 New works by Lee Bul, Thaddeaus Ropac ; 2021, "Lee Bul Beginning", Seoul Museum of Art. The artist also shared an exhibition with Mandy El-Sayegh, "Recombinance", where she presented her Perdus Seres, at Lehmann Maupin gallery in New York until April 10, 2021.
BIO/EXHIBITIONS
Exhibitions Biography
SUH DO HO
SUH DO HO is a Korean contemporary artist. He is the son of the painter Se Ok Suh who discovered the mix between traditional and modern Korean art. With cumulative sales of $ 646,332 (5 lots), he ranked 242nd in the Artprice ranking (revenue from sales) of the world art market in 2019.
Contact: https://www.lehmannmaupin.com/about/contact
PROFILE
Suh Do Ho was born in Seoul in 1963. He obtained his BFA and MFA in oriental painting at Seoul National University (1987) then at the Rhode Island School of Design (1994) and at Yale University (USA) ( 1997) where he focused more particularly on sculpture, his current medium of expression. Suh Do Ho lives and works in New York but returns to Seoul frequently.
"Suh Do Ho's work explores the different meanings of space, from the smallest territory we occupy: our clothes along with our homes and our homeland." He creates astonishing installations, which cover the ground. One of his best-known works is "The Perfect Home II", made of translucent nylon fabric and sewn in Korean style. He thus recreates certain specific domestic spaces in which he lived. Suh Do Ho's sculptures question the identity of the individual today in an increasingly global society. Recently he has turned more to architecture, so he designed the Korean gallery for the Los Angeles County Museum of Art. In an exhibition entitled "Passage / s", in early 2017, the Victor Miro gallery in London presented the new works of Suh Do Ho through which he explores the notions of dwelling both as a physical structure and as a place of life. He exhibited his work '348 West 22nd Street (2011-15)', at the Los Angeles County Museum of Art (LACMA), from November 10, 2019 to March 30, 2020. The work reproduced the artist's residence at ground floor of a New York building. The rooms were created in light bands of translucent polyester and the hallways are supported by stainless steel.
EXHIBITIONS
Since the 90s, Suh Do Ho exhibits in different countries of the world. Lehmann Maupin presented an exhibition of the most iconic works of Do Ho Suh, in his new gallery in London, from December 3, 2020 to February 20, 2021.
Suh Do Ho exhibited "Proposal for Sach'ŏnwang-sa" at the London Mithraeum Bloomberg Space from July 28 to January 22, 2022.
BIOGRAPHY/EXHIBITIONS
Do Ho Suh Exhibitions
LEE KANG-SO
LEE KANG-SO is a Korean contemporary artist, well known for his abstract and almost monochromatic paintings.
http://www.leekangso.com/
https://www.pkmgallery.com/artists/lee-kangso
PROFILE
Lee Kang-So was born in 1943 in Daegu, South Korea. He graduated from Seoul University, Painting Department (1965). From 1982 to 1993, he was a professor at Gyeongsang National University, Korea. He lives and works in Seoul.
Lee Kang-So is a key figure in the history of Korean conceptual art. In the 1970s, he organized performances based on his work. Then in the 1980s, he turned to other media such as painting, printmaking, sculpture and photography. "Lee Kang-So's painting offers no illusions, no imitation of elements of the world outside with pictorial reality. But it evokes metaphorical stories expressing essential and fundamental questions about the orientation of man in the universe ", explained Lorand Hegyi, director of the Museum of Contemporary Art of Ste Etienne (France) in 2016. In the late 1960s, Lee Kang-So founded the 'Shinchaejae (new system) group' and began working on contemporary art. In 1971 and 1972 he participated in the AG group (avant-garde association). In 1973 and 1974 he organized the Korean Contemporary Artists Invitational Exhibition and the Daegu Contemporary Art Festival, bringing together artists eager to practice experimental art. In 2018, in his exhibition 'Dissapearance' at the Hyunday Gallery, the artist returned to his performances from the past, creating a bar in a gallery, offering a drink, the Makgulli and presenting several of his installations such as Void (1971), a passageway made up of two dozen columns of reeds, covered with plaster or "Gulbi" (1972), a double row of dried fish fixed vertically on a wooden box against a wall. Lee Kang-So has always shown an interest in the concepts of the cosmos, the ordered system of nature, "to be born, to become, to disappear". This can be seen in his latest exhibition "Becoming", in 2019, in Venice, presented by the Hyundai Gallery. This brought together some twenty works by the artist, including his experimental work, since the 1970s.
EXHIBITIONS
Lee Kang-So has had numerous exhibitions, most often in South Korea. These include his most recent solo exhibitions: 2021 "From a Dream", de Lee Kang-so, du 16 Juin au 1er Août 2021, Gallery Hyundai ; 2019, "Lee Kang-So in Venice: Becoming", Palazzo Caboto, Gallery Hyundai, Venice, Italy.
BIO/EXHIBITIONS
MIN JUNG-YEON
MIN JUNG-YEON is a Korean contemporary artist. She paints fantastic landscapes, she plays with form, space, perspective and scale.
Contact: https://marialund.com/en/artists/portfolios/min-jung-yeon/
PROFILE OF THE ARTIST
Min Jung-Yeon was born in 1979 in Gwangju, South Korea. She graduated in visual arts from Hongik University in Seoul (2003), then from Beaux-Arts de Paris (ENSBA) (2006). The artist has been living and working in France for over 10 years.
Min Jung-Yeon creates both feminine forms that embody softness as well as masculine forms that convey energy. These components, contrary and complementary, constitute the artistic universe of Min Jung-Yeon.
If her work can refer to the paintings and the apocalytic universe of the Dutch painter Hieronymus Bosch, Min Jung-Yeon on the other hand denies any affiliation with the surrealist movement to which her work could be linked ". "I consider that today we live in a constant exchange between the real and the virtual," explains the artist. "To me, it's kind of modern surrealism, if my works resemble 'traditional' surrealism, the idea behind it is a little different". Min Jung-Yeon actually has a dual theoretical basis. It refers to Lao-Tse's thinking on opposites and on time and space considerations of quantum physicist Carlo Rovelli.
Min Jung-Yeon's words are not explicit but go through metaphors. We thus see mountains rise up, caves forming; there are eruptions, rocks and storms rising over the sea.
In 2006 the planet Pluto was excluded from the solar system and relegated to the rank of "dwarf planet". The symbolism of this rejection of a different little planet with a big heart of ice inspired Min Jung-Yeon for "The Letter from Pluto", in 2018. Here she explored the notion of reconciliation with a loss, of the integration of this which escapes us, from other points of view and appreciations.
Min Yang-Yeon also makes a link in her work with political reality. In her work "Lie" (2018), she thus shows sheep grazing quietly on one side of a wall obstructing their view, a wall that blocks access to information. In 2017, her installation 'White as a Heron' - a large sculpture of pristine white feathers placed in the center of a mirror - alluded to the proclaimed innocence of the since-deposed President Park.
The Guimet Museum (MNAAG) in Paris gave 'carte blanche' to Min Yang-Yeon, on the theme of Reconciliation (of the two Koreas), from November 6 to February 17, 2020. "The work was based on the history of this young Korean woman and the tragic reality of a country split in two for 70 years, "explains the curator of the exhibition.
EXHIBITIONS
Min Jung-Yeon has been exhibited regularly in Asia, Europe and the East since 2004. Galerie Maria Lund in Paris has dedicated several exhibitions to her since 2010. She has also presented her in numerous contemporary art events.
An exhibition of Min Jung-Yeon "Tissage" was shown at the Domaine de Chaumont sur Loire in 2021
BIO/EXHIBITIONS
NAM JUNE PAIK
NAM JUNE PAIK is a South Korean artist, considered a pioneer in video art, also known as the "Michelangelo of electronic art" or "visionary missionary". The work and ideas of Nam June Paik have had a major influence at the end of the 20th century and continue to inspire a new generation of artists. Nam June Paik received in 1998 the Kyoto Prize (international award given to certain people for their contributions in the development of science, world civilization or spiritual elevation).
Contact: https://gagosian.com/artists/nam-june-paik/
PROFILE
Nam June Paik was born in Seoul on July 20, 1932. He died in Miami on January 29, 2006. After studying music at Kyungi High School in Seoul from 1945 to 1950, he continued his musical studies at the University of Tokyo from which he graduated (1956). There he did a thesis on the composer Arnold SchÖenberg. Nam June Paik left for Germany in 1956 and enrolled at the Freiburg Conservatory from 1957 to 1958. He participated in the research of Karlheinz Stockhausen and Luigi Nono in the electronic music studios of the WDR in Cologne. The following year he met John Cage at the Darmstadt Summer Classes for Contemporary Music. He then joined the research laboratory of the electronic music studio of Radio Cologne. In 1961, he met George Maciunas, the founder of Fluxus, and performed as part of this movement, concerts and performances. Fluxus mixes music, action, visual arts and verb. In 1964, he moved to New York. In 1979 he was appointed professor at the Academy of Fine Arts in Düsseldorf.
As a result of his experiences at Fluxus, Nam June Paik fully invests in a new medium: the electronic image. In 1963, he presented at the Parnass Gallery in Wuppertal, Germany, an "Electronic Music and Television Exhibition". There were, placed on the floor, thirteen televisions connected to frequency generators, broadcasting only images made up of zebra and streaks. The artist diverts the use of television. This is how abstract television was born, and Nam June Paik paved the way for video art. In 1965 he presented his first Electronic Art videos.
At the end of the 1960s, the invention of the video cassette enabled a wide distribution of video art. As early as 1964, he built robots using cables and metal. In 1970, Nam June Paik designed with engineer Shuya Abe the first image synthesizer that mixes colors and separates form and content. Images can thus be multiplied, metamorphosed. This tool has revolutionized video technology. In 1973, he directed "Global Groove", the best known of the many videotapes that Nam June Paik made and which prefigures universal communication and the frenzy of zapping. In 1974, the artist produced one of his most famous works: TV Buddha (continued)
EXHIBITIONS
"Art in Process" by Nam June Paik, Retrospective, Gagosian New York, from 24 May to 22 July 2022
The very large exhibition of Nam June Paik, entitled "Nam June Paik: The Future Is Now", presented previously at Tate Modern, in London and at the Stedelijk Museum in Amsterdam in 2020, was presented at the San Francisco Museum of Modern Art from 8 May to October 3, 2021.
PROFILE
BIO/WORKS/EXHIBITIONS
Nam June Paik Expositions Biographie
ANNA PARK
ANNA PARK is a very young contemporary artist born in South Korea. She uses dry mediums like charcoal and graphite to achieve excellent technical drawings. In 2018 she was awarded the Grand Prize place in Strokes of Genius Competition. At her last exhibition at Blum & Poe in Tokyo in September 2001, Anna Park sold out of all her works, ranging from $40,000 to $58,000.
Anna Park is now represented by Blum & Poe, NY.
https://www.annaparkart.com/
https://www.instagram.com/annaparkart/?hl=fr
https://www.facebook.com/annaparkart/
PROFILE
Anna Park was born in 1996 in South Korea. When she was a very young girl, she left for the United States to pursue artistic training. She lived for 8 years in Utah where she studied at the Visual Art Institute. She then trained for two years at the Pratt Institute (Drawing concentration) in New York, where she graduated (2015-2017). She then obtained the Certificate of Fine Arts Program at the New York Academy of Art (2017-2018). She is currently preparing her Master of Fine Arts at the New York Academy of Art. She has just spent two months as a resident artist in Leipzig, Germany. She lives and works in Brooklyn, New York.
Anna Park's charcoal drawings are really captivating. The action seems to sway between pleasure and violence, her subjects' faces being distorted and disappearing. The artist oscillates between a cartoon and a realistic rendering.
Anna Park depicts scenes of crowded parties and gatherings; she adds an additional comic element to her subjects, Juxtapoz Magazine reports. Humorous at first glance, Anna Park's work can also seem darker, like a critique of society and crowd behavior. Previously my work rarely deviated from the references I was working on. Gradually, I began to distort and to abstract parts that could give more emphasis to charcoal. It was only recently that I introduced a cartoon / caricature element, which reminded me of the characters I used to draw when I was a little girl, "adds Anna Park. µ
The artist finds her sources on the Internet and reclaims the images she found, using her own imagination to create her works on black and white paper. In recent charcoal drawings, she appropriated images from the 1920s.
"Charcoal as the medium of my choice, allows me a deep intimacy with my work. For example, the way it stains my fingers and throws a veil over my arms while I am working. To me, this is an immersive experience that I hope to share with the viewer through black and white snapshots that illustrate the transient nature of all human experience. " Through these powerful lines in black and white, which we could see in her new Series presented at the T293 gallery in Rome at the end of 2020, "On Tilt", we find references that derive from sources as diverse as the Hollywood productions of twenties, moving from the language of comics to futuristic mentions.
EXHIBITIONS
Anna Park's last solo exhibition: 2021, Hello, Stranger, Blum & Poe, Tokyo ; 2020 "Tilt", gallery T293, Roma.
BIO/EXPOS
PARK SEUNGMO
Contemporary Korean artist PARK SEUNGMO occupies an important place on the world art scene. He is indeed very well known for his particular work of metal trellis sculptures.
https://www.seungmopark.com/
https://www.instagram.com/seungmo_park/?hl=en
PROFILE
Park Seungmo was born in Sanchung, South Korea in 1969. He studied at Dong-A-University where he obtained a BFA in sculpture (1998). He lives and works in New York.
Park Seungmo fabricates and cuts layers of wire mesh by hand and create hyperreal scenes through a mirage of visual perception. This type of work is called "Maya" and alludes to its Sanskrit meaning "Illusion". It implies that "verily there is nothing" or just an illusion. The artist works from a very large format photograph illuminated from below by a projector. He superimposes layers of wire mesh that he cuts one after the other with a soldering iron, using pliers and for the finishing touches with the cutting pliers, recreating the illusion of the outline of the original photo thanks to the variations of volume obtained in the portions of stainless steel mesh such as metallic lace. The superimposition of the plans results in multidimensional, very spectacular works. These are empty inside. The artist stages a way of seeing beyond the real and the visible.
In works, such as "Ego" and "Heo", the artist shows human figures and life-size musical instruments. Their envelope is made of fine aluminum wires, creating a pattern of undulating parallel lines that reflect light, again alluding to the void beneath the surface of the ego. The artist compares his works to games of shadows. According to Park Seungmo, people also exist as contours without substance, which leads him to this question: "Can we claim contours as substance and proof of existence?" We could say that being human and not being human is the same, or that being things and not being things is the same ". Park Seungmo suggests that this kind of reasoning is also an illusion.
EXHIBITIONS
Works by Park Seungmo appeared in the very famous Korean film "Parasite" (2018). The artist already had more than 40 exhihibitions around the world. Last solo exhibition: in 2021 at Tang Contemporary Art in Hong Kong
https://www.seungmopark.com/cv-bio
KIM TSCHANG-YEUL
KIM TSCHANG-YEUL is one of the greatest Korean painters; he is one of the big names who have helped bring contemporary Korean art to the international stage, alongside Nam-June Paik and Lee Ufan.
Contact: https://www.alminerech.com/artists/4431-kim-tschang-yeul
PROFILE
Kim Tschang-Yeul was born in Maengsan, Pyeongannamdo, North Korea. He emigrated to South Korea to escape the Communist regime. He then studied art at the College of Fine Art, Seoul National University, from which he graduated (1948–50). From 1966 to 1968, he studied at the Art Students League of New York. In the meantime he had a career teaching art in high schools in Seoul and the surrounding areas. He also formed a circle at the origin of a movement that would become the Hyundai Association - association of contemporary Korean artists ("Hyundai" meaning "contemporary" in Korean). He moved to Paris in 1969. He divided his life between France and Korea. He notably supported the creation of the Museum dedicated to him on Jeju Island in Korea, to which he donated part of his works. This museum was opened to the public in the fall of 2016. The artist died in January 2021, at the age of 91.
Kim Tschang-Yeul has a recurring motif, the drop of water he has painted for forty years. Raindrops, dew or condensation. They are delicately placed on the surface of monochrome canvases or covered with ideograms. His work stands at the confluence of abstraction and Chinese calligraphy. His simple and clear work fuses Taoist wisdom, modern conceptual irony and the tragedy of war. "The Event of the Night" (1972) was one of his first paintings, followed by a long series: a lonely transparent drop of water stands out against a dark background. According to the words of Kim Tschang-Yeul, this painting brings together "the flow of oppositions from shadow to light, from emptiness to full, from the important to the negligible."
EXHIBITIONS
Kim Tschang-Yeul's work has been shown around the world for over fifty years.
BIO/EXPOS
Kim Tschang-Yeul Expositions Biographie
LEE UFAN
LEE UFAN is an artist, minimalist sculptor, writer and philosopher. He is best known as one of the most prominent artists of the Japanese avant-garde "Mono-ha movement".
Contact: http://www.studioleeufan.org/
Kukje gallery sold a 2020 painting by Lee Ufan, in the range of $400 000-450 000, at Art Basel HK in May 2021.
NEWS
Solo exhibition by Lee Ufan "Response" at Kamel Mennour gallery, Paris 6, from 8 June to 23 July 2022
Opening of Lee Ufan Arles in the Hotel de Vernon in Arles from April 15, 2022
PROFILE
Lee Ufan was born on June 24, 1936 in Haman-gun. He studied calligraphy, poetry and painting at the College of Kyongnam and the University of Seoul. He interrupted his studies at the University of Seoul to continue them in Japan. He graduated from Nihon University, Department of Philosophy, Tokyo (1961). In 1997, he was a visiting professor at Ecole Nationale Supérieure des Beaux-Arts in Paris. He lives between Kamakura in Japan and Paris.
Since the end of the 1960s, Lee Ufan has combined monochrome painting and in situ sculpture. He is a figure of "Dansaekhwa" (monochrome trend of post-war Korea). He was also the theorist and spokesperson for the avant-garde Mono-ha (Object School group) movement in the late 1960s which "rejected Western notions of representation."
In 1991, Lee Ufan began a series of paintings - "Correspondence Series" "- which consisted of one or two gray-blue brushstrokes applied to a large white surface. "Relatum" will then be the title of most of his sculptures. It is a philosophical term which designates things or events having a relation between them. His sculptures are minimal: one or two round stones illuminated by light, placed on flat iron trays. Lee Ufan's work focuses more particularly on point and line. He creates meditative and ultra-refined installations, worthy of the most beautiful Zen gardens, as during his exhibition in the gardens of Versailles in 2014.
At the end of 2017, Lee Ufan exhibited for the first time in a French artistic institution - Le Centre de Création Contemporaine Olivier Debré - in Tours, since the two retrospectives dedicated to him by the Museum of Contemporary Art of Saint-Étienne in 2005 and the National Gallery of Jeu de Paume in 1997. The exhibition entitled "Presentiment" showed sculptures associating stone found in nature and industrial metal, and paintings collecting on the canvas traces of a single gesture, a sort of interplay between shadow and light.
A sculpture by Lee Ufan "Relatum - Stage" (2018) was presented in Kensington Gardens, London, in 2018. In September 2018, Lee Ufan presented at Pace Gallery New York, 14 new paintings from his Dialogue Series (with color), produced from 2016 to 2018.
Lee Ufan presented "Open Dimension" at the Hirshhorn Museum & Sculpture Garden, Washington D.C, Usa, from September 27, 2019 to September 13, 2020. It was a large installation including 10 sculptures, in the continuation of his Relatum Series. It was Lee Ufan's largest outdoor sculpture project in the United States, the first exhibition of his work in Washington DC, and the first time in 45 years that the Hirshhorn Museum had dedicated 4.3 acres, or almost its entire surface, to the work of a single artist.
EXHIBITIONS
Lee Ufan had numerous solo exhibitions around the world including the most recent: 2022 "Response", Hamel Mennour Gallery, Paris
Lee Ufan Exhibitions Biography
A Lee Ufan Foundation opened in Arles, France, in April 2022. It is being developed with the participation of architect Tadao Ando.
https://www.leeufanfoundation.org/arles
HAEGUE YANG
HAEGUE YANG is a contemporary Korean artist, a plastic artist, among the most famous of her generation. She is especially known for her use of everyday objects in sensory installations. She uses various mediums ranging from collage to performance, videos, photographs, sound pieces, installations. She became particularly famous for her use of Venetian blinds.
https://www.instagram.com/yanghaegue/?hl=en
NEWS
Haegue Yang presents a wallpaper at the 59th Venice Biennale, within the "Planet B, Climate Change and the New Sublime" exhibition at Palazzo Bollini until 27 November 2022.
"Double Soul": exhibition by Haegue Yang at SMK - National Gallery of Denmark, Copenhagen, from 5 March to 31 July 2022
Haegue Yang's work "Lingering Nous" (2016) is currently exhibited at the Center Pompidou Shanghai as part of the exhibition The Voice of Things-Highlights of the Center Pompidou Collection vol.II, 2021-2023.
PROFILE
Haegue Yang was born in 1971 in Seoul, South Korea. She obtained her BFA from Seoul National University. In 1994 she left her country to continue her studies in Germany, at the Städelschule in Frankfurt, where she obtained her MFA (1999). She has been a teacher there since 2017. Haegue Yang was appointed Vice-Rector of the Städelschule, in Frankfort, in early 2021. She lives in Germany and South Korea.
Since the 1990s, Haegue Yang has lived a nomadic life, between South Korea, Germany and her own exhibitions around the world. This uprooting is the basis of her artistic practice. Haegue Yang uses everyday objects, industrial objects and "poorer" materials in her work, which she sometimes associates in an eclectic way.
At her beginnings, she associated techniques of classical sculpture learned in Korea with references to Georg Herold, her professor at the Städelschule, as well as those of some European and American movements. At the same time, she developed rh Lacqueer Paintings and Hardware Store Collages series, still in progress. In 2006, Haegue Yang used Venetian blinds for the first time and thus formalized his long-standing interest in kinetic sculpture. It was then that she drew attention to her work.
For ten years, Haegue Yang has been using everyday objects, handcrafted elements that have become her favorite material, for example plastic plants that grow on rocks, window mannequins that enter into conversation with the pieces of basketry. At the Guggenheim Museum in 2009, in her Series of Vulnerable Arrangements - Voice and Wind, she again used blinds and fans associated with the concept of the house. At the Centre Pompidou in Paris in 2016, she presented in the forum a monumental installation (12m ht), "Lingering Nous", made of suspended venetian blinds lit by neon. Haegue Yang diverts the blinds from their primary function by recomposing them in a way abstract to give them a new meaning.
In 2019 at La Panacée – MoCo, à Montpellier, France, Haegue Yang immersed himself in the local Occitan and industrial cultures but also in the history of the place linked to medicine and health. At the South London Gallery in 2019, Haegue Yang took her own political narrative as a subject, notably in one of her two sound installations. So far, Yang's work has tended not to address politics explicitly, but rather to reinterpret the stories of others. The soundtrack was recorded in April 2018, when South Korean President Moon Jae-In and North Korean leader Kim Jong-Un met in the DMZ Joint Security Zone for an inter-Korean summit. The Art Gallery of Ontario, in Toronto, presented - from October 1 to January 31, 2021 - 82 sculptures, installations, performances by Haegue Yang, created over the last 25 years. To date, this was Haegue Yang's first retrospective exhibition in North America.
In 2020-2021, The Tate St Yves presented the UK's largest exhibition to date by celebrated South Korean artist Haegue Yang, untitled "Strange Attractors" until September 26, 2021.
Exhibition by Haegue Yang at SMK - National Gallery of Denmark, Copenhagen, from 5 March to 31 July 2022 : "Double Soul". The exhibition title, Double Soul, refers to Yang's preoccupation with doubling and pairing seemingly disparate dualities. Her works explore the connections between apparent contradictions such as traditional and modern culture, industry and craft as well as the quotidian and the exceptional.
EXHIBITIONS
Latest solo shows by Haegue Yang: 2022 'Double Soul', SMK - National Gallery of Denmark - Copenhague ; 2021 'SrangeAttractors", Tate St Ives, Cornwall
Haegue Yang was selected among others artists to participate in Expo Dubai, from 1 October 2021 to 31 March 2022
Haegue Yang participated in the group show "The Paradox of Stillness: Art, Object, and Performance" which features objects from the early 20th century to the present day, at the Walker Art Center, Minneapolis, Usa, May 15-August 8, 2021.
Haegue Yang Exhibitions
Ji Yo-Sang
JI YO-SANG is a Korean contemporary artist. He creates ink paintings that are quite unique and powerful in their visuals. The artist has already sold several of his works to major auction houses. In 2013, his painting 'Solitary' sold at Christie's during the Hong Kong 'Asian Contemporary Art Day Sale' for $ 6,449.
THE ARTIST
Ji Yo-Sang was born in 1981. He obtained an MFA in oriental painting in 2003 and a Ph.D in art studies in 2011 from Hongik University in Seoul.
ART WORK
Ji Yo-Sang's ink paintings are a precision exercise, capturing the smallest minutia. He draws in the purest traditional ink painting style while incorporating the Western technique of 'chiaroscuro' (Italian artistic term to define "chiaroscuro"). His works are both philosophical and visual, "representing coexistence of body and soul, of matter and idea, of reality and imagination ".
EXHIBITIONS
Ji Yo-Sang has exhibited in Asia and in the rest of the world: New York, Cairo, Doha. Among his solo exhibitions are: 2009 Serenity Modern Art Gallery of Hongik College, "Mi-A" Drawings by Ji, Yo-Sang Art Forum Newgate; 2005 Serenity - Nothing Leaves Traces on the Water Art Forum Newgate; 2004 Serenity - Remain With Eyes Closed Kongpyung Art Center.
But Ji Yo-Sang has mainly participated in many group exhibitions, including the most recent: 2016, Asia Contemporary Art Show, HK, Singapore Contemporary Art Show; 2014 "Ink & Yan IS' Gallery Sensitive & Blech Akive Gallery Body and Soul Kim-Po Gallery Revolution of Korean Painting Seoul Museum of Art Finding Faces Shinha Gallery; 2013 The Communication of Korea Art Republic of Korean Council in Shanghai, China Korean and Japanese Contemporary Ink, The 5th Anniversary GuRo Arts Valley Korean and Chinese Youth Art Exhibition; 2012 The 18th Contemporary Japanese and Korean Art Kubota Gallery, SOAF The Contemporary Ink in Korean and Chinese Yanji Museum Seoul, Korea Seoul, Shanghai, China Seoul, Korea Bejing, China Tokyo, Japan Seoul, Korea Yanji, China HIAF Hanoi Crown Plaza Hotel Bible and Love Ho Gallery.
Ji Yo-Sang also received numerous awards: in 2002 the Dong-A Art Award National Museum of Contemporary Art, in 1998 the Dong-A Art Award National Museum of Contemporary Art, in 1997 the Dong-A Art Award National Museum of Contemporary Art, in 1995, The Special Prize Misool-Saegae Grand Art Festival Seoul, Korea Seoul, New York, USA, Qatar Seoul , Korea Seoul Metropolitan Museum of Art Excellent Prize Seoul, Korea Choon-Choo Grand Art Exhibition Korea Culture and Art Promotion Center.
Kim Yunsoo
KIM YUNSOO is a Korean visual artist who works multi media, ranging from installation to sculpture, drawing and photography.
THE ARTIST
Kim YunSoo was born in 1975. She graduated from Chungang University of Seoul (MFA Sculpture) (2005). She received several awards: 2007 'Project Space Sarubia Grant for Artists', 2005 Korean Culture & Arts Foundation Grant for Young Artists and in 2002 Winner of the Youth Prize (Korea Young Artists Biennale). She lives and works in South Korea.
ART WORK
Kim YunSoo questions the trace and representation of interiority through matter. Her work is extremely delicate. One of Kim YunSoo's most iconic works is a "River of Winds" Series (2004-2005). It consists of an installation of 54 vinyl objects placed at ground level and inspired by footprints. The artist hand-cut and layered over 60 sheets of PVC for each imprint, transforming the original shapes into an installation of what appears to be an endless expanding landscape. Scattered in space, heaps of thin translucent blue plates make up abstract landscapes with circular escarpments. These translucent islands evoke the wind, rivers, mountains or clouds depending on how the artist arranges them. Since 1999, Kim YunSoo has collected the fingerprints and footprints of his friends and acquaintances and gives them a new dimension inspired by the world of nature. Many of her works resemble a wave where a single footprint echoes stacked shapes and contours.
Kim YunSoo uses fragile and flexible materials. Corrugated cardboard allows a play of light through the grooves of the corrugation.
The artist cuts the prints out of 8mm thick layers of vinyl and then overlays them. Through repetition, these initially precise foot shapes gradually become blurred until they disappear and become landscapes. By stacking these layers a hundred times, a bluish color gradually emerges. The blue is very present in the work of Kim YunSoo. The artist explains, "It's a fleeting color. The blue is reflected in our eyes when we look at the sky or the water, but disappears when we get closer. Even if we extend our hand, we cannot touch it. If I can imagine a color inside me, it would be blue ".
EXHIBITIONS
Kim YunSoo has already had several solo exhibitions:
BIO / EXHIBITION
Online exclusive show featuring of drawings and sculptures by Kim Yunsoo (Artsy): https://www.artsy.net/show/gallery-soso-kim-yunsoo